Congratulations Fort Collins Blue Ocean Challenge Winners
By: Andrea Lotz Monday June 1, 2015 comments Tags: blue ocean
This Saturday night saw the CSU Blue Ocean Enterprises Challenge come to a dramatic close. New York-based VerbalizeIt took home the $250K prize for the Enterprise Competition, and CU's Native took first place in the Collegiate Competition for a $20K prize.
The Blue Ocean Challenge is a collaboration between Blue Ocean Enterprises, Inc. and Colorado State University. It's a competition designed to bring together entrepreneurs from all over the country to compete for fantastic prizes and opportunities. The goal is to inspire, attract, and recognize the best new businesses, and put new ideas in the spotlight.
AllProWebTools is proud to be a contributing sponsor of the Blue Ocean Challenge. Our mission is to help entrepreneurs find simpler ways to build, manage, and grow all aspects of their businesses. We're committed to keeping the Colorado entrepreneurial ecosystem strong and thriving.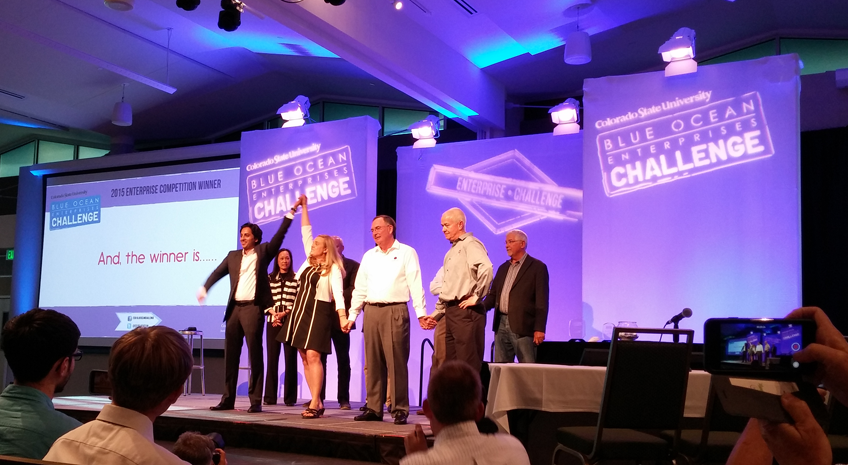 As part of our sponsorship, we've gifted the first place and runner up of the Enterprise and Collegiate competitions with 1 year of our all-inclusive small business management software package. The prize includes up to 15 hours of personalized phone and email support provided by AllProWebTools. The whole package is valued at $2988.
We hope the winners will use the toolkit to organize their growing startups, improve customer relationships, manage their teams, and improve their online presence.
Native Takes the Collegiate Competition
After three rounds of business pitches in front of a panel of expert judges and a live audience, the winner of the Collegiate Competition was announced on May 27.
Native, an app designed by CU students, took home the $20,000 grand prize, along with 6mo biz mentoring from experts at Blue Ocean Enterprises, and the complete AllProWebTools package. They also moved on to compete in the Enterprise Competition, for a chance to win an additional $250,000.
Change Composites, of CSU, took home the $5000 second place prize.
Native
Created by CU Boulder students, Native is a personal travel assistant app. The app can plan, book, and handle the details of travel, all from your mobile phone.
Find out more at www.nativeapp.com
Change Composites
This CSU startup has created a new composite material with innovative shock absorption technology. The material is used to make bicycle helmets to reduce impact on the brain during an accident.
Find out more at www.changecomposites.com
VerbalizeIt Victorious in Enterprise Competition
After 4 rounds of business pitches in front of expert judges and a live audience, the finale of the Enterprise Competition on May 30th took a dramatic turn. The two finalists, VerbalizeIt and Xtrude2Fill, were given the opportunity to split the grand prize plus the runner up prize evenly, for a total of $137,500 each.
After some deliberation, both teams voted to take a chance on the first prize.
VerbalizeIt was then announced the final winner. They took home a $250,000 grand prize, plus 1 year of business mentoring from Blue Ocean Enterprises experts and other great prizes, including a full year of AllProWebTools business software.
Taking home the $25,000 second place prize was Xtrude2Fill.
VerbalizeIt
The New York-based startup is a language translation platform that helps businesses engage with global customers across 150 languages. They offer website, mobile app, and document translation, as well as video subtitling.
Find out more at www.verbalizeit.com
Xtrude2Fill
This Loveland-based company has changed the face of plastic injection molding for the first time since the 1950s. Their innovative process is more energy efficient, more cost effective, safer, and allows the use of mixed stream recycled plastics.
Find out more at www.plasaver.com
Congratulations to all four winners, and to all the other excellent competitors in both competitions!
Archives
Subscribe