How AllProWebTools Helped a Local Coworking Space
Saturday March 7, 2020 comments Tags: featured client, small business CRM, small business tools
When Kate Lake started My Office & More in August 2015, she had a passion for connecting entrepreneurs and small business owners. Her goal was to create a space where they could pursue their goals in a professional yet welcoming environment.
Five years later, My Office & More is one of the most prominent coworking startups in the area. It has become a hub where both small and large businesses from around the country learn, grow, and innovate together.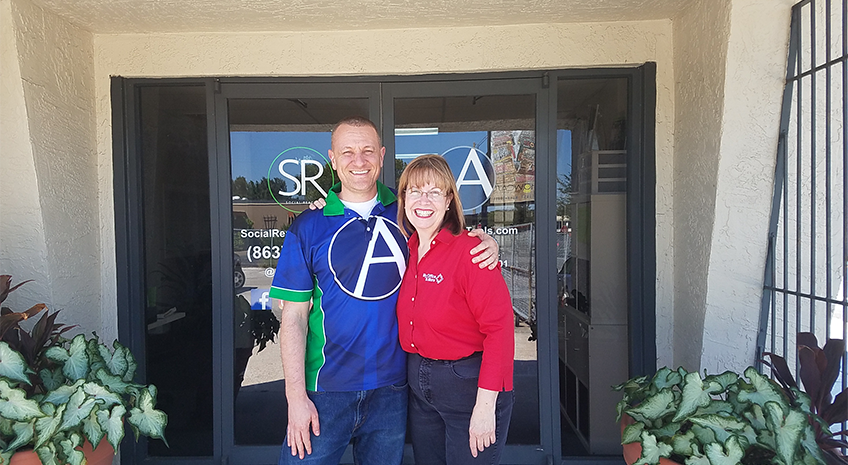 AllProWebTools is proud to help facilitate the work My Office & More does in business and in the community!
lll

What is My Office & More?
My Office & More is a coworking office space in Lakeland, Florida, where many different businesses find solutions that fit their needs. Coworking is the perfect solution for the modern day worker. Not every business needs their own brick-and-mortar location, or they might not be in a position to invest in all the infrastructure yet. Many business people value locations where they can connect with other entrepreneurs, get a commercial mailing address, access high-speed internet, have a professional place to hold meetings, and churn out work away from the distractions of home life.
My Office & More provides all of these services and more.
Those wanting to access My Office & More's services can pay by the hour, day, or enjoy a monthly membership. Their a la carte pricing makes it the easy, customizable option for today's entrepreneurs. From mailboxes, to private offices, to meeting rooms available for rent by the hour, businesses can solve problems and overcome obstacles as they grow and change. Best of all, they can do it knowing the My Office & More team has their back, and they have a community where they are supported and welcomed. Kate is overjoyed when she hears new members come into the space and exclaim, "Oh, I can get some work done here!"
lll

What's the Story Behind My Office & More?
Kate Lake is an administrator at heart, and has been in the business world her entire career. At one job in the corporate world, she worked in a shared office environment and was impressed by how special the atmosphere was.
She admits, "I was a little jealous of the administrative staff there. They didn't have to work for just one person and do it one way all the time. They could adapt and be creative to serve all the people who worked there. I thought that was the coolest thing, and the idea stayed with me for years."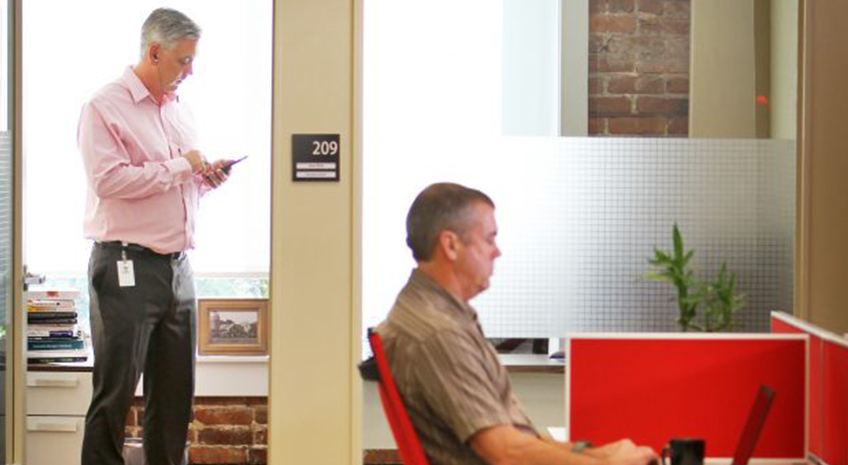 Years later, when she was in a place to start her own business, she started researching coworking. The more she learned, the more she became attached to the idea of creating an environment where like-minded people could come together, learn together, and help each other. Now she's done just that, and finds fulfillment in being able to serve her members individually and get the flexibility, adaptability, and creativity she started to value years ago.
One client story that stands out to Kate is a multi-state business that wanted to expand to Florida. The owner already had a presence in Texas and Wyoming, and she'd been looking for a few years for a place to situate her business in central Florida. When the owner was introduced to My Office & More, she loved the atmosphere. It was a cost-effective solution that gave them a presence in downtown Lakeland without spending a lot of money. Kate says, "Now, every time she comes into town, it's wonderful because she knows we've got her back. If she needs to have meetings, we can get that set up for her. If she needs referrals to get something taken care of, we can help her with that. When she comes to Lakeland, she has a team backing her up instead of having to figure out everything on her own."
How did My Office & More Struggle Before Finding AllProWebTools?
Before AllProWebTools, My Office & More used Excel spreadsheets to keep track of customer information. Managing a coworking space and tracking the services and needs of all of their members was daunting. At one point, Kate had an administrative assistant who did a good job of trying to put all the information together and link spreadsheets to create a system, but the system didn't work well for long. The problem was that not everyone knew how to use the labyrinth of spreadsheets, and once they started to add more data, the documents got jumbled and lost functionality.
Organizing customer records was becoming a monumental task, and it was getting out of hand! People would call or show up needing a piece of information, and the team would have to scramble to find out that information. They couldn't respond as quickly or effectively as they wanted to. Pretty soon, Kate knew they had to have some sort of software that would hold all of their data. But the customer relationship management (CRM) software companies Kate researched were just too expensive and didn't fit her needs.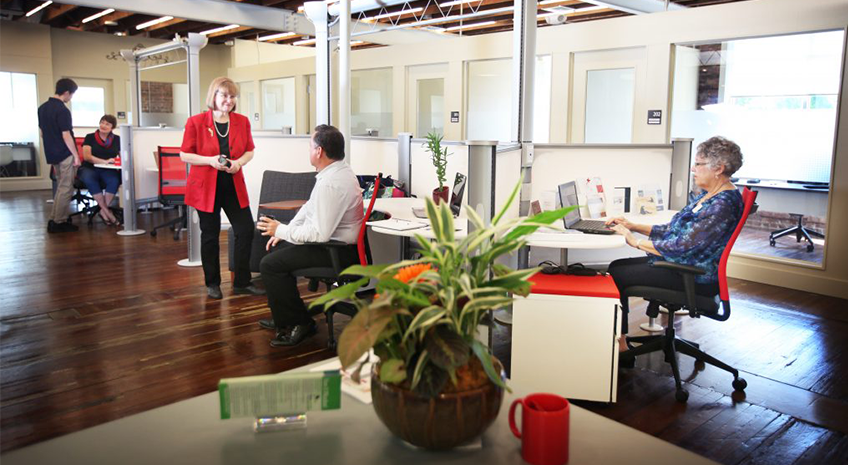 lll

How has AllProWebTools Helped My Office & More?
Kate loves that the AllProWebTools software is easy to customize. "It's simple to use and we can put all the data in there the way we want to. We aren't constricted to doing it somebody else's way." Just as My Office & More offers a la carte options for businesses, so does AllProWebTools.
Not only has AllProWebTools helped My Office & More organize client data and become more efficient, it's also grown with them as the business evolves. What the My Office & More team needs today is not what they'll need tomorrow. Having a software that the team can use in bite-sized pieces has been the biggest unexpected value of AllProWebTools. "With a lot of software," Kate explains, "you get everything all at once and you have to pay for it all at once. I wasn't ready to do that."
Kate just needed a CRM to get started, and that's all she paid for. Later, she found that she needed the ability to send mass emails to her clients to announce events and special offers - she was able to easily add that service when needed. "By adding on a module with the click of a button, I had the functionality I needed and I paid just a little bit more."
As time has gone on, Kate has encountered more business challenges, but she has also found that AllProWebTools can adapt with her. With AllProWebTools, she's been able to solve a number of ongoing business issues simply and efficiently.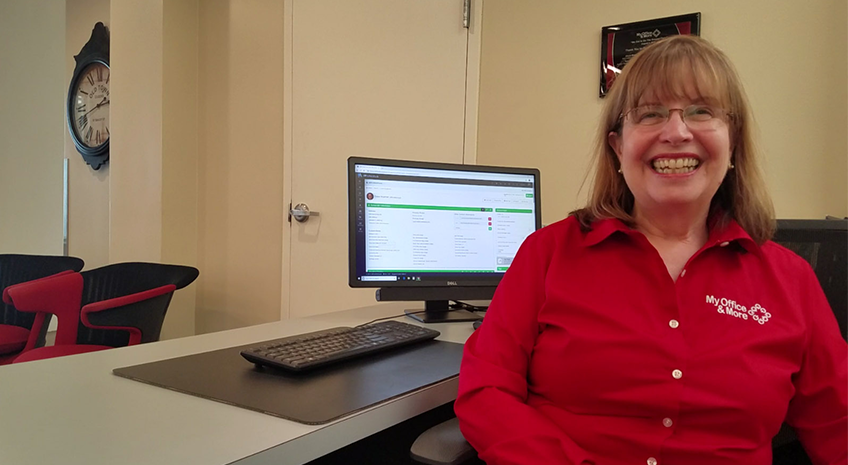 What Advice Can My Office & More Offer Other Businesses?
Kate has learned a lot from her time in corporate business, and serving small business owners. She loves sharing that wisdom with her customers and members, as well as creating a space where they can share their wisdom, too. If Kate could pass on one piece of advice to other business owners, it's to foster curiosity.
"Something every entrepreneur and business owner needs is curiosity," she reflects. "We need to figure out what works and what doesn't work. There are answers all around us, but it takes talking to each other and always being ready to learn in order to grow."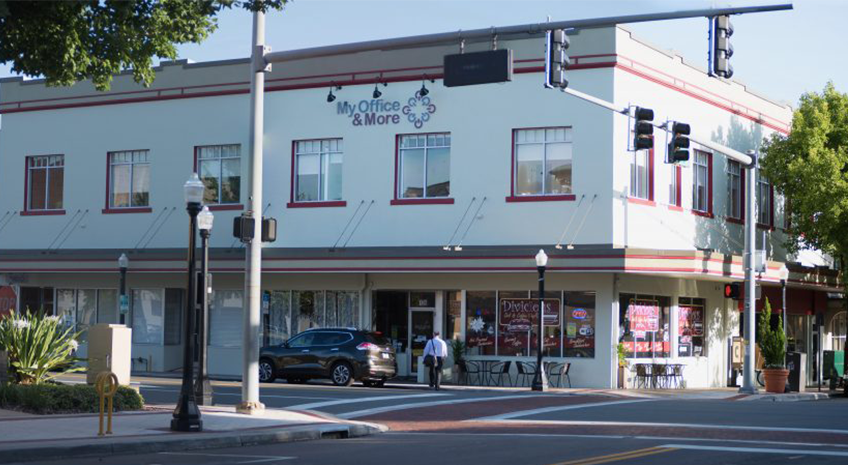 lll

Get Involved with My Office & More and AllProWebTools
Interested in connecting with the My Office & More community? Visit their website to learn about their wide variety of services and upcoming events!
Want to know more about how AllProWebTools can help you organize your business? Check out our WebTools and packages!
Archives
Subscribe