Laser Tag: How to Ease Workplace Tension
By: Anna Yates Thursday June 6, 2019 comments Tags: small business
The AllProWebTools management held a laser tag game in the office not long ago as a team building exercise. They equipped us with laser rifles and automated armor that said, "Welcome to Q-zar" when you turned it on. And funny enough - the team building worked.
Laser Tag Team Building?
Ok, ok - we may have looked a little silly in the office playing laser tag. We definitely felt a little silly at first. But who knew? It's a lot of fun to put on plastic armor and shoot your co-workers with laser guns!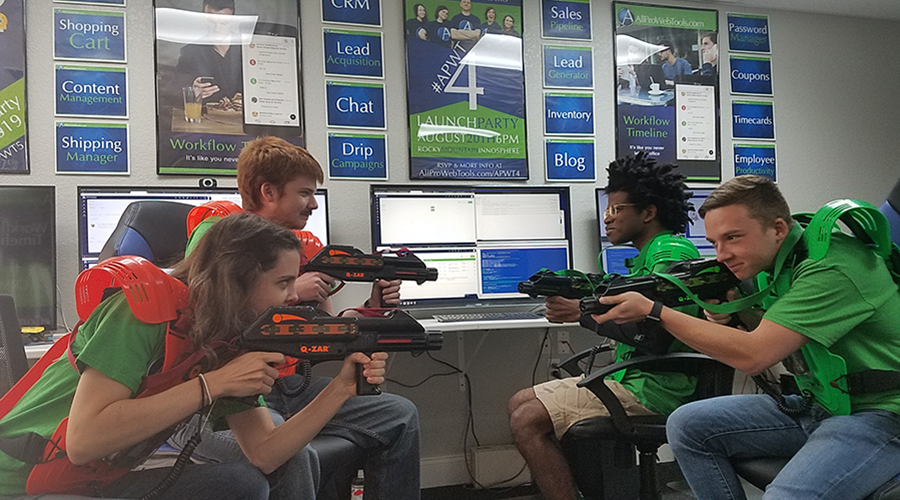 Anna, Ben, Elliott, and Noah get ready for a laser war.

And no, management wasn't letting us duke it out to resolve an argument over parking spaces or cleaning the office microwave. Actually, the AllProWebTools management was giving us an opportunity to just relax and have fun with our fellow team members. So why did laser tag work so well as team building?
We just had fun.
I must admit, it got a little heated during the laser tag game. Literally.
The air conditioning didn't stand a chance against the Florida heat and 6 people running around like wannabe Navy Seals. We were sweating. Our legs were aching. Our hearts were pumping. But gosh, it was fun.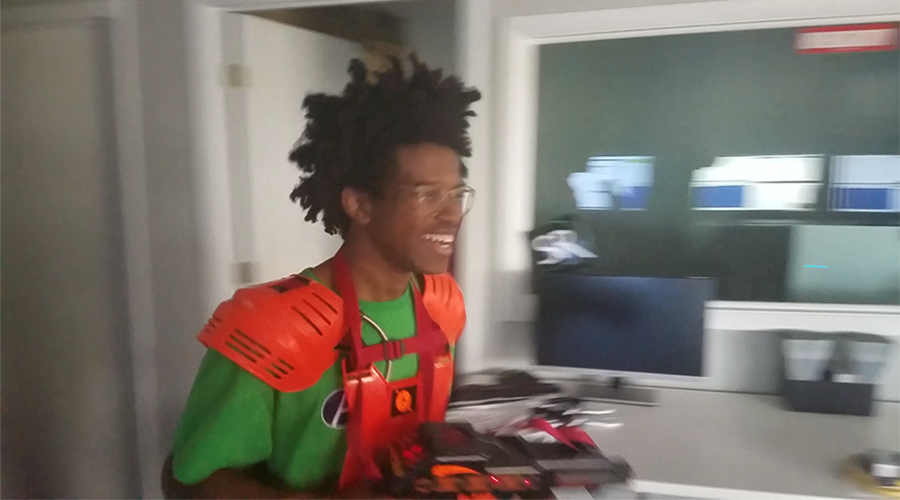 Elliott rushes through the office under laser fire!
The AllProWebTools office is normally a stress-free zone, where we work together to solve problems and serve customers. But of course, we're focused on productivity while we work. The laser tag game helped all the team members lighten up, ditch the professionalism, and get social.

When Dave, the owner of AllProWebTools, pulled out the plastic armor, all the team members were a little disoriented. "This is where we work, not play," we were thinking. "This is weird."
The programming guys, Noah, Elliott, and Ben, seemed more excited, like their favorite video game had just come to life. Kaitlyn and I were wondering how badly the guys would beat us and how sore we'd be the next day after maneuvering attacks between desks and office chairs.
The laser tag game helped all the team members lighten up, ditch the professionalism, and get social with each other.
But as soon as Dave divided us into teams and said, "Go!" we started laughing. There's nothing like some friendly competition to get people hyped up and acting like kids. People were out to get me. I was in danger of being shot through with a laser. I needed to protect the people on my team. And so the office became a war zone!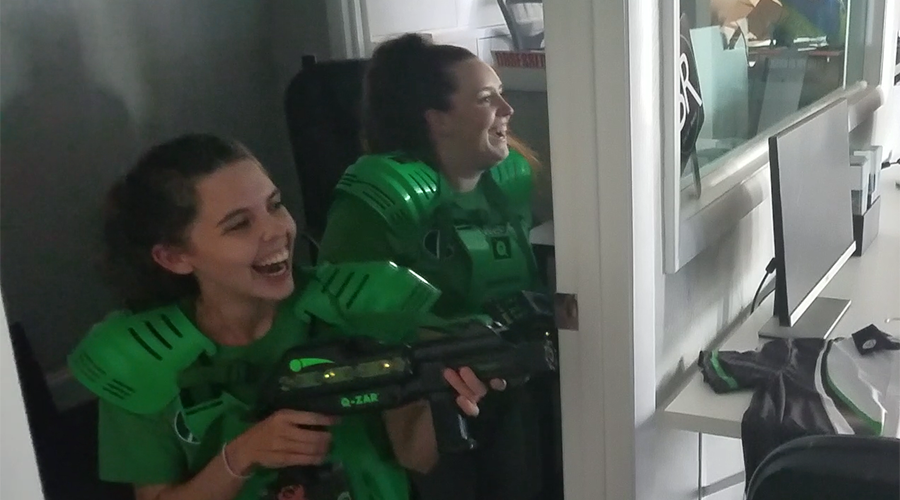 Anna and Kaitlyn take cover in an attack by the Orange Team.
Playing games helps you relax. But it also bonds you with your team members in a new way. We weren't just programmers, writers, and customer support reps anymore. We were soldiers, watching for ambushes, moving with allies to attack the enemy. As we worked together, we became better friends.
We learned a lot about each other.
It's surprising how much someone's real personality comes out when you give them a laser gun. We got a little crazy during that laser tag game. But even with the crazy, we gained insight on how each team member contributes to the team.

For example, we learned that Elliott is really precise - he can shoot with sniper-like accuracy. We were all victims of his laser at one point or another. Precision may seem like a given for a programmer, but in the laser game, we found that every move Elliott made was planned and purposeful. And shocker - his strategies were usually successful!
Even though we had fun, we gained insight on how each team member contributes to the team.
We also learned that Ben is quiet but strategic. He caught onto the underlying method of the game quickly and was able to outsmart most of us. That's nice to know when the enemy is a programming problem and the rest of us are stumped. Now we know Ben can assess a problem, figure out the core of it, and simplify the whole issue so it's easier to solve, and we'll be going to him with our problems a lot more.
On the laser battlefield, Noah displayed his great leadership skills. He was the first to communicate a plan to his team, to shout out warnings and encouragement, and to call when he needed help. Seeing how Noah communicates as a leader makes it easier to trust his input on the AllProWebTools team.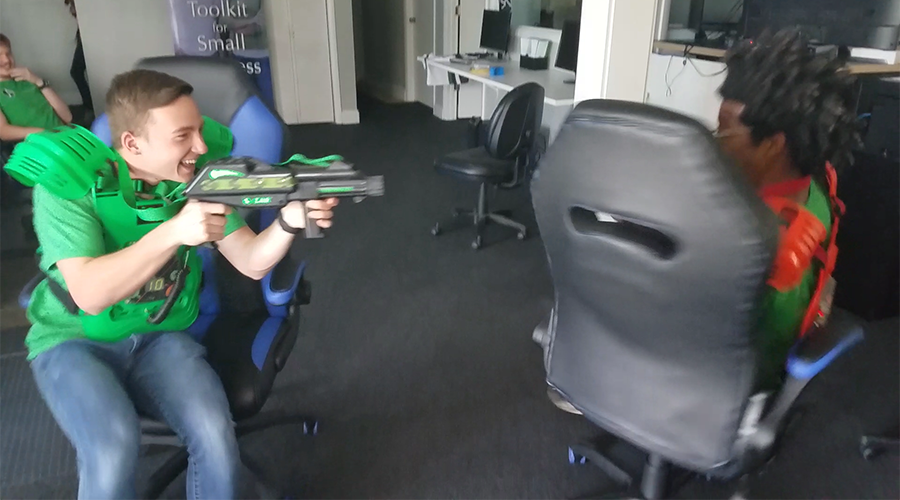 Noah and Elliott battle it out behind office chair shields.
And my co-workers learned that I may look sweet on the outside, but put me in armor and tell me to laser people, and I turn into a different person. I have a nasty competitive streak. It's normally hidden under several layers of politeness in the office, but my tenacity and drive showed clearly in the game. Now my fellow team members know that I'm not playing, when I play or when I work.
We gained valuable skills (believe it or not).
Laser tag was all fun and games. But that doesn't mean we weren't learning - ducking under desks and using office chairs as moving shields helped us improve valuable skills:
You have to pay attention to details when you need to protect the lights on your chest and back.
You have to be accurate when you're trying to hit the 4 x 4 inch box of lights on your enemy.
You have to creatively problem solve when your enemy is in a good hiding spot and you need to get to them without exposing yourself.
You have to communicate effectively when you're trying to protect your team.
The skills we exercised during laser tag help to make an effective businessperson and an effective team.
It's not as crazy as it sounds.
Laser tag team building works! We came away from the game feeling more connected to our fellow team members, knowing more about their strengths, and improving our skills so we can contribute to the team even more. Even though you may have to swallow some pride and get over some hesitation to really enjoy the game, the experience and memory is worth it.
Ducking under desks and using office chairs as moving shields helped us learn important lessons and improve valuable skills.
Laser tag is just one more reason AllProWebTools is a great place to work. Read about Taco Tuesday to see more of why AllProWebTools is special!
Interested in joining the AllProWebTools team? Reach out to us - we always have opportunities to get involved!






Archives
Subscribe