Simplify Your Business. Increase Your Profit.
Your business is bustling - you need a simple solution to your small business management needs. Find the 1 simple CRM software that manages everything:
Fast set-up

Easy management

Effective tools

Live support
Fast. Simple. Effective.
Manage every part of your business in one simple dashboard.
You can choose the tools you need and get face-to-face training to streamline your processes, expand your influence, and maximize your profits.
You Can't Afford To Ignore CRM
91%
Of business with 10 or more employees use a CRM
$8.71
The average return CRMs bring in each dollar spent
300%
Increase conversion rates using CRMs

Immediate Support
You can sign up and get training RIGHT NOW - you don't have to make an appointment!
30-Minute L
ive Screenshare Training
You'll have a virtual meeting with one of our support team members, share your screen, and get step-by-step training for our all-in-one CRM.
Additional Scheduled Training
If you act now, we'll include one of our additional scheduled training with business tips and tricks.
You're guaranteed to have all your contacts and data imported, and to know how to use the system.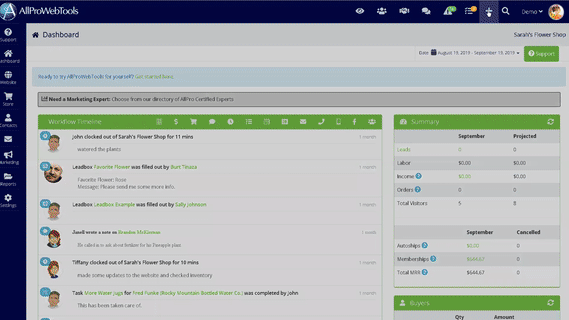 Integrated CRM
You need one place to go to manage your entire business. Our easy CRM integrates your website, contacts and leads, marketing, product management, and employee management all in one dashboard.
Task and Product Management
Spend less of your day figuring out what needs to be done. Spend more time expanding your reach and influence. With our small business management tools, you can automate processes, simplify management, and communicate more effectively.

Get Started with AllProWebTools
We integrate with: