Want to WOW your prospects and customers?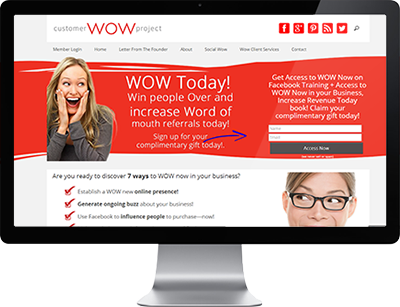 If you're looking to improve your company's social media game, look no further than the Customer WOW Project, AllProWebTools' featured user this month. The WOW stands for Win people Over and increase Word of mouth referrals today, and they live up to that promise.
Founder Jessica Peterson left a successful career in the banking industry, where her sincere interest and care for her clients made her stand out from the pack, to start her own business. She shares with her clients her unique perspective on social media as a tool for genuine connection, helping them find new customers and forge strong customer relationships.
"I love seeing great relationships being developed and people's lives enriched along with their business growing," says Jessica.
She is now a highly-sought out consultant and speaker, spreading proven social media and digital marketing techniques across the country. A certified social media coach, with a specialization in Facebook, Jessica and her team of experts have helped hundreds of professionals to grow their businesses.
AllProWebTools helps Customer Wow Project to keep things running smoothly, so they can reach and help as many clients as possible. "We are using it primarily for the email system," says Jessica. "We have also used it for some of our online shopping cart features." Customer WOW Project hosts their site, including the members-only accessible sections, on AllProWebTools.
AllProWebTools is unique in that it integrates an email marketing system and customer relationship management (CRM) tools with a small business's website and ecommerce hosting. This makes it much easier to keep track of your relationships with customers, and to ensure that leads you gather from your website never fall through the cracks.
Like Customer Wow Project, AllProWebTools helps business owners to form real relationships with customers. We provide you with the tools to remember important follow-up calls, find new leads, and even automate certain repetitive processes so you can spend more energy where it counts: taking an interest and creating relationships with customers.
We asked Jessica for her top tips for making strong connections with customers over Facebook. She said, "First and foremost is to take an interest. As in any relationship, there has to be interest."
She also put an emphasis on being portrayed correctly. "How can someone connect with you when they are unclear what you do?" she said. "It is about connection. Third, you need to bring value."
It can be difficult to track how well you're doing at applying these tips in an objective way. AllProWebTools also helps solve the problem of tracking engagement from social media – our marketing tools can help you calculate your return on investment for your social media efforts, so you can hone your strategy further.
There are over 1 billion people on Facebook – many of them potential customers that you could never reach if your business doesn't have a Facebook presence. Especially since most consumers trust the reviews and opinions of their peers to make purchasing decisions, you can't afford to miss out on the opportunity to become part of that conversation. There's a whole untapped realm of potential through social media. Customer WOW Project can help you engage with it, and AllProWebTools can help you get organized and measure your impact.
AllProWebTools is proud to work with a number of small businesses along the Front Range and all over the United States. We love to support local small businesses and continue to build, manage and grow our locally-owned community. If you or someone you know could benefit from AllProWebTools business management software, we'd love to hear from you!
For more information on Customer Wow Project, visit www.customerwowproject.com