Email is the intersection between CRM, digital marketing, and your website.
Doesn't it make sense for all four to be fully integrated?
AllProWebTools gives you unparalleled insight into not only how your emails are performing, but how interested and active each contact is with your communications. Convert new customers and stay top-of-mind with scheduled emails and automated triggers.

Emails That Convert
Emails That Convert:
AllProWebTools emails are beautiful, customizable, and conversion-driven. Use our premade templates or create your own. Either way, no coding skills required.

Personal Connections
Personal Connections:
There's nothing like a newsletter to reinforce your personal brand with your contacts. Send coupons, valuable content, and more to stay top of mind.

Detailed Analytics
Detailed Analytics:
Make comparing campaigns easy. Learn how many people visited your website as a result of an email, if they bought anything, and if so, how much they spent.
What Can You Do With AllProWebTools Email Marketing?
Write emails in advance and schedule them to send to groups of contacts later?
Of course.
Create beautiful, conversion-driven emails?
You can use our templates, or make your own.
Compare the success of different campaigns in dollars?
Yep.
Create automated
email marketing
campaigns?
Yes! Set up as many as you want!
Set up email triggers from your website?
Uh-huh.
Get updates from the
Workflow Timeline
?
Every time an email is sent. With Email Pro, you also see when emails are opened and when contacts unsubscribe.
Unlimited Emails / Month:
(Service Provider Charges May Apply -- Click for Details)
Create beautiful emails and track the results from your console. Track open rates, click-throughs, and purchases made as a result of each email. You can even see the dollar value of each purchase triggered by an email.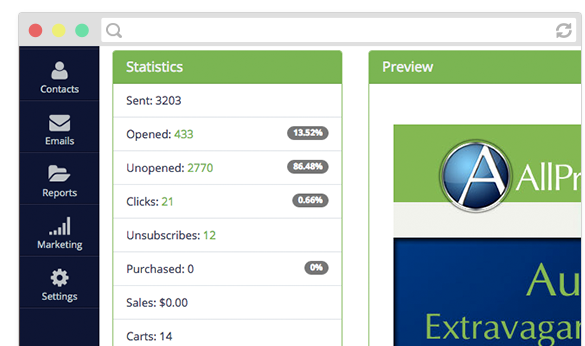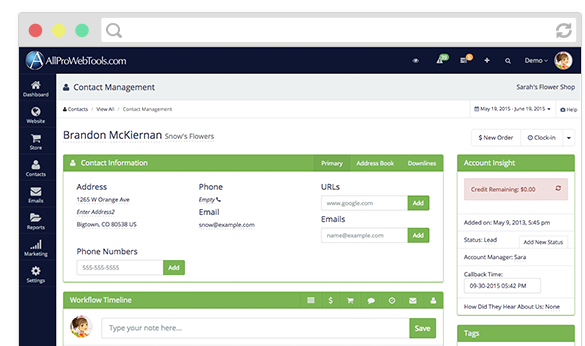 Unlimited Contacts:
There's no limit to the number of contacts you can have in your database. AllProWebTools email uses your CRM as your contact book. If you have their email address, you can include them in a marketing campaign.
CAN-SPAM Compliant:
Our emails automatically include everything you need to comply with spam regulations, including unsubscribe options in every email.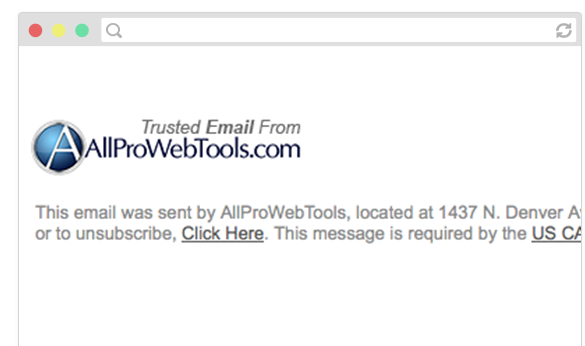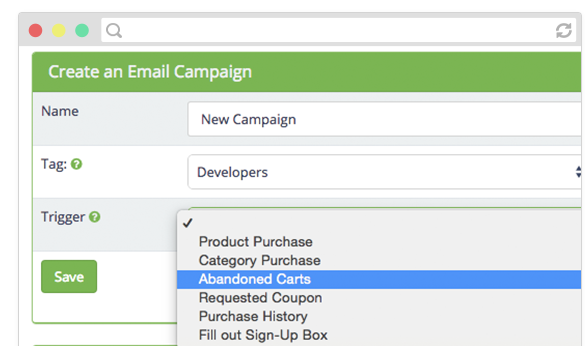 Email Campaign Manager:
Complete dashboard for creating automated marketing campaigns. Set up triggers that launch campaigns designed to convert, and use tags to categorize your leads and customers.
You Have Email Provider Options
AllProWebTools has it's own SMTP service, so you can easily setup email marketing in our system and benefit from some of the lowest prices in the industry. Learn more about our SMTP&nbsp email marketing service.
You also have the option of using another email marketing provider and integrating it into our system. We work with the following providers: SendGrid,&nbsp Mailgun and Elastic Email. Read more about these options and pricing by clicking here.



Affiliate Marketing:
Do you have customers that would love to refer you to their friends and family? Do you have partners that could send new business your way? Affiliate marketing allows you to track how many people they refer to you.
Add Affiliate Marketing to your toolkit for $25/month!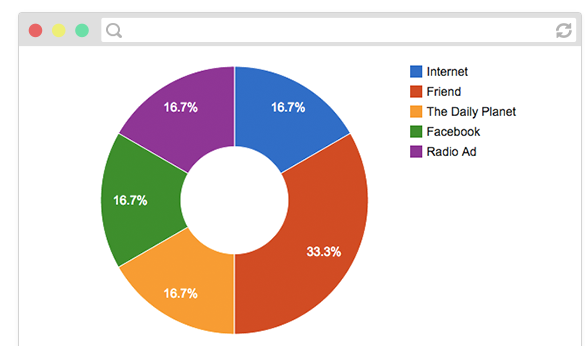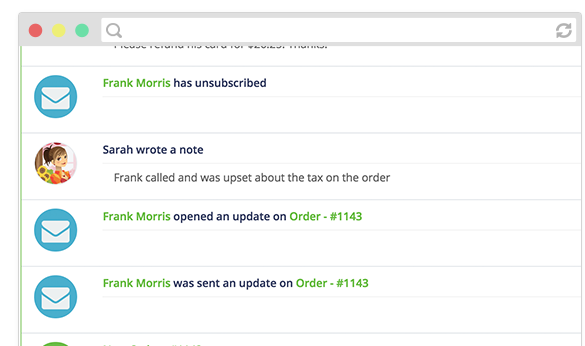 Email Pro:
AllProWebTools Email for real pros! New ability to customize your emails with signature lines and custom "From" fields. Plus, whenever a contact opens an email or unsubscribes, you get an update in your Workflow Timeline.
Add Email Pro to your toolkit for $5 per month
B2B Email Marketing:
Would you like to send automated emails that look like a regular, plain email? This WebTool will allow you to remove the AllProWebTools logo from your emails and the unsubscribe link from the bottom.
Add B2B Email Marketing to your toolkit for $10/month!
Our Email Marketing includes our base package and CRM for only $30/month.