10 Signs You Need a Growth Strategy
By: Dave Kramer Friday July 10, 2015 comments Tags: growth
1. Your Revenue Growth Has Slowed
This is the most surefire sign that you need a growth strategy—if you aren't growing! Track your revenues month to month and look for signs of leveling off, or worse, declines. If you notice a problem, don't delay. The sooner you take action the better.
If you don't have tools to track revenue month over month, that's a great place to start.
The Good News:
If you have clear awareness of your revenue growth (or lack thereof) you'll be able to take action to pull out of the stall—and track the rising revenues once your growth strategy is working!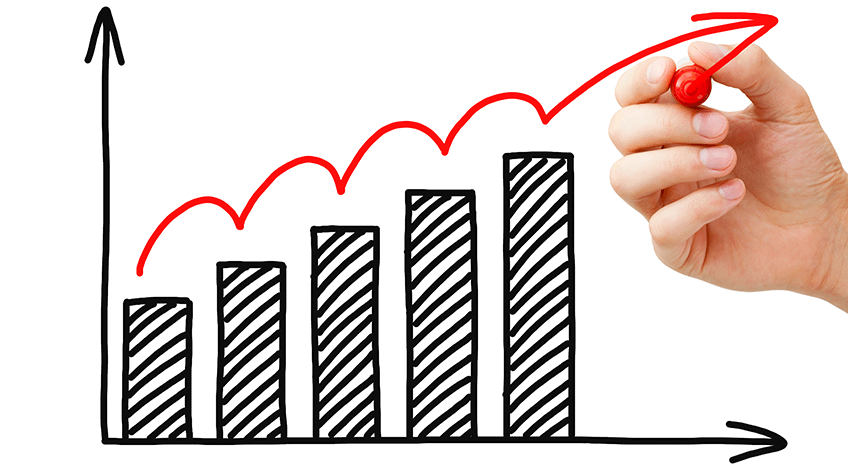 2. Your Profit Margins are Shrinking
To calculate your profit margins, you need to consider more than just the costs of producing your product or service. You have to consider your time.
If you're working longer and harder, without getting paid more and more, that's a sign of a problem. Occasional projects require long hours, but if you constantly feel like you're just barely keeping up, there's a problem.
The Good News:
You won't believe how much time you can save by identifying and eliminating a few key sources of waste. Making the right software decisions is an area where you can save a lot of time and money and get huge returns.
3. You Feel Discouraged
Your feelings about the business can actually be a good guide to how the business is doing. People don't usually feel discouraged when business is thriving.
Feeling discouraged could indicate that things aren't moving forward in your business. That means it's time to start looking for ways to revitalize.
The Good News:
Running your business should make you feel empowered, not discouraged! Getting back into a positive growth pattern will not only increase profits, but bring you new energy to pursue your passion.
4. You're Losing New Business to the Competition
Everyone loses a lead sometimes, but if you're consistently losing qualified leads to the competition, it's a sign that something is out of touch. It's time to take a hard look at your value proposition, sales process, and messaging, and find new ways to appeal to your audience.
The Good News:
Once you rediscover the key to engaging your prospects, you'll be rewarded with a rush of new customers, and the energy, drive, and profits they bring with them.
5. Your Products are Losing Ground, Not Gaining Ground
Look beyond the incoming revenues of your business as a whole, and narrow your focus to specific products. Are some of them losing ground month over month?
If so, it's a sign that either your product offerings aren't what your audience is looking for, or you aren't branding them in a way that appeals.
The Good News:
This could be an exciting opportunity to expand your product or service line. This can reinvigorate your passion for your business, provide you with new promotion and PR opportunities, and help you provide the best possible value to your customers.
6. You're Feeling Burned Out
Just like feelings of discouragement, feelings of burn-out should be taken seriously. If you feel burned out, there's a good chance that there are some big systemic inefficiencies in the way your business is managed.
The Good News:
There are so many tools available that are easy-to-use, affordable, and designed specifically for this very problem. You'd be amazed and how much you can streamline, and how much better you feel as a result.
7. You're Outgrowing Your Systems and Processes
The systems and processes you use to manage your business are supposed to make your life easier, not more complicated. If you're getting burdened down with multiple entries, logging in and out, multiple bills, and searching for new tools, all that could be holding back your growth.
The Good News:
Look for a software solution that can grow alongside your company, without burdening you with charges you aren't ready for. An integrated toolkit might be the easiest to learn, most affordable type of system.
8. Cash Flow is Inconsistent
If you've been in business long, you know that cash flow is the lifeblood of your business. If it's inconsistent or slowing down, that's a problem to prioritize.
The first step is to figure out where the problem is. Is it a problem of finding leads, converting them, excessive costs, or late invoices? All of these problems can be solved with a growth strategy.
The Good News:
Getting a consistent, growing cash flow will give you lots of potential to reinvest in your business, without stressing about running out of money. It simply gives you greater flexibility and choices throughout the month.
9. Your Customers Aren't "Fans"
Many businesses don't realize they have this problem until it's solved. If revenues are relatively steady and you're making sales, you might not think it's a problem to have disengaged customers.
But if your customers are one-time purchasers, and don't advocate for your brand, you're losing tons of potential repeat business!
The Good News:
Customer retention is a much cheaper strategy than customer acquisition. Repeat customers tend to make larger orders, refer their friends, and promote you on social media. Having customers as fans will increase revenues, but it will also revitalize your love for what you do. Customer satisfaction is business owner satisfaction too.
10. You're Missing Opportunities
All of these problems translate to missed opportunities. You're missing them while you're scrambling to acquire new customers, to keep operations running, and to maintain your enthusiasm and stamina. You're missing them while you're stressing over bills, fighting with your software, and worrying about the future.
The Good News:
These opportunities aren't out of reach! Realizing you need a growth strategy is the first step in an exciting journey to seize those opportunities and bring your business to levels you never imagined were possible.
How do you know when it's time for a change in your business? Let us know in the comments!
Archives
Subscribe