5 Small Business Marketing Mistakes That Are Holding You Back
By: Paige Schartz Thursday August 6, 2015 comments Tags: marketing
Marketing your own business can be overwhelming, especially if you don't have any formal training. If you're starting to explore pay-per-click, social media, and email marketing, but don't have a lot of clarity about your strategy or results, there might be some simple things holding you back.
We see these small business marketing mistakes all the time from passionate, intelligent small business owners. They're usually frustrated, because they're putting in a lot of time and money and aren't seeing any results. The good news is, fixing these mistakes puts you on track to an organized, scalable, profitable marketing strategy.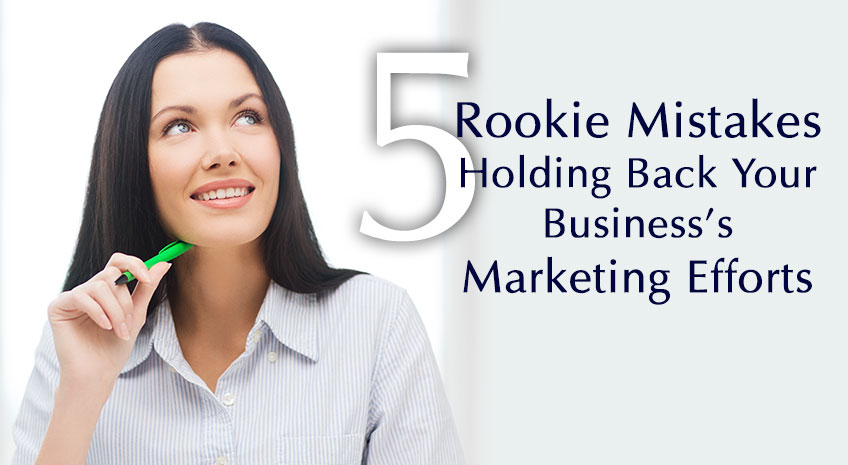 1. Not Maintaining or Claiming Online Presence
This might be the most common mistake we see. Most businesses that are interested in marketing at least have a website, but many don't maintain it. If your website is out of date, in terms of content, design, broken images, or anything like that, it sends a message to your customers that your site isn't reputable. It's not as hard as you might think to refresh your website. Contact one of our Web Development Experts for help.
But your online presence goes far beyond just your website. Your social media profiles, your Google Maps information, Yelp profiles, and so on are very important too. Many people use those tools to search for new businesses, especially locally. If you don't have profiles for your business, it's hard for them to find information about you and, again, it looks disreputable.
Takeaways:
Host your website through a platform that allows you to edit your own content, without necessarily having to be able to code
Keep your site's design at least somewhat modern
Make your site mobile responsive
Maintain a blog for your site to show your business is active, knowledgeable about your industry, and helpful
Create and maintain social media, Maps, and Yelp profiles, and anything else that will help new customers find you online
2. Misusing Social Media
Social media can be confusing at times, especially when there are some distinct etiquette rules for each platform. Strategies that work fine on Twitter are a disaster on Facebook, and visa versa.
For example, you can get away with tweeting much more frequently than you can post on Facebook. This has to do with the nature of the platform and what users expect. It's important to learn and follow these rules, so you can be more effective and not risk annoying your target audience.
Different audiences also hang out on different social media platforms. It's important to know which ones your target audience uses, at what times of day, and looking for what types of posts. For example, LinkedIn works much better for posts that are work and business related.
Takeaways:
Research which social media channels your audience uses and focus on those
Follow the style, frequency, and subject norms of the channels you use
Include correctly-sized images to make your posts pop
3. Not Tracking Your Own Results
When many business owners start ramping up their marketing efforts, attribution becomes a problem. Attribution means knowing which marketing channels are bringing in how many leads and how many dollars in revenue.
If you're doing digital advertising of any kind, but especially pay-per-click, the channel itself (Twitter, Google, Bing, etc) will have its own analytics, telling you how many people saw the ad, clicked on it, and various other statistics.
But it's problematic to rely on their analytics alone. It can cause you to double-count leads, it's time intensive, and it may not be totally accurate. I recommend using your own analytics dashboard, and using tracking URLs to determine exactly where each site visitor came from.
Takeaways:
Find a dashboard to track all your marketing channels from one location, such as AllProWebTools
Use tracking URLs and trust them over your PPC channel's analytics
Compare what the PPC channel says with your results to get the clearest picture of what's really going on
4. Failing to Test New Formats and Messaging
It's important to keep your ads, emails, and online content fresh by updating them frequently. But whenever you change the look or messaging of a campaign, it's critical to compare your results with what you were doing before. Otherwise, you're just guessing that the changes you made are working.
Approach your marketing materials with an attitude of experimentation. Does adding pictures to your emails increase click-throughs? If so, you can apply that to all email campaigns you make in the future.
A/B testing is a good way to do this. A/B testing means you send out one version that is updated with whatever change you want to test. But you also send out a version that's the same as what you've been doing. Half your audience gets the new version, half gets the old, so you can compare. This works for emails, web pages, PPC ads, and more.
Takeaways:
Keep your campaigns updated, and experiment with new messaging and formats
Use a marketing dashboard that lets you A/B test campaigns
Only change one variable at a time, so you know what caused any changes
5. Focusing Only on New Customers
Obviously it's important to try to get your business in front of new eyes as much as possible, but it's easy to get too caught up in chasing after new customers and ignore ones you already have.
Customer retention marketing is usually a lot less expensive than targeting new audiences, and there are fewer obstacles to overcome. Plus, repeat customers tend to make larger purchases than new ones. Focusing too much on new customers is a mistake you can't afford to make.
Target your existing customers with discounts, loyalty programs, emails, and content to keep them engaged with your brand. They're likely to become some of your best advocates.
Takeaways:
Follow up consistently with your existing customers, via email, phone, and mail
Post content on your website and blog that's helpful to your existing customers to keep them coming back to your site as a valuable resource
Set up a loyalty program to encourage repeat business, and encourage customers to make referrals
If you're making any of these mistakes, don't worry! With a bit of a mindset adjustment, some concrete strategies, and maybe some consultation with an expert, you can get your marketing strategy on track. You won't believe the results you can get once you move past these kinds of rookie mistakes.
We want to help you avoid making these small business marketing mistakes, and we have a team of Experts that can help! Whether you need help with marketing, customer retention, website development or something else, contact one of our Certified AllProWebTools Experts to get you on the path to success.

Archives
Subscribe