8 Productivity Tips from Small Business Experts
By: Andrea Lotz Friday September 4, 2015 comments Tags: productivity, tips
When you're a small business owner or entrepreneur with limited time and resources, productivity can be life or death for your business. Finding ways to get more done in less time (without totally burning yourself out) is a vital skill that will help your business survive as it grows.
8 small business owners and productivity experts shared their top productivity tips, and here's what they had to say about this most important topic.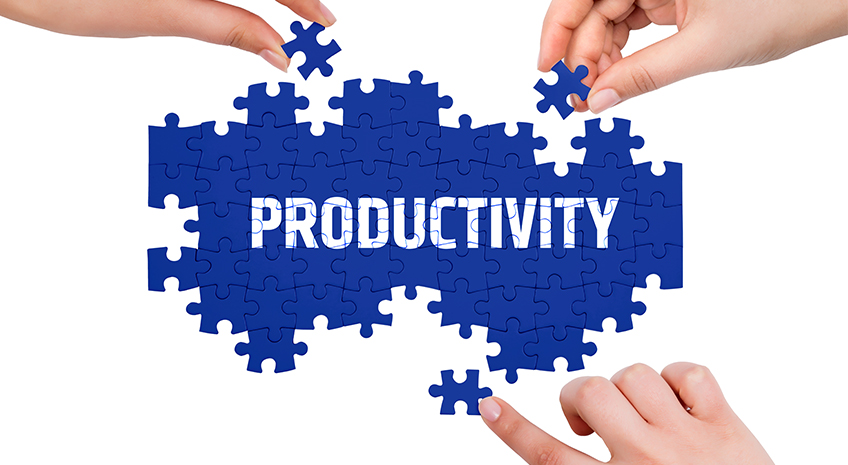 1. Cultivate a Productive Environment
You should work when, where, and how you're most productive. That might mean decorating your room to relax you and promote creativity. Or, it might mean choosing background sounds, whether that's nature, people talking ambiently, music, or silence.
Suzan Fitzell, an education consultant, author, and speaker, shared her productivity setup: "I use a standing station to work 90% of the time so that I don't fall asleep in a chair while trying to do work, and so that I stay focused and productive," she said. "I often will play Mozart, or Yanni in the background to help me get in the zone."
Whether you like to work standing or sitting, alone or in a group, late at night or early, you should find ways to respect your productivity needs. You won't believe how much more you can get done when the conditions are right.
2. Ensure Your Needs are Met
One of the biggest distractions when you're trying to settle in for productive work is your own body. If you're hungry, sleepy, stressed, or feeling socially over- or under-stimulated, it's hard to move into a real productive flow state.
Pete Walter, PR and branding expert, shared how he stays alert and productive.
"I find that if I nap for 10 minutes in the middle of the day it makes me feel 10X more awake and helps me stay much more concentrated," he said. "If I'm fighting tiredness unnecessarily, it drains all productivity and turns me into something of a work-zombie."
Find what times of day you need a break, a nap, or a snack. Productivity should never feel like punishing yourself—it should flow naturally if all your basic needs are met.
3. Get a Change of Scenery
When you get stuck in a rut, it can be hard for your brain to move on to new ideas and ways of looking at problems. This can kill your productivity, but it can be pretty easy to switch things up.
For Meghan Khaitan, a busy entrepreneur and parent, "it's all about changing up your surroundings to spur new ideas and shed new light on an old problem."
"Oftentimes, I'll head to the library or anywhere that is full of natural light and fairly quiet," she says. "Another great option is working outdoors on a park bench, when the weather cooperates. I usually change my scenery and go to these new work spaces post lunch, as this is the time that my focus hits a slight dip."

Many people need to change locations throughout their work day to be fully productive. Figure out when during the day you can benefit from a change of pace, even if it's just taking a walk outside to reset.
4. "Chunk" Your Schedule

Chunking is a well established productivity trick. Business coach and speaker Jennifer Reitmeyer describes it as "grouping like tasks together whenever possible."
Basically, the goal is to help you achieve a state of flow—uninterrupted, productive work time where you get tons of work done and the hours fly by. Flow state work tends to be high quality, and gets produced quickly, so it's hugely important for entrepreneurs to pursue flow state.
Reitmeyer says, "I try to knock out tons of blog posts at once, or social media graphics, or client emails, or expense tracking. The important thing is getting into the right mindset to crank out tons of work on a particular theme."
5. Clearly Prioritize Tasks
Time management expert Tor Refsland suggests using the ABCDE method and the 80/20 rule to prioritize your tasks.
ABCDE Priorities
A: Tasks that will have serious consequences if not done today
B: Tasks that you should do today, with mild consequences
C: Tasks that you could do today, but which aren't urgent
D: Tasks to delegate to others
E: Tasks you eliminate. Never do them—they aren't worth your time
According to Refsland, you should start your day by doing all your A tasks, which are the 20% of work which will bring you 80% of your results.
"The real trick is to never do a B task before you have completed all your A tasks, and never do a C task before you have completed all your B tasks," Refsland said.
6. Leave Buffer Time Free
A common productivity mistake is to overbook yourself. Firstly, tasks always seem to take longer than we predict they will. But there's a bigger reason to leave yourself some extra time in your schedule.
"Build buffer time into your schedule for emergencies," said Blake Connoy, co-founder of a Canadian cleaning startup. "If something happens and you need to deal with it immediately, having some extra time in your schedule will mean that urgent matters won't completely throw the organization of your day off."
This is especially important in a small business, where small, frequent changes can have big implications for your day.
7. Plan for Tomorrow
According to Dave Scarola, vice president of an on- and offline community of business advisory boards, productivity begins the day before you need to get things done.
"Before you leave the office each day, take a few minutes to plan your next day," he suggests. "Pick one thing on your list for the next day that you'll commit to completing first thing in the morning."
This helps you start the day with a task that has some weight, rather than bogging down your morning in things that have come up last minute, or worse, with email.
8. Get Into a Productive Routine
Taking all of these tips and using them to create a routine is probably the best thing you can do for productivity. Having a routine helps put productivity on autopilot, priming your brain for work with cues throughout the day.
"I've found that over the past few years running my business, the best way to stay productive is to have a set routine - wake up every morning at the same time, complete the administrative work, and make a (realistic) to-do list for the day to minimize the pressure for that particular day," says Diana George, founder of a Bay Area real estate brokerage. "I'm being proactive versus reactive and this sets the tone for the entire day."
Take some advice from these experts, and get proactive about productivity. Finding the right elements of a good productivity routine could change your career forever.
Archives
Subscribe