9 Wow-Worthy Customer Retention Strategies from Small Business Owners
By: Andrea Lotz Wednesday July 15, 2015 comments Tags: retention
Small business owners tend to be customer retention experts. It's a great way for businesses with a small marketing budget to maximize ROI, increase profitability, and improve cash flow.
We asked 9 business owners to share their top customer retention strategies with us, and they came up with some knock-your-socks-off retention strategies. These tips go way above and beyond the call of duty, and they've gotten the results to prove it.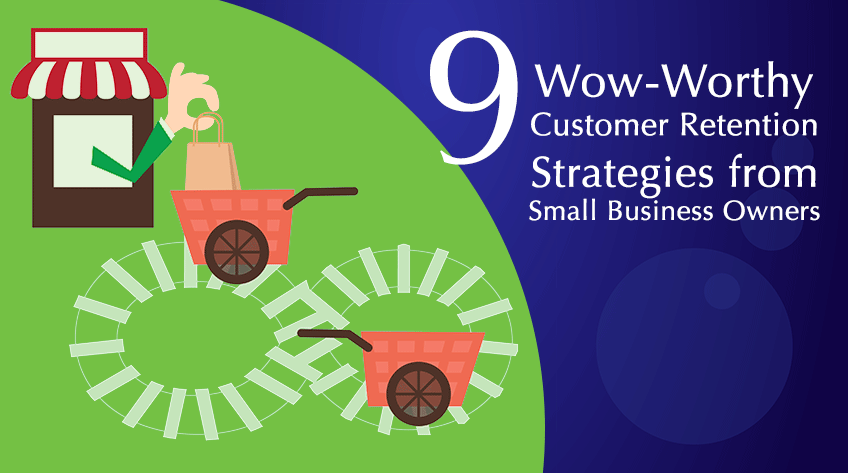 Apartable is committed to lighting-fast follow-up speed. Liat Tzoubari says, "Our #1 customer retention tip is to respond to every customer within 24 hours." She says, "No matter what their concern, even if not urgent, we care about listening to our customers and addressing their problem."
They've gotten great results from their efforts. "Customers are always surprised to hear from us so quickly," she says, "and as a result, we have received overwhelmingly positive responses from customers regarding our quick response time and helpful customer service."
"The last time we knocked a client's sox off," says Colleen Voisin of NightGlass Media Group, was when we sent over a Mobil Detailer to their establishment to clean their cars. We wanted to thank them for their repeat business they were sending our way."
This kind of outside-the-box thinking made a huge impact to their client. She says, "They were
impressed needless to say and we received lots of compliments from their staff."
"I work with the Experience Pros Radio Show," says Angel Tuccy, "a radio show and membership network for business professionals. The premise of the show is celebrating customer service and retention goes hand-in-hand."

"We've created a monthly system for staying connected with our customers that includes phone calls, emails, networking events, and greeting cards," she says. They reach out to every customer every single month. "We've added a CRM system, so every staff member can keep up on all customer communication and we all have access to every interaction."
They've gotten great results as a result of getting organized.
"Our retention numbers before we implemented the system was 55% dropped vs. 45% renewed," she says. "After 6 months, our retention numbers are improving - 35% dropped vs. 65% retained, and we're seeing the quality of member has improved. Our goal is 100% retention."
Getting organized about your follow-up schedule and strategy helps prevent potential repeat customers from falling through the cracks, and makes your customers feel important.
"One of the biggest retention strategies we found to work was having scheduled meetings every quarter with our customers," says Seb Dean of The Imaginaire. "Having a
formally set routine for meeting them shows that you care about them and their needs and also gives the account manager a chance to build a strong relationship."
One of the best ways to ensure customer retention is to make your brand an invaluable resource to customers. Jason Parks of The Media Captain does a great job of this. "Each quarter, we have a "Donut and Digital Marketing" event at our office in downtown Columbus on a selected Friday morning," he says.

"We invite all of our clients to partake in free coffee, donuts and a learning session by our digital specialists about the latest and greatest trends in digital marketing. Even though our clients appreciate the free donuts and coffee, they are so happy to learn about important components of online marketing," he says.

It's been so successful that they actually have a waiting list. "Our office isn't large so we can't have more than 15-people for an event. The result of having this event over the past 2-years is that we have a
waiting list of clients who are eager to come to future events."
Elissa Spektor shared her tips for standing out in steep competition. "With so many options online to buy jewelry we really try to wow our customers. All of our items come gift wrapped," she says, "but where we really differentiate ourselves is the 'after experience.' We hand write and send every customer a Thank You card with a personalized message about their purchase."

Then they add further value by including a promo code for their next purchase.
"We see about a 5% redemption on the codes within 60 days of their first purchase," she says. "For the others that may not purchase again immediately, we know that we have done our best to make their shopping experience worthwhile and memorable."
"One of my most effective strategies is simply to ask people why they purchased something specifically," says Julie Abouzelof of Moonrise Crystals. "What was it that attracted them to that item?"

She then uses the information to enrich her customers' experiences.
"In my experience, customers are absolutely willing to tell you, in detail, all sorts of things if you simply ask why. After they tell me why, I respond accordingly. Maybe I make an additional recommendation. Maybe I just tell them "congratulations!" or "I'm sorry to hear that..." or whatever is appropriate. Maybe I give them some ideas of additional ways they can use the item."
"I treat my customers like the interesting individuals that they actually are," she says. "It often makes a very strong and positive impression and that in turn leads to repeat customers and customer referrals. People want to be acknowledged as interesting individuals, not just a source of income."
Don Uhlir of Extremely Sharp says that his best customer retention strategy is to identify and reach out to potential brand ambassadors.
"For those advocates that already really like us, it's a way for us to highlight them and make it easier for them to sing our praises," he says. "The cost is low as well. We're able to hold a few small events for our ambassadors, acknowledge them as our "elite" and maybe send them a sticker every once in a while."
They've gotten great results from this referral campaign. "Sales have increased 40% just due to the ambassador program," he says, "and we've seen the size of our email newsletter increase even faster."
"There're business applications like AllProWebTools that . . . can help to automate your business so you can get back to doing what you do best," says Ryan Hulland of Netfloor USA. "In today's business environment, you have to be on the cutting edge of that technology, because your competition already is."
But just relying on technology isn't enough.
"In a business world where technology is unavoidable, sometimes it's the simple things that count the most," he says. "In my businesses, we've developed a tradition of sending a four-leaf clover to our clients. It might seem like a gimmick at first, but the four leaf clover is a sign of luck, happiness and goodwill. We don't buy them in a gift shop. My family and I pick them in our yard."
The effort is worth the results.
"It is a slow, time-consuming process in a business world that travels at the speed of light. I believe our customers realize that and can appreciate it on some level, whether they believe in the luck of the Irish or not."
What's your special customer retention sauce? When was the last time you really wow-ed a customer? Let us know in the comments!
Archives
Subscribe