Accidental Spam Reports - What to do
By: Anna Yates Friday July 12, 2019 comments Tags: email marketing
Did someone just call you SPAM? Here's what you can do about it and how we can help!
When someone marks your email as "spam", AllProWebTools lets you see which contact marked your email as spam so that you can reach out to them to enquire further. Sometimes, a contact may mark your email as spam and not remember it, or may accidentally mark your email as spam and want to rejoin your email list. If this has happened, here are a few things you can do to address the issue.

4 Reasons Someone May Have Marked Your Email as Spam
They accidentally clicked the spam button (we've all clicked buttons accidentally!).
They didn't see or know to click the unsubscribe button.
Someone else was using their email account (like a husband or wife).
They didn't hit the spam button but their email provider sent AllProWebTools a spam report regardless.
What Actually Happened?
Whenever someone marks an email from you as spam, their email provider contacts AllProWebTools with a spam report. Their email provider could be Gmail, Yahoo, Office 365, or any other email provider. When AllProWebTools gets a spam report, we notify you and remove that contact from your email campaigns.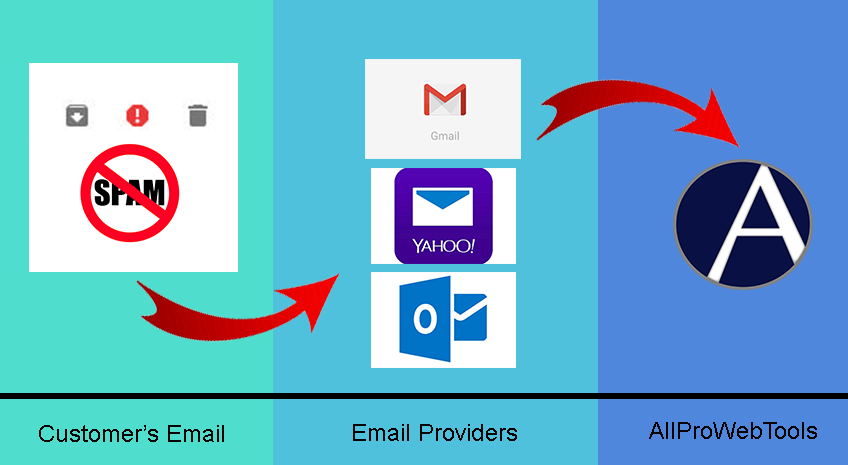 The process is always the same, whether or not the spam report was a mistake or accident. AllProWebTools simply processes the spam reports from the email provider.
What Should I Do Next?
When you get notified about a spam report, we recommend following up with the client to see why they marked your email as spam. If you've already done that and determined the spam was a mistake, you can take the following steps:



1. Ask the client to mark your email as safe.
Your client can go into their email account and mark your email as safe again. Each email provider is different, so your client will have to research how to take this action with their provider.
If your client states that they didn't mark your email as spam, ask them to check just in case. You can ask them to look in their "spam" folder or "deleted" folder. If they find it, they should open your email and click the "not spam" button. They may have forgotten or mistook your email as coming from someone else, or they didn't know someone else marked it as spam from their email account. If your client checks and still can't find the email, they should contact their email provider to try to resolve the issue. Sometimes spam emails disappear after 30 days, or the email provider sends spam reports in error.

2. Message AllProWebTools Chat Support to add the client back to your campaigns.
After the client has marked the email as safe and their email service provider has helped to resolve any erroneous spam reports, you can contact AllProWebTools to make sure your client continues to receive your emails.
Just click the Support button at the top left of your AllProWebTools account.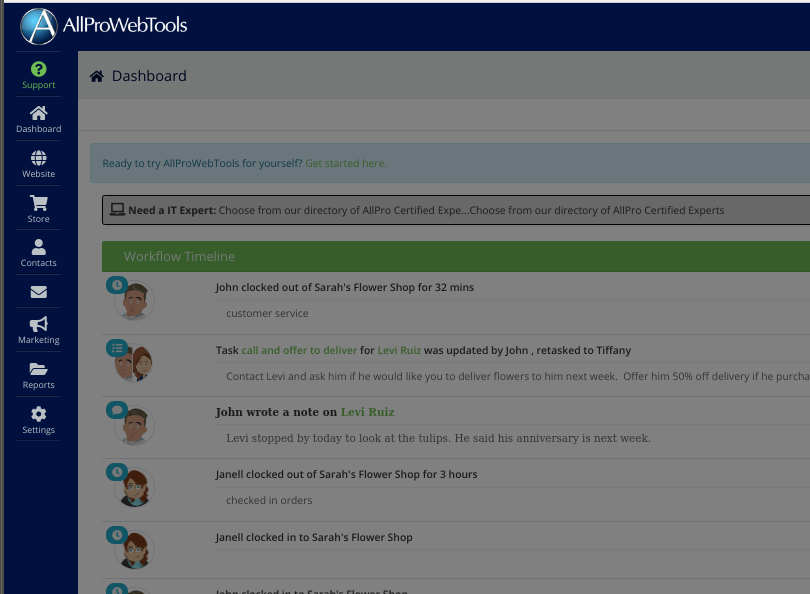 A new panel will appear on the right side of your screen. Click "Live Support Options."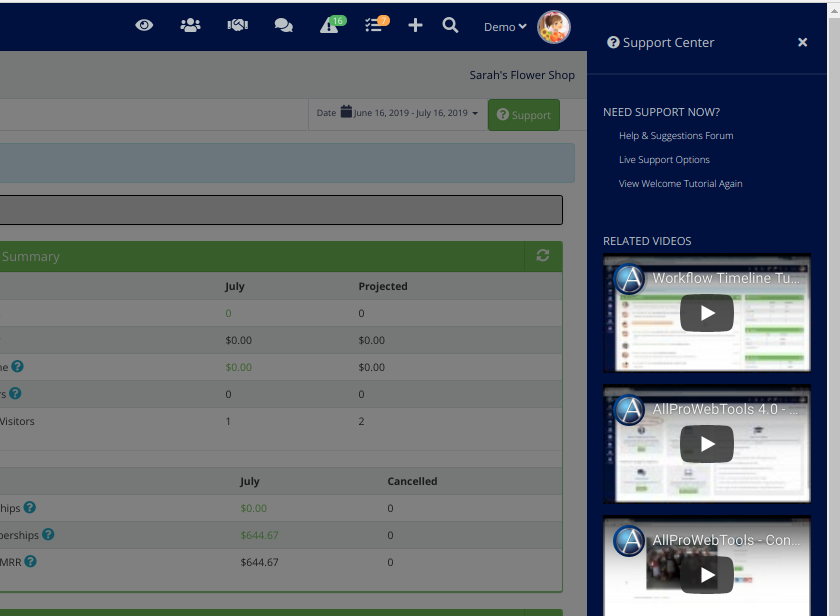 In the new screen, click "Chat Now" under "Support Chat" to start talking to an AllProWebTools support member. Tell them you had an accidental spam report and want to add the client back to your campaigns. You will just need to provide your customer's email address. They'll be able to help you!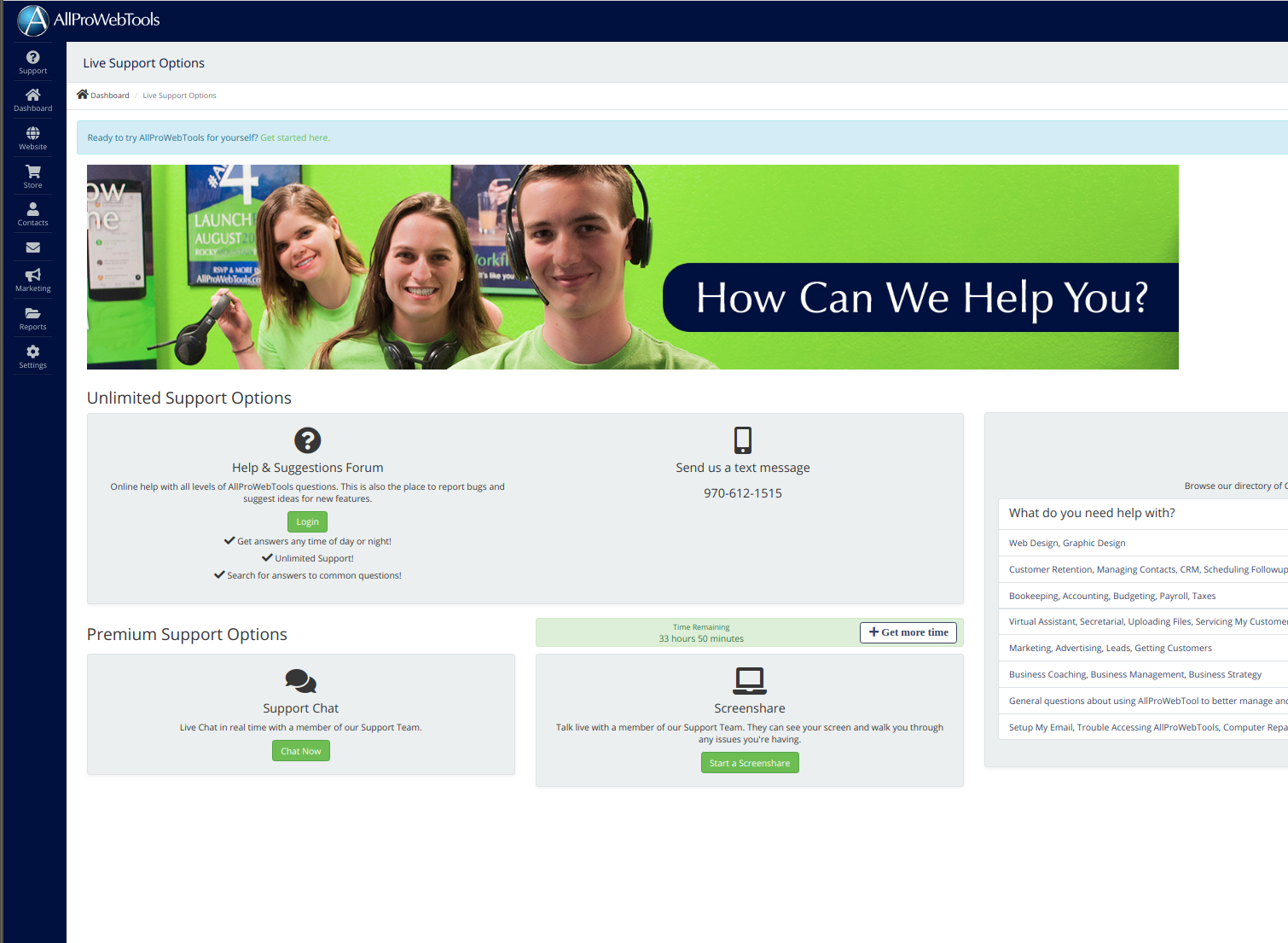 Archives
Subscribe