AllProWebTools 4.62 Release
By: Dave Kramer Wednesday November 1, 2017 comments Tags: allprowebtools
Just in time for the end of the year, AllProWebTools 4.62 is a minor release with a few new handy improvements!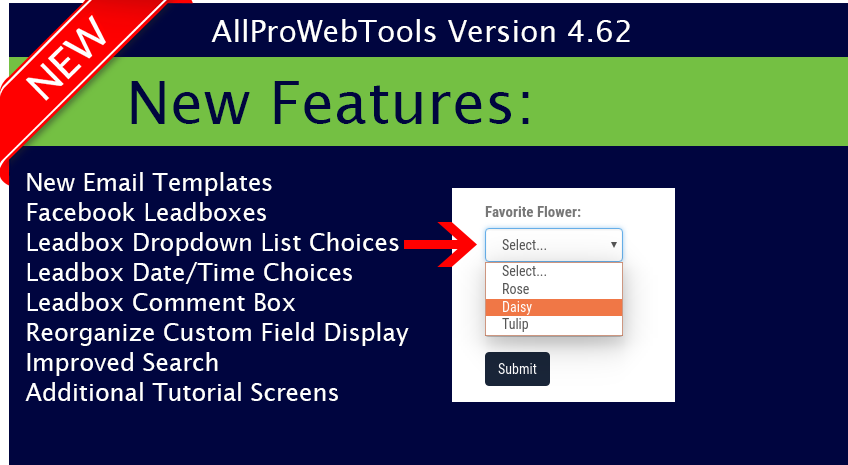 The Small Stuff
Here are some of the usability improvements:
You can now choose left or right side position for the Social Sidebar
You can now reorder social media account icons by simply dragging and dropping them where you like in the Console. Just click on "Website" in the menu bar and select "Social Media Accounts" and start dragging and dropping!
New "Labor Reports" menu option. All of the Labor related reports have been consolidated under a new menu option called "Labor Reports" - this can be accessed by clicking on the "Reports" menu item. The new "Labor Reports" menu includes the following reports: Labor by Client, Labor by User, Labor Overview, Labor Tracker, & Labor Tracker Daily.
Added tutorial tours: To assist our newer users in familiarizing themselves with the various features in AllProWebTools, we have added a few more tutorials (with more to come) throughout the Console.
Gift orders can now be created from the Console. There is a new checkbox in the invoicing system that will allow you to mark an order as a gift. This will cause the invoice (or packing slip) to print without any pricing information.
There is a new report that will aid in researching notes entered by a specific user during a specified time frame. You can find this new report on the menu as

Reports->Users->Notes Entered.

There is another new report that allows you to search your Custom Fields, you can find it on the menu here: Reports->Contacts->Custom Fields.

Creating a new email has been simplified with fewer steps and some new email templates. These new email templates have been tested to work on both mobile and desktop email programs - so your customers won't miss any announcements from your company.
Custom Fields & Leadboxes
A significant improvement has been made to the Custom Field editor. You can now specify data types such as Date, Number, and Dropdown lists. You can now combine these custom inputs with your Leadboxes to collect more accurate information from your website visitors. Here is a video with more information:
Social Capture Leadboxes
We had a new idea, what if your website visitors could click a single button to send you their name and email instead of filling out a signup box? We have created an integration that will now allow you to place a "Continue with Facebook" button on your website instead of a signup box. Let us know your thoughts on this and if there is enough interest, we can add other social media platforms as well! Here is a video with more information:
As always, these improvements were chosen as a direct result of the feedback we have received from the AllProWebTools community - special thanks to Alex Galassi from Blue Zenith web design for a number of his suggestions! In the coming weeks, we'll be exploring each highlight in depth, which will be really helpful for anyone curious about setting them up, or just generally learning more!
We really appreciate your support and would like to encourage everyone to keep the suggestions coming!
Archives
Subscribe