AllProWebTools user surpasses $100K in monthly revenue
By: Dave Kramer Wednesday November 30, 2016 comments Tags: email marketing, increase revenue, marketing budget, featured client
Starting with just an $800 monthly budget, Steve Frailey has grown his business from just $7K to over $100K in monthly sales.
Long time AllProWebTools user, Steve Frailey has reached a new milestone with his business Real-Noni.com. The company was founded in 1996, and launched its first website (NoniFruitLeather.com) in 2001. The first website peaked at just $7K in sales, and after several years, could grow no further. The old site did not allow customers to create accounts and did not store leads from potential clients. The old site also did not offer coupons.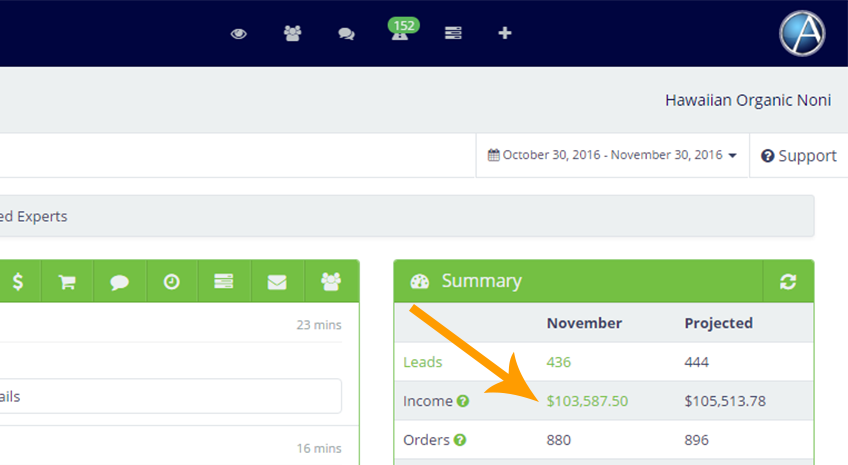 After meeting with AllProWebTools, a number of new items were implemented: A monthly newsletter, two coupon offers per month, a lead capture system, email marketing campaigns, and a marketing tracking systems to measure what is working.
Most importantly, a regular, monthly marketing budget was established. This budget began relatively small at $800 / month and eventually reached $5K / month. The budget was never more than 10% of total revenue.
This consistent marketing budget allowed Frailey to outsource the heavy lifting of:
writing blogs
creating content for newsletters
creating new coupon offers
creating email campaigns
generating marketing reports and data analysis
This allowed him to focus on his product and grow his business. Frailey says, "We have been growing steadily every year!"

Over the course of 5.5 years, Real-Noni.com has increased its monthly marketing budget from $800 to $5k and has enjoyed a corresponding increase in revenue from $7K / mo to $103,587.50 in just the month of November 2016.
"With our old site, if we got 3 orders in one day we were like, 'WOW!' Yesterday, we just processed 314 orders." - Frailey said.
Since 2009, I have worked with hundreds of small business owners and have seen consistent success with those who've allocated a budget for marketing and have stuck with it. So many others have said "lets try this for a month and see how it goes". This frugal approach, unfortunately, does not work for marketing because marketing is all about consistency.
Another common concern for new business owners is that offering a discount will result in losing money. When Steve was asked what he would say to someone with that approach, he replied with a firm "no". Maybe this is because his recent coupon offer brought in 314 orders in a single day. I suggest reading my previous article about why you should raise your prices.
One of the biggest reasons that things are working so well for Real-Noni.com is the fact that they have been using coupons to entice anyone interested in their products to give up their email address. Their email list has grown to 22,000 in the past 5 years and every time they send out an email with a coupon in it they see over $4K in sales. It is the consistency of their marketing approach and collection of email addresses that is paying off and has earned them this new milestone of $103,587.50 in one month's sales.

Archives
Subscribe