Are You Running a Franken-Business?
By: Andrea Lotz Friday October 30, 2015 comments Tags: business management
Many small businesses are secretly Frankenstein's Monsters when it comes to the business software that keeps them running smoothly and efficiently.
How do you know you're running a Franken-Business? A Franken-Business uses a different software solution for every part of its day-to-day business operations. If you use different software providers for email marketing, contact management, tasking, timecards, web content management, sales, and so on, you probably have a Franken-Business.
A Franken-Business has systemic inefficiencies that can slow down your business's growth, increase your stress levels, and cause costly mistakes. Here's how to know for sure if you have a Franken-Business, and what you can do about it!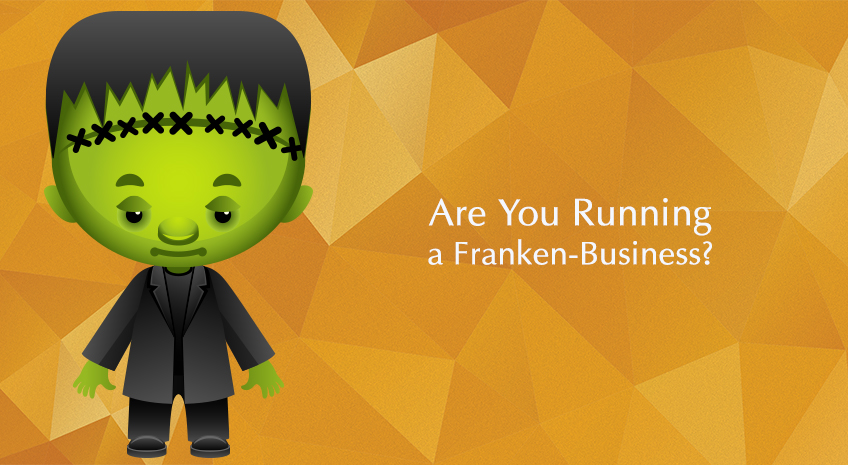 Innocent Beginnings
Just as Dr. Frankenstein didn't mean to build a monster, it's easy to build a Franken-Business without even realizing you're doing it. If you build your business's processes and systems reactively, rather than proactively, you can end up with a business made up of disjointed, partially connected pieces.
It tends to happen when business owners buy one point solution (tool designed to solve one specific problem) at a time, to solve one pain point in their business. It's a whack-a-mole approach to problem solving, rather than a systemic, big-picture solution.
While your business is small, you can manage all the different parts and pieces of your Franken-Business simply by doing everything yourself. But when your business grows, the disjointed nature of a Franken-Business is revealed.
"When your small business grows, the disjointed nature of a Franken-Business is revealed" [Tweet this]
Growing Pains
Growing a business is hard work. It takes a considerable amount of time, resources, and energy, but it also takes scalable systems and processes.
Franken-Businesses don't tend to be scalable, because they're built up of so many parts. You might find yourself with one solution that you've outgrown, but that sticks around because it would be so much work to shop for a new solution, learn it, transfer your information, and figure out how to integrate it into your existing processes — not to mention getting it to talk to your other tools!
The problem is, you won't outgrow all your software solutions at once. Instead, your growth will be uneven. You'll be pulled forward by some of your systems, and held back by others at the same time.
For example, if you expand your online business to a brick-and-mortar location, or if you build an ecommerce site to support your physical location, tracking and consolidating your sales quickly gets complicated. As you increase your marketing efforts, it's hard to figure out which marketing activities are actually bringing in leads and sales.
Then you hire your first employees, and everything starts to get more complicated. Now you need systems, processes, and tools to track employee productivity and enable efficient communication.
Managerial Nightmare
Frankenstein's monster was hard to manage, and so is a Franken-Business. Disorganization makes it difficult to get a good feel for what's working and what's not. That extends to marketing campaigns, your sales process, employee productivity, and so much more.
"Frankenstein's monster was hard to manage, and so is a Franken-Business." [Tweet this]
You're left guessing, and making decisions based on what you "think might be working" or "think might be a waste of time and money." Unfortunately, our intuition is often wrong. If your systems aren't organized enough to gather complete, accurate data, you run the risk of being blinded by your own bias.
Managing Marketing Campaigns
Marketing campaigns in particular are difficult to measure and compare in a Franken-Business. Digital marketing gets more complicated every year, as new platforms are released to pick and choose from.
All the traditional types of campaigns, such as print, radio, and postcards, are still valid, as are the myriad social media options, digital advertising platforms, and email marketing methods. Not all of these will work well for any business — it's critical to be able to test, evaluate, and get selective about where to put your marketing dollars.
If your marketing campaign tracking isn't fully integrated, talking to your points of sale and contact management, and reporting to you in a way that you can understand, you can't make informed decisions to grow your business.
Managing your Sales Process
A tightly-organized, repeatable, scalable sales process is key for growing a business. Whether you rely on direct sales, online orders, or referral marketing, you need a process for gathering leads, following-up, predicting cash flow, closing the sale, and retaining the customer into the future.
It's hard to create your own system to manage a sales process, so many people use contact management software, or CRM (Customer Relationship Management) software. This is a great first step, but for many small businesses, the stand-alone CRM software solutions on the market are either too simple or too complex, and are difficult to fully integrate with your points of sale, employee productivity tools, and other reports.
Managing Employees
Many small business owners are unprepared for how difficult it is to successfully manage employees. There are so many aspects involved, in addition to the human aspects of dealing with individual quirks, shortcomings, and strengths.
There's time-tracking (crucial for understanding where company time is going), tasking (managing workflow and priorities on a daily basis), and interpreting data you gather about employees. All of these are complicated, because there are humans involved, and you don't need complicated software and systems to make it even more so.
My Creation Lives!
You started a business for the same reason Dr. Frankenstein built his monster: you wanted to push your limits and create something unique and amazing in the world. But don't resign yourself to the fate of a Franken-Business: a creation that defies management and spirals out of your control, never living up to the vision in your mind.
The systems, processes, and software you use to run your business should be organized, fully-integrated, and easy-to-use. An all-in-one small business toolkit, like AllProWebTools, ensures that your tools can easily talk to each other, generates complete reports on all aspects of your business, and helps you make more informed decisions.
Don't let your creation get away from you! You have a vision for your business — you just need to right tools to take yourself there!
If you have a Franken-Business and want to take back control of your creation, get started with AllProWebTools by clicking here!
Archives
Subscribe