Become an AllPro Certified Expert
It's time to save yourself some money - and add new customers to your business!
Upgrade to an AllPro Expert and gain access to all our WebTools for FREE - FOREVER! As long as you sign up and maintain three paying AllProWebTools clients you will never receive another bill from AllProWebTools for your account. We are adding new tools all the time to help you manage and grow your business, and as an AllPro Expert, you can receive all our tools for no cost (a $344+/month value!).
In addition to your own free AllProWebTools account, you will also receive free leads from us of people who want to pay you to help them set up and manage their account. This also gives you an opportunity to promote your other services to generate even more business! We charge new clients a $195 setup fee to create a new account, but as an AllPro Expert - new accounts are free, so you can charge anything you want, and can offer additional service add-ons as well.
We are constantly pushing prospects and existing clients to our AllPro Experts and promote them on a regular basis. We want to give you all the business so we can focus on one thing, building and managing a fantastic product.
How to Become a Certified AllPro Expert
You must be an AllPro Provider FIRST. If you're not currently a provider, learn more and sign up here.
Have three active AllProWebTools users signed up under you as the primary AllPro Provider. AllPro Experts and AllPro Providers with less than 10 sub-accounts must have added a new account within the last 90 days to maintain their AllPro Expert or AllPro Provider Status. This will result in their AllProWebTools account being billed at normal rates for the WebTools that they have active in their account.
Take a certification test for the areas in which you'd like to be certified. Each certification costs $199/year (but remember, if you pay more than $16/month for your AllProWebTools account you will make that back in savings alone). Worried about passing the test? Don't. Most of our AllPro Experts pass the first time but if you don't, you can take it again until you pass for no extra cost.
Receive These Expert Benefits
Our AllPro Experts are a crucial part of our business, and they take priority at AllProWebTools. As an AllPro Expert, you will have direct, unlimited access to the AllProWebTools team and your needs will be addressed before anyone else. You will also benefit from the following:
FREE use of your own AllProWebTools account and all available WebTools (a $344+/month value!)
Ongoing promotion in our Certified AllPro Expert Directory
FREE advertising for your business within AllProWebTools to our current clients
Receive leads directly from AllProWebTools of people looking for help with their business
Receive direct support from AllProWebTools to recruit, sign up, and manage users
No setup fee for anyone you sign up, allowing you to determine how much you will charge
The opportunity to upsell/cross sell your services inside AllProWebTools and out
Become an AllPro Expert Today!
Our AllPro Expert program will be the primary driver of new client sign ups in the months and years ahead. Don't wait to add yourself to our list of Certified AllPro Experts. This is your opportunity to get in on the ground floor and get in front of thousands of potential clients every year. We often have additional opportunities for you to write a guest blog or create a video to showcase your knowledge and expertise that we will share with our network, further promoting your business and expertise.
To take a certification test, hover over the "Provider" icon on the left hand side of your AllProWebTools system. Then select "Certifications" from the drop down menu that appears. This will bring you to a page that shows the various certifications available. You can test for as many certifications as you wish and you have unlimited attempts and time to complete each test. Each test is meant to not only verify your knowledge as an expert in your field, but also gauge your experience on the AllProWebTools platform and enhance your knowledge at the same time.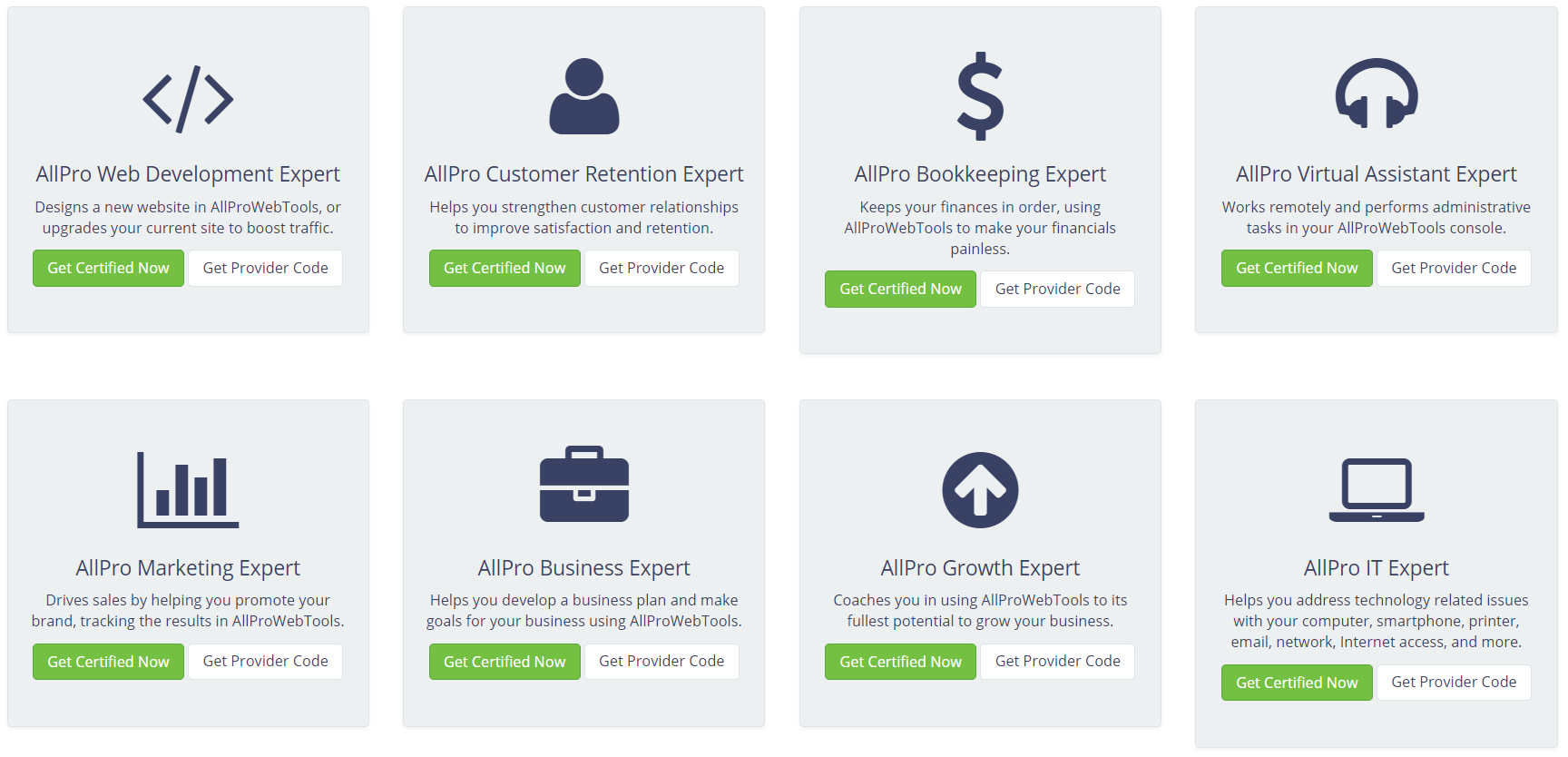 The more you succeed, the more we succeed, so let's work together to reach our goals. For more information about how to join our ranks of elite Certified AllPro Experts, watch the following video. We hope you welcome you to the AllPro Expert family soon!