Featured Client Interview: Colorado Tub Repair
By: Elijah Mendonca Monday February 20, 2017 comments Tags: colorado tub repair, featured client
"We have a customer up in Nebraska," says Meagan Cutshall, co-owner of Colorado Tub Repair, "she called us up because her husband had a medical issue that caused him to lose the use of the right side of his body. He couldn't climb into the tub independently, she'd always have to be there to help him in; and being such a vibrant guy, the idea of having someone help him get in and out of the tub was destroying him. So we installed a conversion step that allowed him to walk in and out of the tub - they didn't have to get a new tub altogether. We were able to cut into the cast iron and get it done, he's used it for three years now."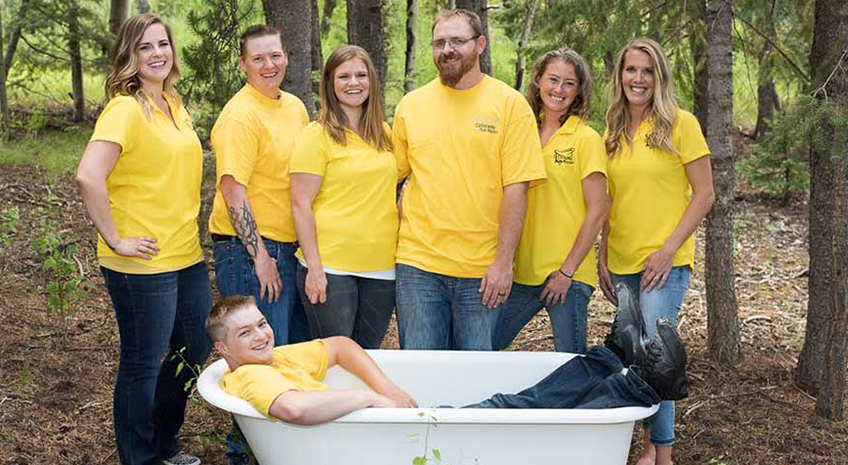 In the winter of 2009, Colorado Tub Repair was founded by spouses Josh & Meagan Cutshall. Josh "started working in the refinish industry when (he) was a young, strapping, 19-year-old hunk," according to his bio on their website. Meagan joined him soon after to create the company we see today, that prides themselves on hard work and a patient work ethic. Colorado Tub Repair is working to change the way people view contractors in their homes, while simultaneously becoming a better resource for the professional industries they regularly work with - this includes property managers, contractors, and investors. "We want to be known for our rapid response time and quality work - to the point where you won't need to call us back," says Meagan.
Working to the top
Slowly carving an upward path, Colorado Tub Repair quickly became recognized and respected amongst their competition, "which was a huge milestone for us; very gratifying," says Meagan. "A lot of our getting off the ground felt like an uphill battle, and now we're finally able to breathe!" she continued. "We've learnt a lot over the last couple of years, changing our company vision and branding, becoming clearer with our customers and the team. But really, our greatest milestone was gaining the ability and luxury to discern which customers are the right fit for us. When you first start a business, you could be working at 1am for a pain of a customer, but once you get to a certain point, you're able to put your foot down and only connect with the customers that you're supposed to."
Colorado Tub Repair has been making big changes over the last two years. After moving to AllProWebTools, they were able to ditch the spreadsheet method of organization and streamline their internal workings.
"The CRM itself helps us log every single communication with every single client. We use it several hundred times per day, there's no way we could do anything without it." - Meagan Cutshall
The increased level of productivity has granted them more time to focus on their branding and marketing as well, which is currently undergoing a medium-scale overhaul.
Growth & Balance
Upon being questioned about mistakes they've made in the past, Meagan was very honest: "We were naïve. We genuinely believed we had the support of vendors who were really just setting up smoke and mirrors. Another mistake was being reluctant to move onward soon enough - We put a lot of time and money into these companies and people that had seen us go from A to B, but not everyone can grow with you, and as hard as it is, you need to learn to let them go."
Yet, despite such massive movement in their business, the Cutshall's are always cognizant of balancing their lives appropriately. "It's such a cop-out! It takes SO much more energy to say no and step away and find balance between your life and your work, rather than to just keep working. I try to limit my work hours to 50 a week," says Meagan, "but Josh has always been good at saying enough is enough, let's go home." They wish the same balance for their team as well: 'we want them to thrive and make kick-ass money, and go on vacation without having to worry about paying bills on the way back. We want them to have vibrant, abundant lives. Ultimately, when it comes down to it, the answer to "what are we doing this for?' is our team."
"Before we end the interview, Meagan, do you have any advice for other small business

owners

?"
"First, track your leads, understand where they're coming from, and tap into that market. Second, you can network until you're blue in the face, but you need to understand whether or not it's working for you. And third, don't give up. Every business owner thinks of giving up, and anyone that tells you they didn't is a complete liar."
Contact:
Rub-a-dub-dub, they'll fix your tub.
Visit their website at coloradotubrepair.com
Archives
Subscribe