Featured Client Interview: Experience Pros
By: Dave Kramer Monday June 12, 2017 comments Tags: experience pros, featured client
As a small business owner, I am sure that you are familiar with Networking Groups. Sitting at a restaurant, standing up to do your 30-second promotion, and then listening to someone speak about their business. I would like to tell you about a group that has helped me to double my client base in just 1 year!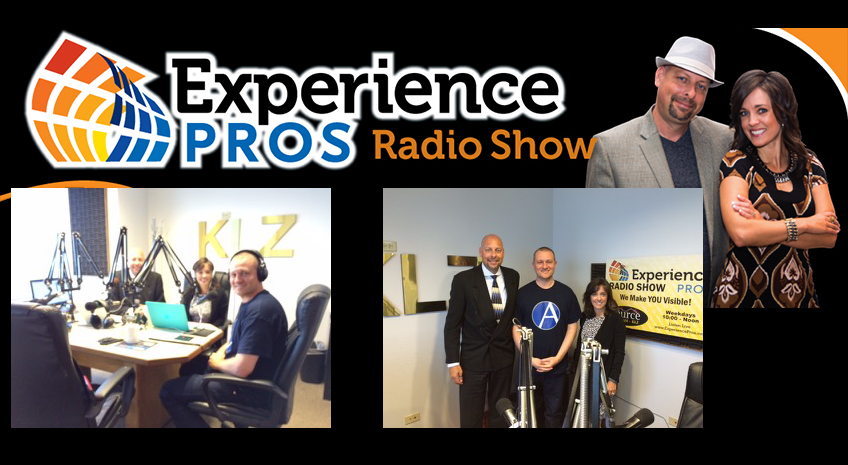 The Experience Pros Radio Show is not only a Networking Group, but a carefully vetted group of small business owners who really strive to help each other. Members of the networking group are eligible for features on the radio as part of their membership. Hosts Angel Tuccy and Eric Reamer negotiated heavily with their home station and national syndicater to ensure that their clients could benefit from air time, without the price tag that usually accompanies such an endeavor.
Based out of Denver, they are nationally syndicated across 37 stations around the country. But like other business groups, they also cater to their clients through an online membership directory and business networking events - of which there are 5 hosted every month in the Greater Denver area, interconnected by an app. With Experience Pros, you have the entire Front Range network at your fingertips.
Tuccy and Reamer have painstakingly been creating and evolving their dream for 8 years, so it should come as no surprise that they've been voted "Most Positive Business Talk Show in America," as well as ranked second at the Best Colorado Broadcaster's Award. They attribute this level of success to their attitudes: "We aren't grumpy old men!" says Tuccy, "we're excited to be here, we're excited about small business and we get to be advocates for the small business community."
Tuccy reports that the radio show and its corresponding networking group was originally created "because there was no one stop shop for small business owners to network, to be taught how to grow their business, and to learn what to do with all those referrals." The hosts made especially sure to model the group after the resources they wish they had when first starting out.
"As we sat down with other small business owners to answer their questions and help them grow, we slowly saw Experience Pros evolve from the needs of the marketplace." - Angel Tuccy
Having been avid AllProWebTools users for years now, Tuccy explained that as they first started the business, they would use individual folders for each customer before upgrading to a single spreadsheet. As they added employees to the company, each would run their own spreadsheet and it became increasingly more difficult to keep track of client interactions and ensure that no followup was falling through the cracks. When they were finally referred to AllProWebTools by a mutual connection, it turned out to be a brilliant solution that could meet them where they were at the time (financially), and grow with them when they needed it to.
"It's improved our customer relations because we aren't flying blind anymore," says Tuccy. "In the past, we would be getting client feedback saying they never received phone calls or emails, and we'd have no system in place to verify the legitimacy of these claims. As soon as we implemented AllProWebTools' CRM system, we now had an entire support system of notes and data to back us up when we spoke to our clients. Once they realized we had all those tracking systems together, their trust in us went up a lot higher, because they felt more valued overall."
Using AllProWebTools also meant that they were now much freer to pursue helping their clients out, rather than chasing down information. They are now able to devote more time to their networking groups, furthering the business, and ensuring their members get the recognition they deserve via the Fan Braggin' contest.
"All my best customers say they'll leave me a review, but they don't," remarks Tuccy, from the viewpoint of an average business owner. "It's a struggle that every small business owner has, and that's where Fan Braggin' comes in." The Fan Braggin' contest is held annually, where small business owners compete - on the Experience Pros website - for the "Best in Business" award in their category. The winners are determined by the number of total votes gained by the contest's end.
For small businesses, one of the most effective ways to gain exposure is through online presence - especially by having clients leave positive reviews on third party sites. The Experience Pros have proven over the years, that your customers are more likely to leave you a review if you're participating in a contest with a deadline. Originally started to overcome the lull of Q1 in the business year, the contest has grown to see some members gain over 200 reviews, thereby catapulting them to the top of search engine results and doubling their website traffic. "You could completely outdo your entire Q1 sales goal just by participating in the Fan Braggin' contest," says Tuccy.
Starting, running, and keeping up with being a small business owner can be intimidating and unfathomably challenging, which is why Eric and Angel work so fervently to be beacons of positivity in the community. "Don't give up!" says Angel. "I see too many business owners give up much too soon. The 3 year mark just seems to be magic - if you can put three full years into your business, it will turn into a profit center. Yes, some people run out of money, others don't surround themselves with entrepreneurs who've done it before, or they listen to friends and family who make them question their choices. But if you can get past that, the market saturation, and the branding struggles, your hard work will pay off."
"Stop listening to the naysayers. Just because someone else isn't doing it doesn't mean you can't. If I had understood that when I first started I would've believed in myself much sooner." - Angel Tuccy
The Experience Pros is a national brand. Between the 37 stations they're syndicated on, and their online directory, you don't need to be a Colorado small business in order to participate. You have the capability to succeed, and the Experience Pros will be there to support you every step of the way.
Wonder what AllProWebTools could do for you and your business? Contact one of our AllPro Experts for a free consultation to identify what you need.

Archives
Subscribe