How 4 Entrepreneurs Grew Their Businesses by Combining Clicks and Bricks
By: Andrea Lotz Friday October 2, 2015 comments Tags: entrepreneur, ecommerce, local business
Today it's easier than ever to run a business that makes sales both on- and offline. It's a great way to diversify your audience, better serve your existing customers, and create a nation-wide, yet personal, brand.
Take your cues from these four business owners, who have found ways to combine "clicks" and "bricks" to offer their customers an online and in-store experience. Some started out as online businesses only, then expanded to a physical location, and others did the reverse, or grew the two simultaneously.
However you decide to combine "clicks" and "bricks" to grow your business, you can learn from these four success stories.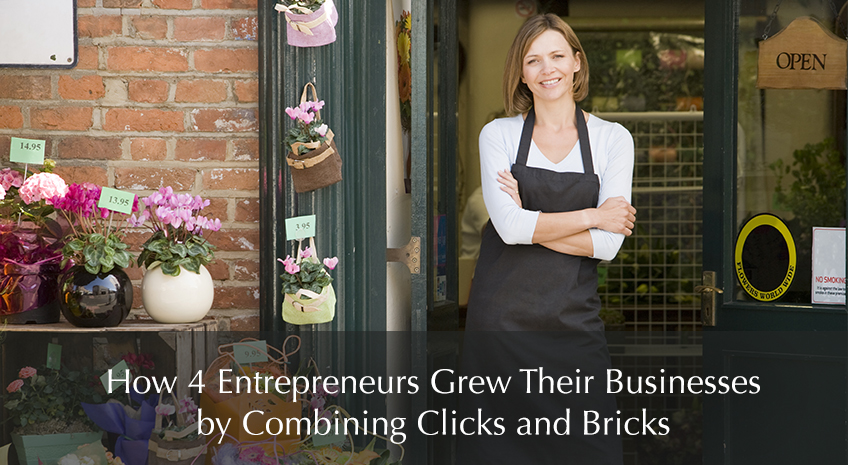 Think Beyond the Local Market
"Our retail store - located on Leicester's Belgrave Road - has been running for over 65 years. It's where our business began and it still generates profitable business figures today. There's no doubt it's valuable, arguably more so for us than other clothing retail companies. Motorcycle clothing accessories are expensive; they're more of an investment. Our customers want to ensure their leather motorcycle suits fit and are comfortable, so they come into the store to try items on - something the internet doesn't easily allow for.
Obviously the only problem with having a bricks and mortar store is your catchment. Ours is the East Midlands, and only rarely have customers travelled from beyond for their motorcycle clothing. To expand and grow our business, we knew we needed to address this issue.
The obvious benefit of having an online store is you're not limited to location. From launching our site in April 2014, we instantly saw our customer base expand from local to global. Not only does online traffic now come from all over the UK, we also see a significant amount of traffic coming from Europe, USA and even Australia. By investing in an ecommerce site we've opened up to an audience we never thought we could have reached.
Initially, it was a huge risk for us. Ecommerce sites are a costly investment and although we're not small, our Leicester based store, at the time, was our only source of revenue. We needed to make it work. We invested a lot of resource into digital marketing, making sure our online presence had the same level of character and customer service as our store has, and thankfully, it's all paid off."
Make Your Business Personal, Online and Locally
"When we started out, it was in my house and renovated garage. We had an online store, did some vendor events and got some wholesale accounts. We moved to an 800 sq. ft. space more for producing product and having a place outside my home (kids and the hubster were not happy with all the boxes lining the walls). What happened next was amazing.
We started doing health fairs and holiday boutiques in the neighborhood businesses and our customers wanted to come to the shop to buy more. Slowly we started having a larger retail base. We added professional massage treatments by appointment and kids parties ( Make your own Scrubz™) to our business offering. More people came. After 3 years in that space we knew it was time to move. We stayed in the town we were in, but this time, we moved into the real town and not the fringes, which is where we had been. A big storefront, other businesses and a walking town were perfect to expand our store. Slowly, we have moved away from wholesale and vendor events and became a local small business retailer. I love it more than I can put into words.
The best part about having both an online and brick and mortar store is that we can cater to our customers in however they prefer. Some of our local customers order online and use our "curb side pickup" so they don't have to get out of the car. Or our online customers find themselves on Long Island and can't wait to come and meet us. The online gives us a destination to send people when we are explaining our products. It allows us the chance to highlight customer reviews. It allows us to expand our reach. But we try really hard to make the online experience as welcoming as our store."
Listen to Your Customers
"Scrub Identity is a medical uniforms retailer committed to delivering a unique selection of medical Scrubs, lab coats, medical instruments, shoes and accessories to provide our customers a real identity in a profession that has traditionally been difficult to express personal style. In 2011 Scrub Identity launched on-line, targeting customers tired of feeling like style could not be part of wearing medical uniforms. Today's retail customer wants a true shopping experience, and our unique products, fun/upscale store atmosphere and laser-targeted customer focus provides that experience.
Although you can never be completely sure when the time is right to open brick and mortar, we listened to our customers positive feedback from our online business and thought if we can provide this kind of reaction online with no personal interaction, that we had potential to hit a home run in a brick and mortar environment.
The advantage of doing online first is that you are able to prove your business model and can move forward with existing sales to build from.
We've always been customer focused, yet it's much more gratifying when we can show how truly focused we are on customer service in a face-to-face environment, additionally, we have found that customers are tired of shopping big box / mass retail and appreciate a true Local shopping experience of which they are now able to find in Indianapolis, Indiana."
Expand to New Niches
"When we started in 2004 we just ran traditional (driveway) garage sales for people. Then we started selling items out of a store location as well. Then we started posting items from the store online and would get the majority of our sales from people that saw the items online. Then we moved to a warehouse model posting most items online.
Now we focus on helping people learn how to make money by selling other people's and/or businesses' items for them offline and/or online by selling them kits (e-books and training videos). We also have a few sites to help people figure out how to price their items, advertise their items or find help in their area.
We shifted our focus much more online as we realized that simply put, there are a lot more people that you can successfully reach online and there are always people shopping and looking for information online. The internet is a much bigger opportunity than the offline world."
Does your business combine clicks and bricks? Let us know in the comments!
Archives
Subscribe