How Startups Can Tame Remote Worker Insanity
By: Andrea Lotz Friday May 8, 2015 comments Tags: working remotely, employees
Ah, the freedom to work remotely. It's the blessing and curse of startups, and many small businesses as well. Having a remote or partially remote workforce has a lot of advantages, but it can also cause some management problems that many startup founders aren't prepared to deal with.
Whether your team is scattered across miles and oceans, if you have a few people who work from home, or even if you're all just working in different coffee shops, here are some tactics to avoid the common pitfalls of a remote team.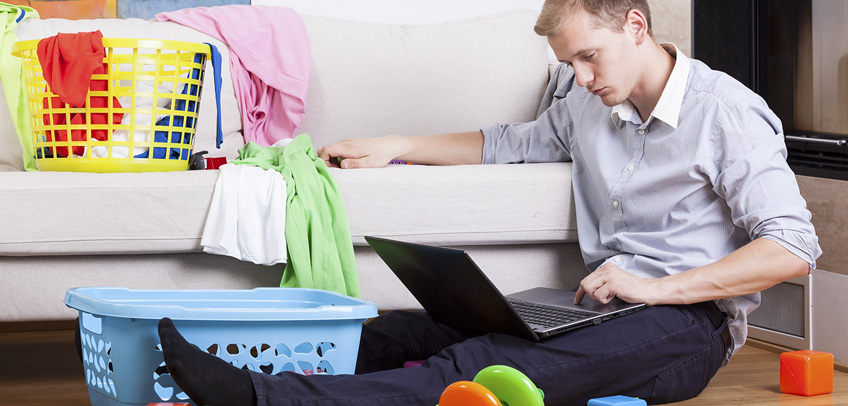 Set Clear Expectations and Boundaries
For me, the best thing about working remotely is getting to work when and where I'm most productive. But when a remote team member's hours and availability are always in flux, it puts a lot of strain on everyone.
Fixing this issue is on both parties equally. All team members need to agree on times when they can be counted on and times when they simply aren't available, with some flexible hours filling in the gaps.
Encourage your team to create boundaries and make sure they're well-communicated. Having some time consistently set aside as work time and some as life time not only makes work more productive, but lowers stress and improves the quality of work. Help everyone decide when is a good time to unplug.
Under-communicated plans and expectations are a huge reason that remote teams fall apart. It's crucial to set a culture of free, easy communication. In this case, better to err on the side of over-communicating.
Create Rock-Solid Workflows
Miscommunication is the second deadly sin of remote teams. It's so easy for instructions to get lost in translation, even if you're speaking over the phone or over video. For very important tasks, it's best to communicate the instructions over as many media as possible: video, voice, and text.
At AllProWebTools, we use our tasking system to make sure that remote workers in particular get a written copy of instructions. It helps to be able to refer to the text in case of confusion, and it creates a document to go back to in case of miscommunication. It also lets us set clear deadlines and priority levels, which clear up a lot of confusion.
If you're in a management role, using a tasking system can turn a struggling remote team around. But if you're just shooting out tasks and no information is coming back, you're effectively paralyzed. If there's a problem, or if someone's off-target, you might not find out until it's too late.
Set clear expectations for how often to give updates on the progress of a task. Equally important, make it clear how to do so and what information to include.
Give Your Team a Long Leash with High Accountability
Trying to manage remote workers on a short leash is an exercise in futility. If you want hourly check-ins, you probably don't actually want a remote team.
A remote team only works if you trust your people to work hard and achieve results with minimal supervision and guidance. But this doesn't mean you should do away with accountability. Quite the opposite.
Even if no one is getting paid by the hour, it's important for remote workers to track how much time they're spending and where they're spending it. We use timecards at AllProWebTools to track how long different projects take – especially for billable client work.
Timecards, like a tasking system, are awesome because they create a written record, which can be referred back to if there's a problem. Remote teams have to be vocal, both about underperformance and excellence.
Underperformance needs to be addressed—usually with clearer boundaries and expectations. And excellence needs to be recognized, in specific detail. What was so great about what this person did? It creates a model for others to strive for.
Empower Decision-Making and Collaboration
Remote workers can only be effective if they have access to all the resources and information they need. This includes company documents and information, company software and tools, and their teammates.
The cloud offers hundreds of solutions to help with document and tool sharing, creating a virtual work space that is location-agnostic. And there are an increasing number of tools that create a virtual social and collaborative workspace as well. This helps remote team members stay in the loop in the face of changing deadlines, new expectations, and other information they would pick up naturally in an office setting.
For day-to-day visibility, we use the AllProWebTools Workflow Timeline. It's like a social media timeline, but it's a live feed of business-related updates rather than social updates. All of the team's tasks, timecard notes, client notes, and new orders post to the timeline, so everyone can stay caught up wherever they are.
I work remotely pretty frequently, and I rely heavily on the Workflow Timeline. Not only does it help me stay on top of new developments, but it makes me feel less isolated. Other employees are posting all the time, and it creates a sense of camaraderie. And if I see an area where I can offer my support, I'm empowered to collaborate independently.
Dive Deeper into Relationships
When you're dealing with a remote team, it's very important to focus on your team members as individuals. This (should) go without saying in an office environment, where people naturally interact every day, catching up about the weekend, telling stories, and offering support in hard times.
But in a remote team, it can be hard to get into the habit of making time for small talk. Somehow it feels like a waste of time to ask about the weekend, when you might not think twice about it in an in-person meeting. But those small, day-to-day interactions build rapport and trust, which helps a remote team get through the hard decisions.
For team members that work remotely even part of the time, schedule one-on-ones weekly. For fully remote workers that you see rarely, spending as much as an hour per week talking on-on-one can really help to strengthen the relationship.
A big part of this is making sure that remote team members' development and education is just as much of a priority as people you see all the time. Find out what resources they need, and go out of your way to provide them.
It's not all about small talk. Talk about their goals, their take on complex issues, and the big picture. And, yes, ask about their weekends.
Communicate Values
A more subtle problem of remote teams is the difficulty in communicating company culture, and keeping it unified. Make it clear what the company stands for, and where it's going, and have frequent conversations about culture with remote workers in particular.
In general, a culture of communicativeness, transparency, accountability, relationship-building, and performance is a great one to foster for remote teams.
What are your struggles with managing remote teams? What's your best strategy for bridging the communication disconnect? Let me know in the comments.
Archives
Subscribe