How Your Small Business can Prepare for the Holidays
By: Alice Williams Friday November 20, 2015 comments Tags: holidays
With Thanksgiving and Christmas around the corner, it is imperative for small businesses to start preparing for the rush of holiday shoppers. It may seem early, but according to the National Retail Federation, around 40% of shoppers will begin their holiday shopping before Halloween with an additional 41.5% shopping in November.
If you are unsure where to start, don't worry — here are some areas you can focus your energy on to ensure a successful holiday shopping season for you and your customers.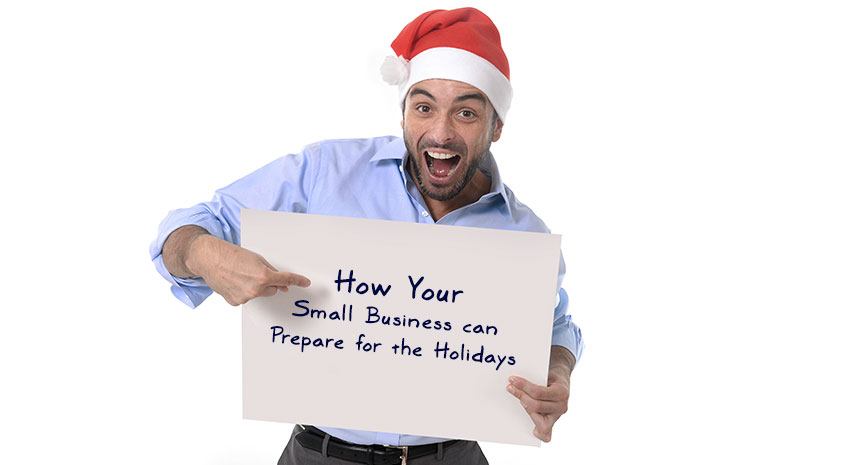 Relationship Building
People are the lifeblood of your small business and as such, it is important to maintain and build good relations with them.
"People are the lifeblood of your #smallbiz" [Tweet this]
Giving back to frequent shoppers is a fantastic way of showing your gratitude towards your customers and will in turn strengthen their loyalty towards you and your business. One way to do this is to hold an exclusive and invitation only sale for frequent shoppers.
Building connections with other small businesses and suppliers can be a powerful tool for the holiday season. It may seem counter intuitive to build a relationship with another small business in the area that sells related products, but it could actually help to increase sales. Partnering with another small business during the holidays can be an effective way to reach new customers and a way both of you can profit.
In regards to maintaining good relationships with suppliers, this can result in a number of benefits that are essential for the holidays. This can ensure that your products are delivered on time and that the products are of high quality.
Revisit Your Website
More and more people are doing their holiday shopping online and chances are that your small business has a website. Customers want a pleasant shopping experience whether that be online or in-store and now is the time to revisit your website and make sure it is user friendly.
If your website is slow and prone to crashing, it's unlikely that you will make sales. As well as making sure your website is ready to go for the holidays, make sure your business' internet is ready as well. There is nothing worse than getting online sales and then having your internet crash. Choose a reputable internet provider that offers technical support in the event your internet does fail during the busiest time of the year.
And don't forget about optimizing your website for mobile either — 80% of internet users use mobile technology, which is a fantastic market for small businesses to tap into. Mobile shoppers often impulse buy, and this can be facilitated by an easy-to-use website with a clear call to action.
For the customer, there is nothing worse than navigating a complicated and unresponsive mobile site. If you haven't optimized your website for mobile, you risk having potential customers leave your website out of frustration.
Marketing and Promotion
Customers expect sales and special promotions throughout the holiday season, and it's your job to let them know about it. Email marketing is an effective way to reach and engage with customers. Take the time to plan our email marketing campaigns in advance so that you can schedule them without scrambling to put them together at the last moment.
"Customers expect sales and special promotions throughout the holiday season." [Tweet this]
Make sure to include high quality visuals and a strong call to action. One idea for email campaigns is a gift guide, which can take the pain out of thinking of a great gift for a loved one.
In addition to email marketing, don't forget about social media! Create unique content for each social media network you plan to post on. Your audience on each social media network is unique which is why you cannot just spoon feed them all the same content. For example, Instagram is a highly visual platform so it would be best to work on creating a compelling visual with a short caption.
Happy Holidays!
The holidays can be a lot of hard work for small businesses but they are undoubtedly an important time of the year. With the correct planning and strategy, small businesses can reap the rewards and enjoy increased sales.
Archives
Subscribe