How to Build Your First Website for Your Business with AllProWebTools
By: Paige Schartz Wednesday August 12, 2015 comments Tags: website, new business
So you've got a great idea for a business. Or maybe you already have a business, and are selling from a brick-and-mortar store or in person. But you don't have a website yet.
Maybe you don't think a website is important for your business. If so, read this article, and you'll probably change your mind. Whether you sell from your website or not, an online presence is crucial for establishing credibility, attracting new prospects, and retaining customers.
If you know you need a website, but you aren't sure how to get started, this guide is for you. Getting your first website started with AllProWebTools is:
Cost-Effective: Competitive hosting prices, plus you get an incredible bundle of web tools included in your subscription (much easier to use and more secure than WordPress Plugins).
Easy and Fast: You won't believe how quickly you can get an attractive, customized site up and running, without having to do any coding at all.
Secure: We comply with all industry best practices, and are committed 24/7 to protecting your and your customers' information
Well-Supported: You'll love our support team, and you'll especially love the 15 hours of free support that come with any AllProWebTools subscription.
My team and I have helped hundreds of small business owners solidify their online presence. Here's the basic process, in 5 easy steps. It's not as hard as you think, especially if you have some help.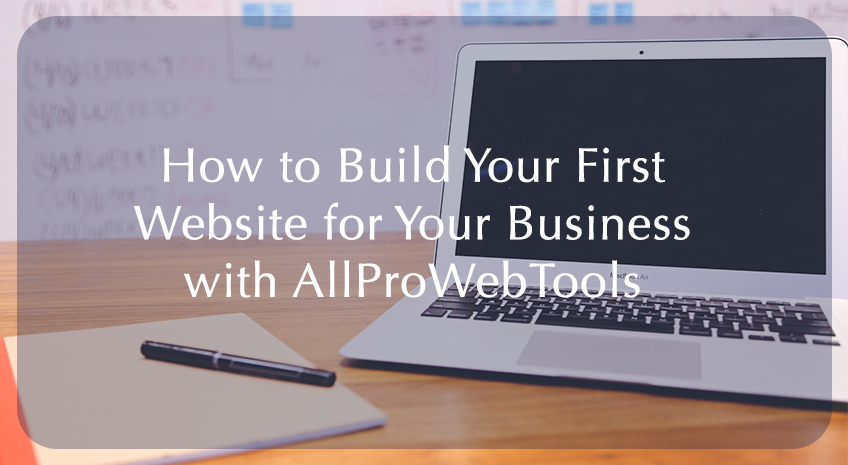 Step 1: Log Into Your AllProWebTools Console
You need a console before you can start building your site in AllProWebTools. Every AllProWebTools account comes with a website included. That means we host it for you. Not sure what hosting means?
Here's how Neil Patel explains it: "Think of your website as a collection of files. When it's 'hosted' on your computer (like all your other files), only you can open it up. When you host those files on a server, anyone can connect to that server through the Internet. Hosting companies offer space on these servers."
With other platforms, such as WordPress, you're responsible for finding your own hosting service. It can be really difficult to find an affordable, reliable host that can keep your website running quickly 24/7.
That's one reason it's so convenient to use AllProWebTools. We host your website as part of your subscription fee, on our reliable, fast servers. If you want more details about this, please don't hesitate to ask.
Step 2: Decide If You Want to DIY or Pay for Development
Another benefit of using AllProWebTools is that you can either build your site yourself from one of our themes, or you can use any developer that's comfortable building on AllProWebTools. You can even make use of our in-house development team.
If you want to build your own site, you should start by choosing a theme from this list. All of our themes are mobile-responsive, meaning they detect what size screen they're being viewed on, and adjust how they look to fit that screen.
If you want to use a third party developer, you can ask us for a recommendation. If you want to use us as your developers, give us a call to talk about your needs so we can give you a quote.
All of these options will give you a great-looking website. It all depends on your needs and budget.
Step 3: Choose a Domain Name
Your domain name is the URL people type in to get to your website. Obviously, every domain name has to be unique, so it can be hard to find one that fits your business well that hasn't been taken.
If you like, you can use tools that generate domain names to help get you started. NameMesh is one tool that helps you smash words together into domain names. Another is Panabee, which does basically the same thing, but might give you different results. Both of these tools have settings to only show you domain names that are currently available.
Don't get too hung up on choosing the perfect name. Your domain name doesn't matter too much as long as you follow some basic best practices:
Make it easy to type and relatively short
Use keywords, including local (city or state) keywords
Avoid numbers or hyphens
Research to make sure your name isn't trademarked, copyrighted, or in use by another company
Purchase a few variations of your domain name, including common misspellings, to redirect to your homepage
This video will show you how you can purchase your domain name and connect it to your AllProWebTools account:
Step 4: Build and Edit Your Site in AllProWebTools
If you're using a developer, you'll want to discuss with them how you can go about making changes to your site content. It's totally possible to edit your website content without needing to code at all, but there will likely be some specific guidelines to make sure you don't break your website by accident.
If you're DIYing, it's time to customize your theme to make it look just right for your brand. Add your logo, choose your color scheme, and more to create a unique website that tells a visual story about your brand.
Then, start creating pages and adding content. This video teaches you the basics of building your first web pages. AllProWebTools is a WYSIWYG (What You See Is What You Get) platform, like WordPress, so in general, if you make things look the way you want them to in the site builder, they'll look right live on your site.
You'll also need to choose which web tools you want to incorporate into your site. These are a more secure, easier-to-use version of WordPress's plugins. You can add lead boxes to your site to gather email addresses, you can sell products directly from your website, and you can add features like testimonials, image sliders, and more.
Step 5: Set Up Analytics to Measure Results
Since your website is such a major part of your marketing efforts, you want to be able to track peoples' visits, how they interact with your site, and how easy it is to find your site on Google.
You can do a lot of this right from your AllProWebTools console:
Track how your pages rank for different keywords on Google
Find out what keywords people used to find your site
Compare how well marketing attracts new eyeballs, site visits, and dollars in sales
We also recommend installing Google Analytics code into your site, so you can track sessions (times people visit your site) and conversion for free. Google Webmasters is another useful free tool to help you get found on Google.
This basic guide will get you up and running, but there is so much more you can do with your AllProWebTools site. Get in contact with us, and we'll help you create a site that's unbelievably beautiful, informative, and effective at bringing in new business.
Archives
Subscribe