How to Hire for the Top 10 Traits of Great Small Business Employees
By: Andrea Lotz Friday August 28, 2015 comments Tags: employees, hiring, hr
It's an exciting time when you're looking at hiring new employees for your business. It's a huge growth milestone to celebrate. But not everyone is cut out for working in a small business.
The stakes are high, because you can't afford the lost productivity if you hire someone who isn't effective. You also can't afford the turnover expenses of rehiring for positions.
The key: hire the right person the first time. But how do you know if someone will be a good fit for a small business, with the unique challenges that go along with it?
There are a few key traits you can look for, to help you start building a team you can rely on.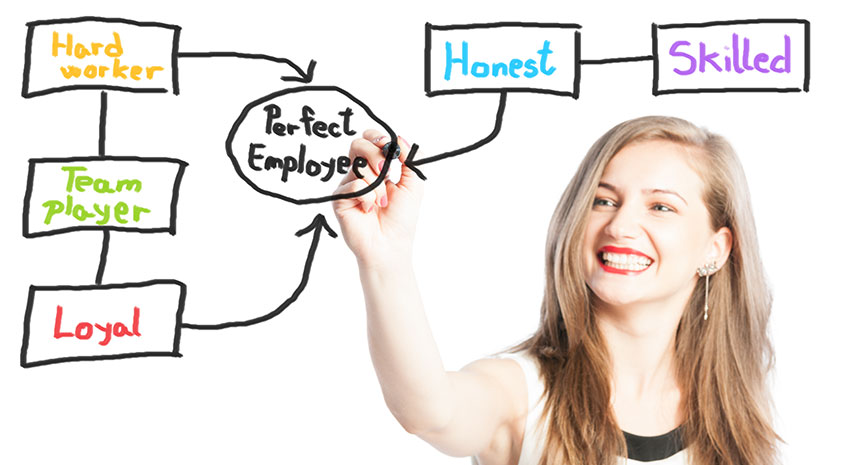 1. Flexibility
Things change fast and frequently in a small business. Flexibility includes willingness to take on multiple roles, ability to pick up slack for others, and ability to adapt when things change unexpectedly.
Hiring for Flexibility
Check their resume to look for diversity of roles filled, especially for people who did a lot of different kinds of tasks within one organization
Ask unexpected interview questions, to see how they react when thrown off guard
Have interviewees tell you about a time when they reacted to something unexpected, like a coworker's illness or a changed deadline
2. Positivity
Small business employees have to be fairly emotionally resilient. Tension, uncertainty, and even fear are part of the job, and it's necessary for employees to ride out hard times with a good attitude.
Hiring for Positivity
Cover letters can give you a sense of someone's overall attitude
Look for a bright, sunny smile—this can bring positivity to the whole office
Ask them to share a time when they turned around a bad situation. Did they handle things by staying positive and motivating the team, or did they draw themselves inward?
3. Eagerness to Learn
In a small business, learning never stops. Your employees need to be quick learners and enthusiastic knowledge-seekers, or they'll fall behind.
Hiring for Eagerness to Learn
Look for indicators on their resume: diverse coursework, varied interests, taking on new roles in companies, and so on
Ask them about the hardest skill they ever mastered
See how many questions they ask you during the interview. Learners are full of questions
4. Assertiveness
You have to be able ask for what you want in a small business. Someone who can be sensitive to others' feelings while still being direct and vocal about their needs will be an asset to you.
Hiring for Assertiveness
Look for assertive language in their cover letter
In the interview, be direct with them and see if they step up to your level
Evaluate their confidence and willingness to ask you questions and challenge your ideas
5. Tenacity
You hear a lot of "no" running a small business. Employees who know how to take a "no" constructively, pick their battles, and keep trying where it matters will quickly prove to be invaluable.
Hiring for Tenacity
Evaluate how they follow up with you—someone tenacious will probably both email and call to thank you and ask for updates
Ask them to share a story about how they respond to a "no"
Tenacious people must be tempered with an ability to learn and adapt to try new strategies, so ask about a project where they failed several times before succeeding, and note their problem-solving process
6. Independence
You don't have time to micromanage employees, so it's necessary to hire self-starters who can solve problems, get what they need, and own projects without your direction.
Hiring for Independence
Look on their resume for times when they "led," "directed," or "owned" a project
Ask for times when they built something independently
Have them tell you about their ideal management style
7. Reliability
In a small team, everyone has to be able to count on everyone else. The team is only as strong as the weakest link in the chain, so make sure that weakest link is pretty darn reliable!
Hiring for Reliability
Make sure they met submission deadlines and were on time and well-prepared for the interview
Ask them to share their views on honesty, punctuality, and communication
Ask about a time they honored their word, even when it was difficult
8. Focus on Results
Because resources are so tight in a small business, it's important for your employees to understand that results are what matter.
Hiring for Focus on Results
You can usually tell by a resume if someone is results-oriented, because they will describe past jobs in terms of different kinds of results
Have them to prioritize a long to-do list, and see if they prioritize results-oriented activities
Ask them to share how they measure and evaluate their own results
9. Ambition
Small business owners are hugely ambitious people, even if their ambitions don't like in the conventional realms of money and fame. They know what's important, and they make plans to achieve their goals no matter what.
Hiring for Ambition
Check their resume and cover letter for references to specific goals and ambitions
Ask about a time when they had a big goal that they had to break down into smaller ones, and learn how they pursue their ambitions
Find out where they see themselves in 5, 10, and 20 years
10. Passion
Sometimes, passion is all that's holding a small business together. That's why it's so important for every employee to be filled with passion as well as the business owner. It doesn't necessarily have to be passion for the industry; it can be passion for their role, passion for the people you serve, or a general passion for being a great worker. But don't hire an employee who won't bring passion to the workplace.
Hiring for Passion
Check their resumes for volunteer work, interests, and hobbies that show passion for something related to your business
Look for that gleam in the eye that tells you they're engaged
Ask them what attracts them to your company, and look for them to have done research, have ideas for next steps, and to most of all demonstrate their passion
Are you likely to find all these traits in one employee? No. But hire people who will fill your organization with these traits. That way, no matter what the task, there's always someone on hand with the tenacity, reliability, or flexibility to get it done.
What traits do you look for when hiring for your small business? Let us know in the comments!
Archives
Subscribe