How to Recognize and Overcome Growth Plateaus in Your Business
By: Dave Kramer Friday June 26, 2015 comments Tags: small business, growth, tips
Many business owners find they can get by on pure willpower and adrenaline when they're first starting out. But a few months or even a year or two in, that momentum slows and growth sometimes becomes a real struggle.
Most of the time, this means you've hit a growth plateau. You may worry that you need more employees, a new location, or a new loan. Often, though, you can bust through a growth plateau by making one small investment: technology.
The cloud is a major breakthrough that makes enterprise-grade software incredibly accessible. I've dedicated my life to developing tools that put this incredible power in the hands of small business owners, accessible from any internet-enabled device.
As a lifelong business owner myself, I make sure my solution checks all the important boxes: ease of use, measurable results, and good value.
I've seen hundreds of companies overcome growth plateaus by unlocking the power of technology to get more organized, more efficient, and more strategic. You can do it too!
Here are 5 signs that you've hit a growth plateau, along with some ideas for how to overcome it.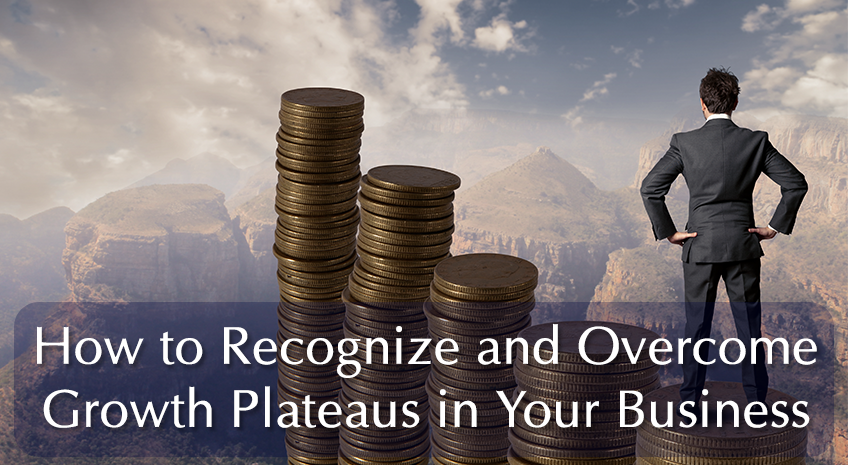 1. You Spend All Your Time Doing Busy Work
In late 2014, James Schrack, CEO of Stuff'n Mallows, hit a growth plateau. He and his team had a great product (chocolate chip stuffed marshmallows), some online sales and resellers, and dreams of growth.
The problem? They were spending hours each day in line at the post office. They were manually integrating their online and offline sales. They were managing their contacts in spreadsheets.
In short, they were too busy to grow.
To overcome their growth plateau, they invested in a toolkit that cut down busy work. They began tracking all their sales through one dashboard, which saved hours each week and cut down on accounting errors. That same dashboard took care of their shipping problems, increased online sales, and even solved their customer relationship management problems.
Their monthly sales quickly started doubling, month after month. They simply had more time to focus on creative ways to expand their business.
If you spend hours each week doing repetitive tasks, the only way to overcome your growth plateau is to organize and automate those time-drains.
Tip: Save time by learning one toolkit rather than a bunch of different tools that all work differently.
2. You Solve Problems One at a Time
As your business grows, you eventually reach a limit to the complexity you can handle on your own. At this point, most business owners look for a tool to quickly solve one specific pain point.
They continue on as before with the new tool, but quickly get stuck again. They invest in another new tool and continue until they reach yet another plateau.
This stop-and-start growth pattern seriously limits your growth.
It leads to a reactive relationship with your business. It's a rolling-with-the-punches attitude, an attitude of "overcoming" and of "struggle." We like this attitude in America. It makes us feel busy and offers satisfying problem-solving challenges.
But a proactive attitude has so much more potential for growth. When was the last time you were "ahead?" What would you do with your time if you were ahead every day?
Tip: Choose a tool that checks multiple boxes at once—big boxes!
3. The Tools You Have Don't Talk to Each Other
Solving one problem at a time has another serious consequence. The tools you end up with have very specific functions and usually aren't designed to share data with each other.
You probably already have a number of these in your business. The way to find them is to look for times when you need to update multiple systems to reflect one new piece of information.
For example, if a customer makes a sale, do you have to make an entry in Quickbooks, note it in your customer database, subtract from your inventory, alert the rest of your team, and write up an invoice?
There's no reason for you to spend your time manually being the go-between for your different software solutions. An all-in-one dashboard allows you to make one entry, and sit back as all your different systems automatically update.
Tip: Look for an all-in-one solution that integrates at least the big four: sales, marketing, customer relationships, and project management.
4. Your Customer Service and Sales Are Struggling
Are you using spreadsheets and setting your own alerts to follow up with contacts? Something as simple as investing in a small business CRM (Customer Relationship Management) tool could be what it takes to get you over your growth plateau.
A good CRM will give you tools to automate and organize your sales process. If you want to keep growing, but you aren't ready to hire a sales team, this can be a great way to do more with less time. And when it's time to hire, you'll have an easy way to track your teams' sales and their interactions with prospects.
Tip: It's better to grow into a system than to outgrow one. Choose the system that's right for the business you want to be in a few months, and it will inspire you and enable you to achieve that goal.
5. Your Website Isn't Converting New Business
There are a lot of factors that could hold your website back. Take an honest look at your website and answer these questions:
Can people find my business through search engines?
Is my website full of helpful, frequently updated, high-quality content?
Does my website have a modern, mobile-adaptive, easy to navigate design?
Do I have ways to gather contact information from visitors, even if they don't buy?
Could I make it easier for people to convert?
Any one of these on its own could be the key to breaking through your growth plateau. If your website is struggling in multiple areas, it's time to take action.
In most cases, there are a few simple fixes that make it much easier to keep your website a current, credible converting machine:
A platform that lets you edit your own content without coding
Using widgets instead of plugins to gather leads, make sales, and more
Committing to blogging and creating good web content
Tip: Your website is the hub of your business. Make sure that all your other tools are fully integrated with it, to support it, gather information, and automate follow-up.
Growth plateaus can be very frustrating and tricky to overcome. Regaining your stride takes time, resources, and energy, which you can free up by getting smart about your small business software.
Don't see your problem? Let me know in the comments!
Archives
Subscribe