Lessons Learned My First Day as an Intern at AllProWebTools
By: Heather Kimiecik Thursday February 11, 2016 comments Tags: small business ERP, allprowebtools, intern
Remember the last time you had your first day at a new job?
You know, that gut-wrenching nervousness, sprinkled with overwhelming excitement, making you want to throw up the breakfast you tried to gulp down in preparation for the big day. As you reach for the handle of your new office, your new space, your new everything, you cannot help but imagine the day going all wrong.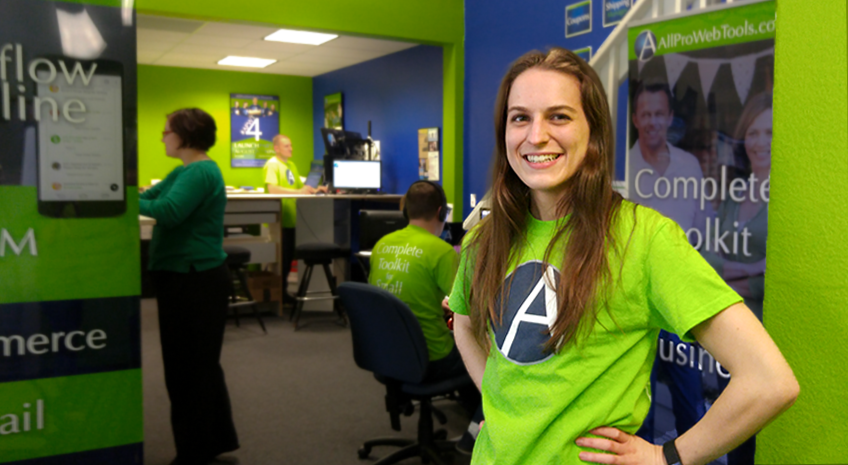 My Terror
I had that feeling in full throttle as the clock ticked down to my first day with AllProWebTools, a new career filled with the unknown.
I had scheduled my first day at AllProWebTools a month in advance, which certainly made the build up all the worse. "Nervous" hardly covers the range of emotions I was feeling as the day approached. This start-up has developed a solution that helps small businesses boost sales, improve efficiency, and create professional marketing campaigns unlike any other tool out there.
Friends in marketing call AllProWebTools "the best kept secret of Northern Colorado businesses." So to land a position with their marketing department was a lot of responsibility. As I walked into the open office of bright green and blue, my heart raced.
I put my stuff down, said my hellos, and woosh: assignments were made. Suddenly I had a client I needed to contact before the end of the day, another client in need of blog assistance, and yet another in need of a marketing analysis.
Wait, what?!
I had never met these clients, but maybe my team would sit down and train me as I went along? I crossed my fingers my first day wouldn't include a thousand little meetings that would leave me bored and confused. Or maybe the inevitable, disorganized stack of files would come my way later, just when I thought I had things under control.
One thing felt certain: I didn't think I would be any help to the team's cause with so little information to start with. They keep saying, "You'll find everything I need in the AllProWebTools toolkit!"
''"You''ll find everything I need in the AllProWebTools toolkit!" I kept thinking, "Prove it."'' [Tweet this]
I kept thinking, "Prove it."
The Power of the Toolkit
They were right.
AllProWebTools' toolkit is like magic. There's no other way to explain this software. I pulled up the cloud-based console from my choice of browser, and the toolkit gave me control within minutes.
Contact Management System
To start, one quick search in the AllProWebTools Contact Management System allowed me to see the history of our work with each client.
In the case of the client I was responsible for contacting on my first day, I was able to see:
A detailed record of their most convenient contact information

Tasks and deadlines associated with the client

A history of past conversations
"AllProWebTools allowed me to run on a superhighway of technology, rapidly bringing results to our clients." [Tweet this]
With any other marketing job, I would have taken up my boss's time asking a thousand questions. Or worse, I would have wasted the client's valuable time as they realized how little I understood their unique needs.
Live Chat
Our Live Chat feature allowed for instant communication through the console, with real-time messaging and the ability to look back at old chats later. When I inevitably had questions, either about my tasks or while I was on the phone, I was instantly able to ask for help and receive answers without putting a client on hold or interrupting a teammember.
Tasking and Timecards
When it came to my tasks for the day, I expected a thousand little meetings, and I wasn't looking forward to them. But to my surprise, not a single one was needed! Instead, AllProWebTools' management tools kept me accountable for my day's projects without adding stress to the first day.
Through AllProWebTools' Timecards and Tasking, I was able to:
Work through a list of tasks sent from my team

Understand priorities without having to ask

Track my time and progress on tasks
This is a big difference from the management tactics of other companies, where I would have had to blindly attack responsibilities and waste time in a thousand little meetings, as I had originally expected.
With our Workflow Timeline, I was able to see the status of our clients' needs so I could stay up-to-date and make smarter decisions for their marketing campaigns. Despite being my first day, nothing I was charged with fell through the cracks, thanks to a team virtually at my side to see my progress and help me with our tasks.
I could simply watch the Workflow Timeline of the client who was waiting on blog posts to instantly see when my teammates had made updates to the articles. Everything was virtual and immediate.
Our Mission to Perfect Clients' Online Presence
One of AllProWebTools' missions is to perfect the online presence of their clients' businesses. Their toolkit gave me the resources to provide professional marketing assistance to my clients, even on my first day.
In the case of the client analysis I was was asked to do, I was able to:
See the work already put into the client's report by other team members

Determine what was needed from my analysis

Wrap up a report within the hour and alert my team
This is something that would have taken several hours at another company, where I would have very little direction on what was needed at the end of the day.
In short, the toolkit is the perfect program for us and our clients, allowing for productivity, prioritization, and the support I needed to look like a pro on my first day.
My Realization
You have to understand, I've done marketing for a little while now here and there, where the culture was a little more… antiquated: Drowning in a sea of sticky notes. Back and forth emails, forwarded to everyone and their grandmother, with important attachments buried permanently out of sight. Not fully understanding the results of my marketing campaigns. Blindly trying this and that based on gut reactions and belief that I should stay "busy."
Basically, my professional life consisted of short-term, blind attempts at marketing. While these companies ran on weak and winding paper trails, AllProWebTools allowed me to run on a superhighway of technology, rapidly bringing results to our clients.
The Lesson
Never before had I been given a first day that made me feel so confident and acclimated as AllProWebTools.
Give your team the ultimate blue and green toolkit they deserve. If you've been nervous about trying something new, the way I was my first day at AllProWebTools, I'm telling you now that getting started with AllProWebTools is in fact a breeze. Click here to get started.
Archives
Subscribe