Make Your Site Mobile-Friendly, But Not Because of Mobilegeddon
By: Paige Schartz Monday May 4, 2015 comments Tags: mobilegeddon, responsive design
If you haven't heard about Mobilegeddon, you should probably pay more attention. We've found out once and for all what happens when Google announces an algorithm change early: mass panic.
As a public service, I want to first quickly provide some clarity and squash some myths about Mobilegeddon.
Then I'll share the real reasons you should consider making your business website mobile-friendly. (Hint: it's not because of Mobilegeddon.) As the lead developer at AllProWebTools, I've designed more mobile-friendly sites than I could possibly count. I'll tell you why they're awesome and can make a big difference for your business – and it's not because Google says so.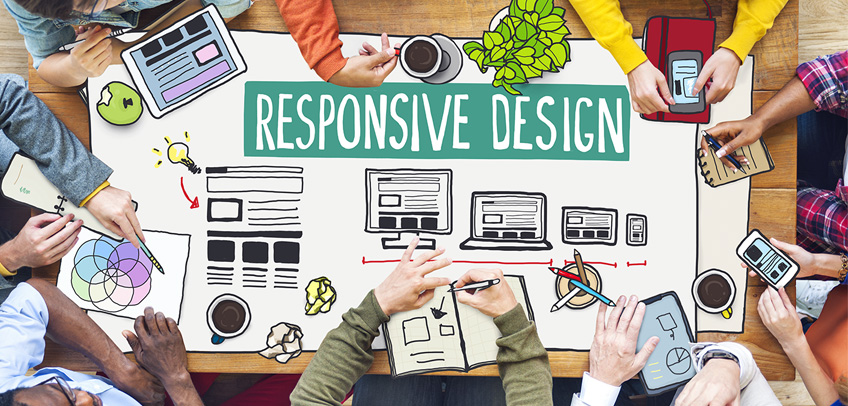 First, the quick Mobilegeddon FAQs
Q: What is Mobilegeddon?
A: To put it simply, Google is changing how they decide the order of search results when people do Google searches from a mobile device. Starting on April 21, sites that are mobile-friendly will be more likely to rank highly on mobile devices.
Q: So does anything change for searches from a computer?
A: Nope. Actually, it only impacts smart phone searches. Even tablets aren't affected.
Q: What does mobile-friendly mean?
A: Google has a lot of criteria that determine a web page's mobile-friendliness. In a broad sense, web pages that look good on a computer just don't look or work as well on a smaller screen. It makes the user experience really frustrating. Mobile-friendly really just means a site that looks great and is easy to use on a smart phone.
Q: So if my site isn't mobile-friendly, I won't show up on Google when people search from their phones?
A: Nope – that's the mass panic talking. Google has tons of things they look at to decide how your page ranks in a search. Mobile-friendliness is just one factor. If your site has really good content, matches the search terms exactly, or is otherwise highly reputable, you'll still rank well.
Q: But if I do get a mobile-friendly site, will I rank much better than I used to?
A: Probably not. You might scoot up a few spots. If your page and another page are about equally reputable, content-dense, and relevant, but their site isn't mobile-friendly, you probably win the tie.
Q: So what's the big deal?
A: The big deal is, mobile-friendliness is important. But search engine optimization (SEO) isn't the main reason! You don't necessarily have a lot to lose if you just let this update pass you by. But you have a lot to gain from making your site more accessible to mobile users.
Your Customers Care About Mobile-Friendliness
Say one of your customers is browsing on their smart phone, looking for a solution to a problem that you solve. Your site comes up in their results, so they click the link and are taken to your page. If your site isn't mobile-friendly, they're not going to have a good experience.
When mobile users go to a site that was designed for a much larger screen, all kinds of annoying things happen:
Teeny tiny text that you have to zoom in to read
Pages that are too wide, so you have to scroll horizontally to see everything
Images and videos that don't work
Links that are either too easy or too hard to push with a finger
Menu bars that are impossible to navigate
All that adds up to a really frustrating user experience. Only the truly dedicated will spend the time to grapple with your website. Most will just look somewhere else.
You Can't Afford to Ignore Mobile Visitors
Google is using Mobilegeddon to send a message: "Get with it, your site needs to be mobile-friendly." What's important is why they're sending that message.
About half of all Google searches now come from mobile devices (if not more). The folks at Google want you to get a mobile-friendly site so that their users are happy. That should be your goal as well: to make visitors to your site happy, no matter what kind of screen they're searching from.
Invest in a Mobile Design for the Right Reasons
Mobile-friendliness is important because of your site visitors, not because of Google. I think all the hype around Mobilegeddon has made us lose sight of that. And, quite frankly, the hype has been perpetuated by a lot of web developers that want your money.
Here's my advice: Don't panic and create a slapped-together mobile site because you're afraid of Mobilegeddon. That's missing the point of Google's update. But you should prioritize creating a mobile-friendly site, for your customers' sake.
Sit down with an experienced web developer that can help you understand your needs and who will work with you to create a time-proof design. The last thing you want is to invest your time and money in developing a site that will just be obsolete again next time Google fine-tunes their mobile-friendliness criteria.
What Do You Mean by Mobile-Friendly?
There are three main ways to handle the problem of creating a website that looks as good on mobile devices as it does on a computer.
The first way is to create a designated mobile site – a separate entity from your main site. That's two websites to maintain and two websites for your users to remember. When a mobile user goes to your main site, you'll have to redirect them. People are not a big fan of that interruption.
The second way is to create an app that does all the same things your website does. This is not recommended for most small business owners as it's expensive, difficult to maintain, and puts an extra step in the way of converting new customers.
We do all our sites at AllProWebTools the third way. We create what's called a "responsive" design. That means that the website is smart enough to know the size of the screen it's being viewed on, and adjust accordingly. For the record, this is how Google recommends handling the problem. It's the most future-proofed type of site you can buy today.
Small business owners definitely don't have the resources to get frivolous website updates. But to be honest, making your site mobile-friendly is no longer a luxury. If you invest in a quality responsive design now, you are likely to convert a lot more customers from mobile devices, reduce your bounce rate, and, yes, improve your search engine rankings.
Archives
Subscribe