My First Week With AllProWebTools
By: Kat Webster Friday July 14, 2017 comments Tags: allprowebtools, intern
My first week at AllProWebTools has been nothing short of challenging. Coming from the hospitality industry I was excited to take my previous experience and implement it into this new and exciting world of small business. This first week I have learned so much and met a number of amazing small business owners who have impacted my views and openly let me be part of this amazing community.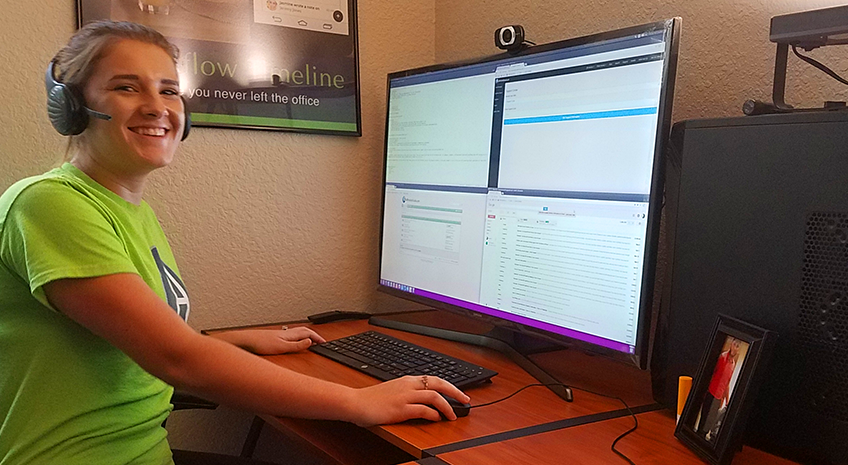 The Interview
I want to start off with how I became part of the AllProWebTools team. This was not a: short interview, job offer, and instructions for my first day. This was an extensive interviewing process that took time and effort to get through. I interviewed three separate times. Once with a phone call, second with a video interview, and finally with an in person, face-to-face interview. There were assessments and high standards clearly set from the first time I interviewed with AllProWebTools. This intense interviewing process probably scared off many candidates, but for me it was a good sign. It was a sign that AllProWebTools truly cares about the type of person who joins their team. This also prepared me for how demanding and challenging this position would be.
The Choice
After being offered a job by AllProWebTools I had a large decision to make. At the time I was anxiously seeking new employment do to poor working conditions at my previous job. With this being said, I had been to a few other interviews and received another job offer. The other offer was for a position with far less work and as a millennial I would be absolutely crazy to turn that down right? Nope! I turned this position down because I am not a millennial that take the easy way out. I am a millennial that took my time carefully researching the companies offering me employment. The company I was previously representing I was ashamed of, and all the bad reviews online didn't make me feel prideful about representing that company, but when I looked into AllProWebTools I couldn't find a single review that was less than exceptional. Everyone loves them! AllProWebTools also offers business experience and the room for growth. So I think I would be crazy if I didn't take this amazing opportunity AllProWebTools gave me!
The Software
From the moment I read my job offer, to the second I stepped foot in the door for my first day, I had one main fear. The software. I knew I was getting into a company whose product is software, but coming from the hospitality industry I wasn't completely sure of what that truly meant. I was prepared to be overwhelmed with the ins and outs of AllProWebTools but I was pleasantly surprised when the software was something I could completely handle! Don't get me wrong, there is no way to learn absolutely everything about AllProWebTools in just one week but there was an amazing amount of support options and ways I could find the information I needed to assist the clients with confidence!
The Clients
By far, my favorite part of this week has been meeting the large community of small business owners we work with. Throughout this week I had the opportunity to connect with numerous small business owners, but one of my personal favorites was a radio host for the Experience Pros Radio Show in Colorado. During the first meeting with Eric Reamer we covered a subject I previously thought I had mastered, customer service. Extreme customer service to be exact. He gave me these simple tips:
Show Appreciation and Gratitude
Listen and Understand Their Concerns
Leave Open-ended Questions for Meaningful Conversations
Challenge Your Clients to Challenge Themselves!
These are all tips that are repetitively implemented in my new everyday work life and are not the only thing I learned from meeting with these vibrant people! In the course of the week I spoke to many clients and learned about their business's and passions, but what I think was so special is the professionalism of the clients we work with and how much positivity we all promote to see each other to succeed.
The Challenge
Throughout the week I have had a tremendous amount of fun with the clients and learning the software, but there were a few challenges I faced when joining the team of AllProWebTools. The first challenge was that the environment is extremely warm. I know, "How can this possibly be a challenge" , is what you're thinking, but coming from multiple companies who don't offer the same amount of support, answers, and positivity, this was scary. Here at AllProWebTool I was always being told to find the answer myself, and at first I constantly thought I was in trouble because in the past "find it yourself" means "I don't know, leave me alone". This however, was not the case at all! AllProWebTools makes learning the software so easy with all the videos and support options! So after I started learning the information myself I was constantly asked questions about what I learned and this was difficult. I was forced to challenge myself to not only find the answer to a problem, but to understand it well enough to relay it to someone else. These were tough questions to respond to, but not impossible and the more I was challenged the more I was processing. This is a very intense, but exciting advantage to my new position here at AllProWebTools!
Boy am I glad it's Friday! But I can honestly say I am excited to return next week and continue my adventure with AllProWebTools!
Archives
Subscribe