New from AllProWebTools: The Miscellaneous Features [4.5]
By: Elijah Mendonca Monday January 23, 2017 comments Tags: 4.5, new features, miscellaneous
While we always write blogs to accompany the main features of a Version Release (4.5, in this case), we've tended to neglect some of the smaller features that add significant Quality of Life to AllProWebTools. Since we only add features we believe will positively impact your business, it seemed nonsensical to sweep the little guys under the carpet.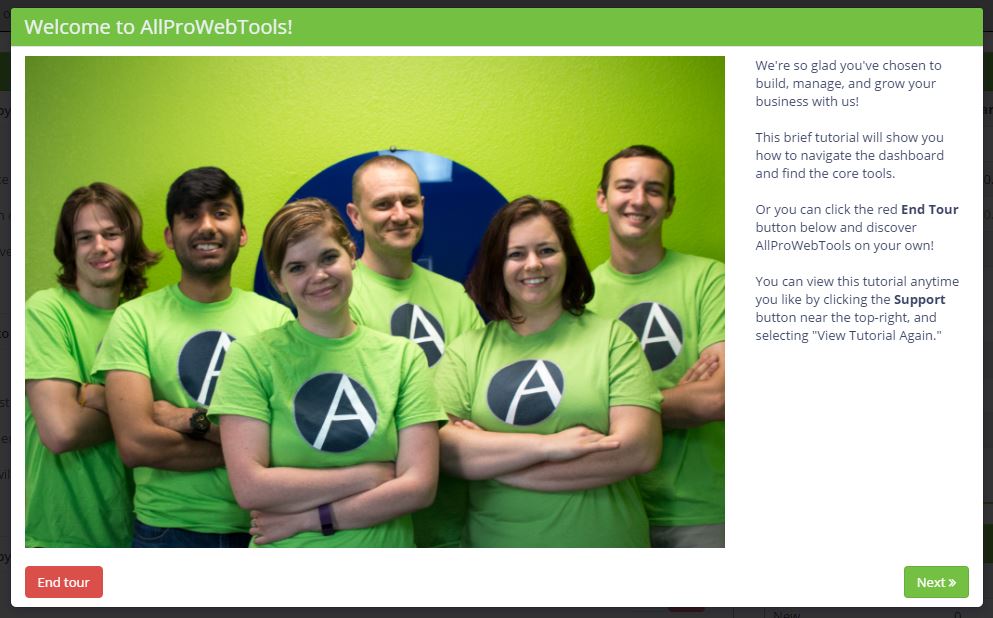 Without further ado, our bite-sized additions to Version 4.5:
The Welcome Tour: While this won't impact our existing users, anyone who's new to AllProWebTools will now have a short, guided tour when they view the demo or log into their own account for the first time. The tour can be exited at any time, and can also be viewed again by clicking on the Support button within your console.

A smarter ZIP Code: Entering the ZIP code first in a customer's CRM record will now automatically decipher and fill in the city & state for you. This only happens the first time you enter the ZIP code. Subsequent changes will NOT affect the city & state.
An Extra Support Button: Since most people look at the toolbar on the left for everything they need, it made sense to add a secondary support button to the top of the list, right underneath our logo. We promise that the old Support button you know and love is still present on the top right side of your console.
Support Code in the Footer: You can now give a technician your AllProWebTools support code no matter which page you're on, by scrolling all the way down to the footer when you're in the console.
Sales Button Re-Christened: We've renamed the "Sales" button that shows up when you click on your username on the top right to "Sales Pipeline." Nothing's changed, it was always & still is your Sales Pipeline, we just wanted to make it more obvious.
Integrations with Square & Stripe: With the rise in popularity of mobile Points-Of-Sale, it only made sense to integrate with Square. Stripe on the other hand, gives small business owners another option for accepting credit card purchases through their websites. Both were very highly requested features.
Google Drive Integration: Dropbox was getting lonely, so we made it a friend! You can now use BOTH when you Add the CRM Pro+Integrations tool to your collection.
Clickable Product Links when Using a Coupon: If a customer uses a coupon on your website, not only will they be able to see a list of other applicable products, but they'll also be able to click on each one. This should speed up their checkout process and land you more sales in the bargain.
Followup Time Shows Contact's Timezone: Ever scheduled a meeting with someone in a different time zone? Then you'll know it's quite a hassle to remember the differences in time between the two of you. Scheduling a Followup Time from within a CRM record will now display the contact's time zone for you.
Recurring Invoices for Recurring Payments: We added this feature so that every time your console bills a customer for a recurring payment, they will be sent an invoice. The invoice will also mention whether or not the payment was successful or if there is still an amount owed.
Check out more of the Version 4.5 Features on our blog! Click HERE to see them all!
Archives
Subscribe