Small Business Millennial Management Experts Share their Secrets
By: Andrea Lotz Friday October 23, 2015 comments Tags: Millennials, employees
As the millennial generation fully enters the workforce, it's critical for managers in businesses of all sizes to learn how best to recruit, engage, and retain millennial talent. A lot of this comes down to management style.
Small business owners have enough on their plates without stressing about managing millennials—that's why we asked these small business owner experts to share how they go about managing millennials in their own businesses. Learn from their successes to create a cohesive, young, innovative team—one that will stick around for years to come!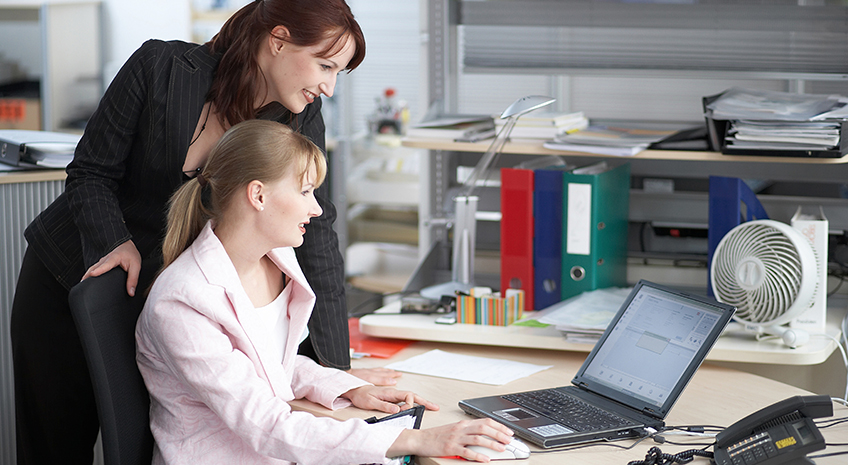 Encourage Work-Life Integration
Jared Staver, founder of a law group that employs two young attorneys and one third-year law student, rejects the myth that millennials are lazy or unmotivated.
"It's simply not true," he says. "However, millennials are looking for a different type of working environment than previous generations."
Jared points out that millennials are motivated by the desire to integrate work and life. This means that life bleeds into work, but that work also bleeds into life. Work-life balance is less of a priority, versus work-life integration.
He offers a few examples, including "working from home, answering emails in the evenings rather than in the mornings, or taking an afternoon off to enjoy an unseasonably nice day. Millennials," Jared says, "are more likely to check email or answer phone calls in the evenings and on weekends, in part due to technology."

Rather than considering this a weakness of millennials, Jared and his team view this as an advantage. In fact, they sometimes have to encourage millennials to take better breaks and fully unplug!
Jared says, "I believe strongly in personal time. Our attorneys are encouraged to have lunch outside the office, disconnect from technology and work, and make time for things they enjoy."
Offer Flexibility with Accountability
"Most of our employees (including all the millenials) are in production," says Aaron Vaughan, co-owner of Anne Vaughan Designs Jewelry, a small handcrafted jewelry design business.
Like many small businesses, Anne Vaughan Designs Jewelry isn't able to offer extensive benefits or high pay scales, but they've found other ways to incentivize employees, particularly millennials.
"We have offered other intangibles, including flexible work schedules and approximate work times, which most millenials appreciate," says Aaron.
Another policy that attracts millennials to Anne Vaughan Designs is their policy on smartphones—a divisive issue between millennials and older generations.
"We allow them to have their smartphones at their work table, so if they need to communicate or text from time to time they can."
They've found they by keeping their focus on production goals, they can offer freedom within limits. This allows millennials to meet clear goals, without feeling micromanaged or being treated like children.
"Meet daily production goals, and allowing a few texts here and there is ok," says Aaron.
"Meet daily production goals, and a few texts here and there is ok." [Tweet this]
Share the Big Picture
Waverley Knobs Entertainment employs a number of millennials in their Boston-based digital media firm.
"We have learned that it is important for each person to truly see what their efforts and hard-work
create," says CEO Evin C. Anderson. "When they see a purpose (especially one they can support) it keeps them motivated."
Millennials in general are purpose-driven and have different values and criteria when choosing a job than previous generations.
"It isn't just about getting a well-paying job with benefits," says Evin. "It has become much more about what each person feels best represents what they believe in and knowing that they have an impact."
Collaborate as Teammates
"I caution any "boss" to be more of a collaborator in the trenches than the authority figure," says Blake Moore, Principal at a marketing and PR firm that embraces the millennial perspective. "Any attempts to micromanage millennials will end in disappointment for everyone."
"Any attempts to micromanage millennials will end in disappointment for everyone." [Tweet this]
Blake suggests, "If you are genuinely investing in your millennial talent," remember that "they don't want to be babysat." Rather, millennials crave opportunities to stretch their comfort zones and be challenged.
"We try to provide opportunities to structure their own schedules and manage client-related tasks with limited oversight," says Blake. "If they do not feel engaged, challenged and/or appreciated, they will leave...if you reward what makes the millennial unique and individual, they will stay and thrive."
Coach Millennials, Don't "Review"
"Since millennials have entered the workforce, they've brought attention to some of the major disconnects that exist between performance, motivation, engagement and retention," says Kris Duggan, co-founder and CEO of BetterWorks, an enterprise software company that helps with goal-setting and management.
"Even if millennials are receiving real time feedback on their activities, managers should be regularly meeting with them to provide feedback and to discuss goal progress," he suggests. "Millennials, who will make up the majority of the workforce by end of this year, thrive on continuous feedback presented in more of a coaching manager."
Rather than just keeping tabs on tasks completed, Kris suggests managers focus on helping employees learn and grow, as it relates to goal achievement.
This way, "leaders can truly understand the best qualities of each employee—from high levels of engagement and flexibility, to tight strategic alignment, to potential areas for growth," says Kris.
Don't Lump Millennials into One Box
"I think a tragic mistake would be to employ a set managerial style based on the year a person was born," says Kelly Hager, CEO of a real estate services group in St. Louis. "There are truly brilliant minds in any generation (as well as the opposite), and I feel like millennials are scrutinized for this divide more than any other generation."
This is a great reminder to managers of millennials to take the information you read about an entire generation with a grain of salt. "Everyone has their strengths and weaknesses," as Kelly says. "I think the biggest tip for any manager/leader would be to ask questions and listen."
"We encourage collaboration, empowerment and innovation at every opportunity because in a real estate team, we're all in the trenches together," says Kelly. "Our survival depends on everyone playing a key role and working for a purpose. How we 'manage' to do this has been a trial-and-error process, honestly. We're just very reflective and try not to make the same mistake twice if we don't have to."
What tips do you have for managing younger generations in a small business?
Archives
Subscribe