Small Businesses Across the Country Honored at the Celebration of Small Business and APWT 5 Launch Party
By: Anna Yates Monday March 18, 2019 comments Tags: #apwt5
What an incredible night! Laughter, good food, business talk, education, empowerment - those were just some of the reasons that our Celebration of Small Business and APWT 5 Launch Party was so memorable!
As Katie Myers, the host for the night and founder of CR Conversations, summed up so well at the event, "the whole point of us being here tonight is breaking bread together and making us even more connected." That theme carried through the rest of the night, creating a one-of-a-kind experience for small business owners.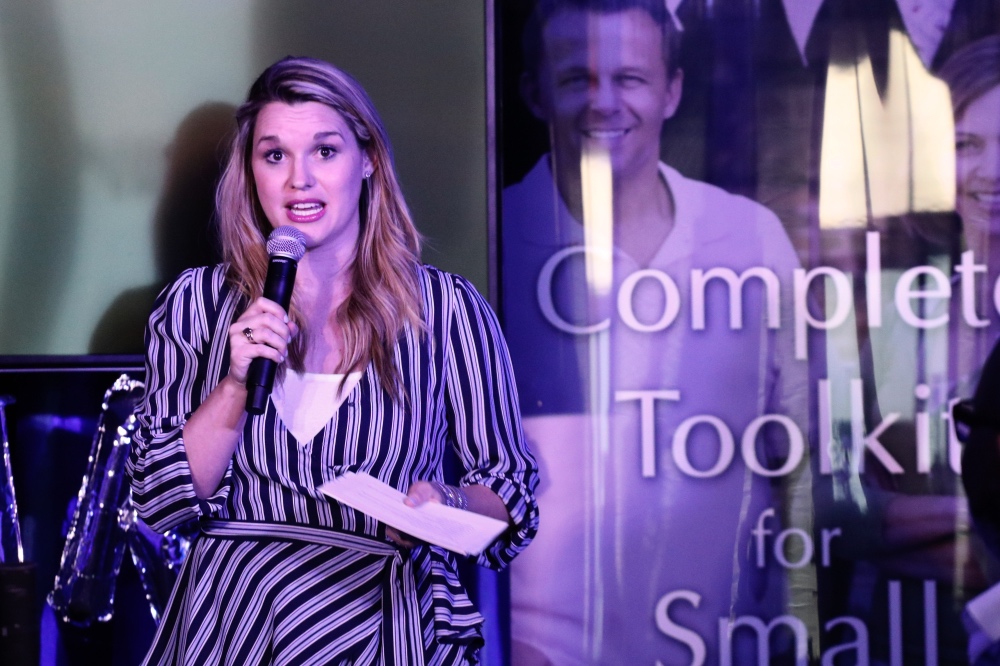 Katie Myers from CR Conversations hosts the event.
Did you miss the event? Don't worry - we'll release the video recording of the event in just a few days!
In the meantime, here are some of the highlights:
1. Small Business Networking
Over 30 small businesses were represented at the Launch Party, from residential solar installation to Mary Kay sales to business coaching. And even more businesses tuned in through our live webinar and Facebook Live. At the beginning of the night, attendees mingled, shared ideas, stories, and tips, and built relationships.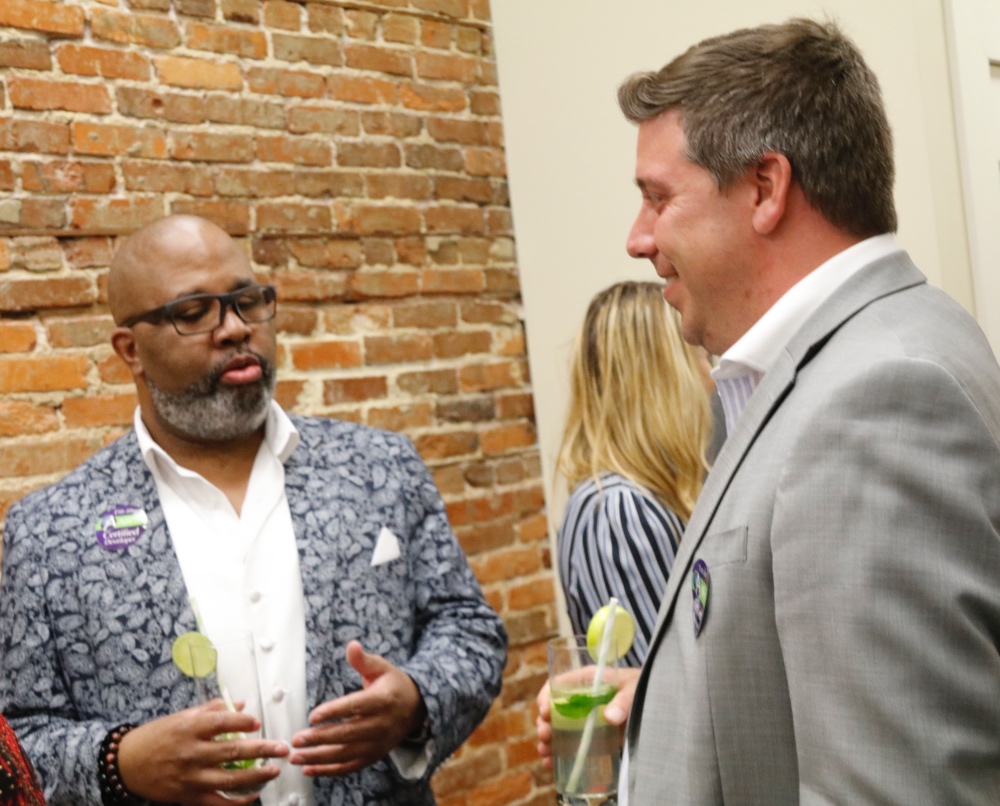 Joseph Erskine, Lifestyle Mentor Coach, speaks with Bryant Dannic, of BizBuzz.
Joseph Erskine, a solopreneur lifestyle mentor coach, came all the way from Huntsville, Alabama to attend the event. For him, connecting with other businesses at the event is a mile marker in moving his business forward. "I've talked to Katie with CR Conversations many times," Joseph told us, "and being able to finally meet her and collaborate with her business will be tremendous for both of us."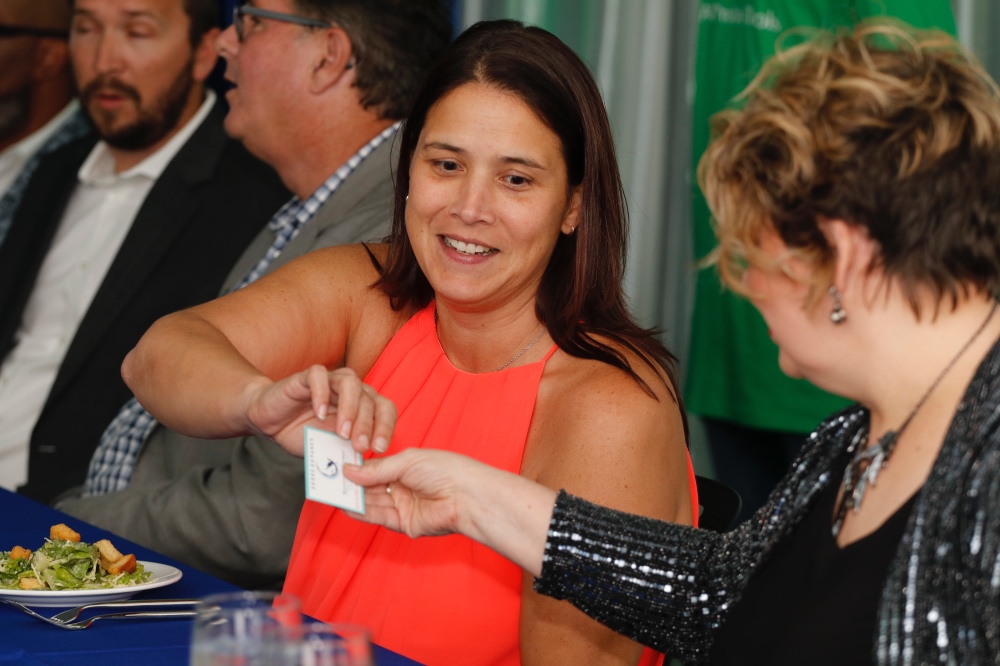 Tracie Carley, Mary Kay sales director, passes a business card along to Chrissanne Long, of Lakeland Business Leaders.
And Joseph isn't alone. We heard numerous excited conversations between small business owners, making plans to collaborate and share outside the event. What a joy to see small businesses working together, and what an impact small businesses will continue to have together!
2. SAK Comedy Lab
The event kicked off with dinner and an improv performance from the brilliantly talented SAK Comedy Lab team. From creating a song on the spot with business terms, to re-enacting a day in the life of Dave Kramer, AllProWebTools Founder, the SAK team kept us in stitches.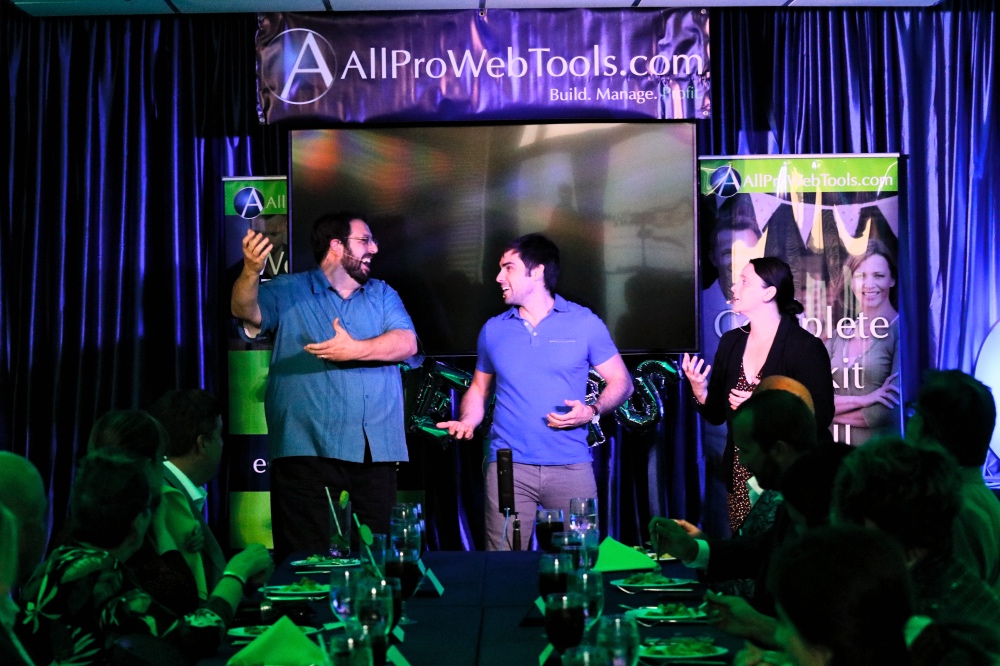 SAK Comedy Lab tell an improv story, one word at a time.
But the comedic entertainment had a deeper connection to small business than just laughter. Kate Lake from MyOffice&More loved how the improv sketches reflected the way small business owners relate to each other every day: "It's about listening. In improv, you have to listen to each other and make each other look good, because then you'll automatically look good. It's the same with small business."
Every piece of the Launch Party ultimately centered around trust, service, and teamwork in the small business community, but none so hilariously as the SAK Comedy Lab performance!
3. The Celebration of Small Business Video Premiere
After dinner, attendees enjoyed the premiere of the Celebration of Small Business Video - a documentary that spanned 4 years and took us on a tour to meet small businesses in Hawaii, California, Colorado, and Florida. The documentary demonstrated the passion that AllProWebTools founder, Dave Kramer, has for helping small business owners and personally taking the time to hear their needs and concerns.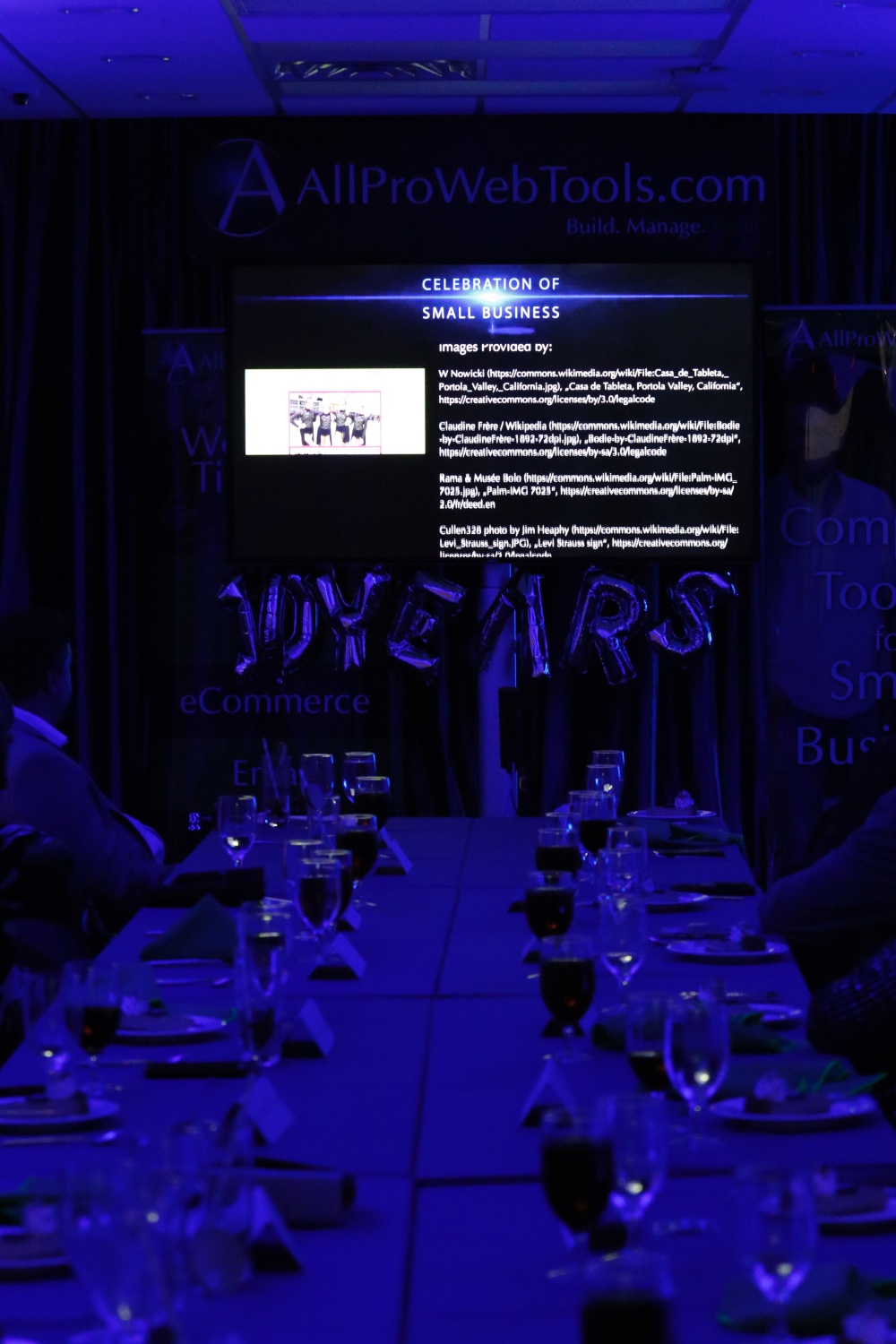 Event attendees watch the Celebration of Small Business Video Premiere.
In the documentary, small business owners shared their passions, struggles, and successes - the unique experiences that set them apart from big corporations. Because of their passion for bettering their communities, small business owners make significant sacrifices. But through that passion, they also make significant contributions to people's lives. The video showed just how special each small business owner is, and how much we need thriving small businesses in our cities and communities.
4. Meeting the AllProWebTools Team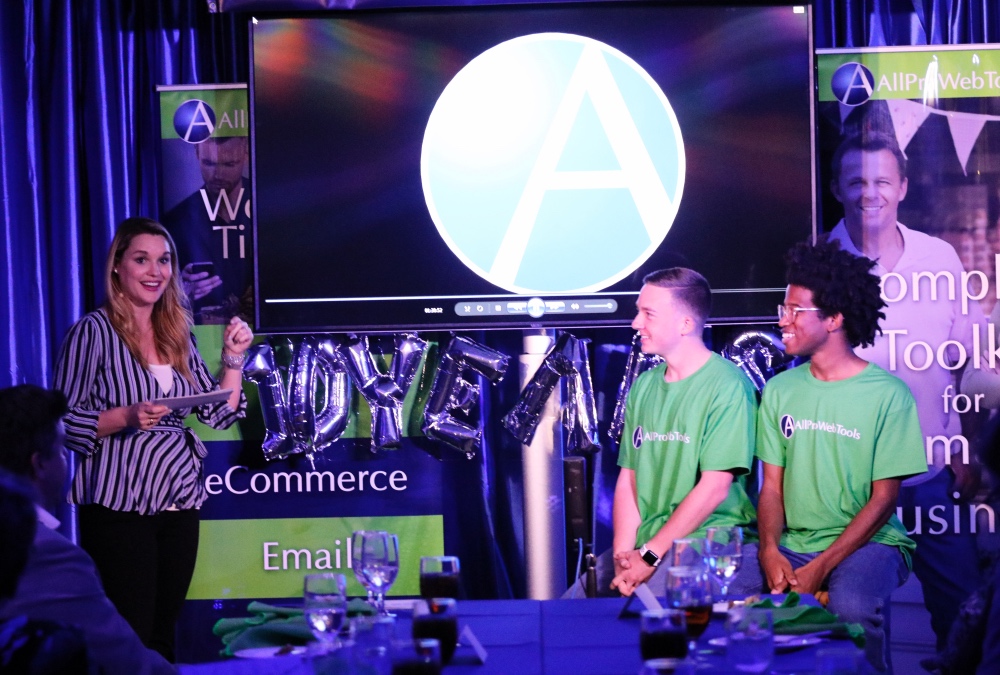 Programming interns Noah Baldwin and Elliott Gregg respond to questions from Katie Myers.
Later in the night, members of the AllProWebTools team came onstage and discussed their experiences working with the company. Programming interns Elliott Gregg and Noah Baldwin spoke about developing the new features in AllProWebTools 5.0 and working with Dave in the process.
"I've been in school for three and a half years," observed Noah, "and I've been working on personal projects, projects that I turn in and then that's it. Here I get to build things and hear about people actually using them, so I think that's a really cool experience."
For Elliott, a senior only a few months from graduation, working with Dave and the AllProWebTools team has been an empowering experience compared to his previous internship.
"I've certainly learned a lot more here, and I've also made a significantly greater impact towards the company through my internship," Elliott remarked. "I'm very grateful for Dave for always helping me. It's a lot harder to give up writing code when there's someone behind your back believing in you."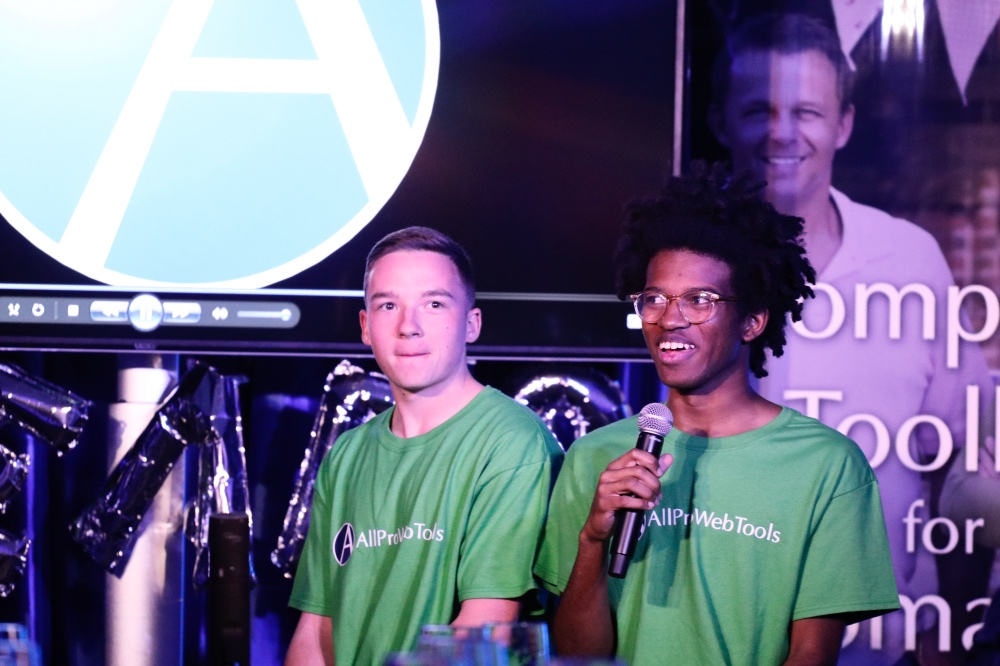 Elliott Gregg describes how Dave helped him persevere and prepare for work after graduation.
AllProWebTools works with Lucia Forero, who runs the
intern program
at the Lakeland Economic Development Council
(LEDC), to connect with interns like Noah. In 2005, LEDC began the intern program as a way to bridge the gap between local businesses and local students and help more bright, ambitious young people stay in Lakeland.
Lucia builds relationships with local businesses and guides students to the right internship for them, whether they know exactly what they want or are open to possibilities. According to Lucia, "An internship may be the only opportunity students have to stay in Lakeland and connect with the community." So far, LEDC has helped dozens of students land internships with local businesses, many of which led to jobs at the company or greater opportunities in their field. Students looking for an internship can register and submit their resume online and businesses looking to get involved can reach out via the website as well.
Our Product Demonstrator, Kristen Nice, and Content Creator, Anna Yates, also shared what makes the AllProWebTools team special and why they're excited about the new features in this latest version.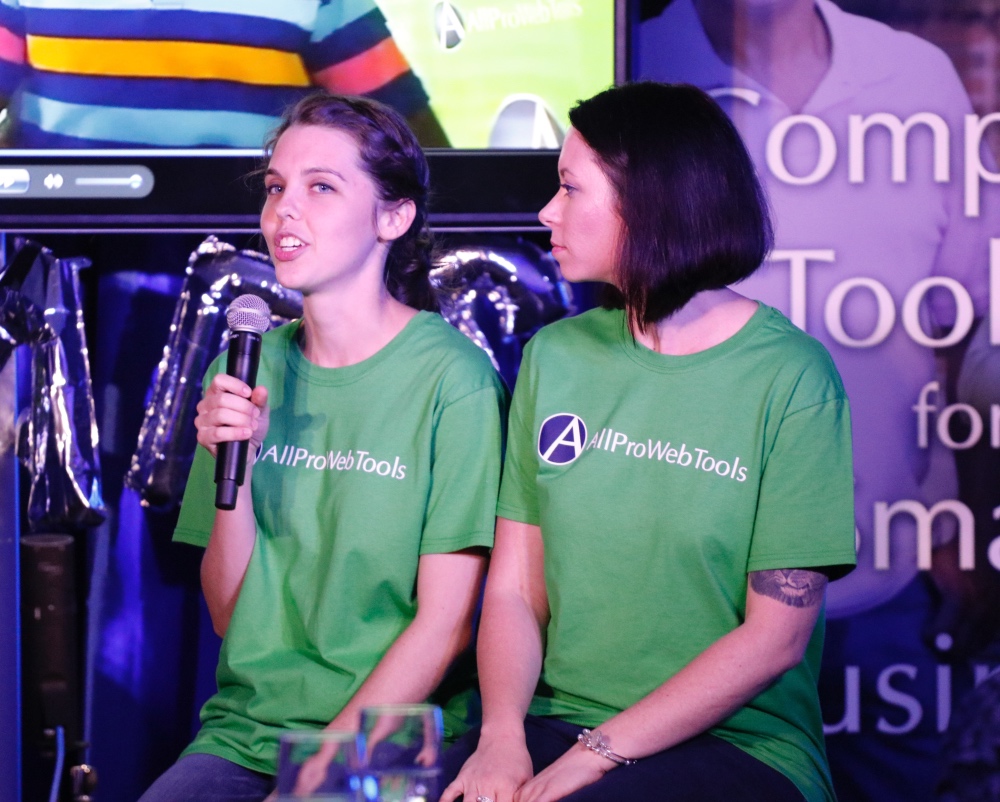 Anna Yates and Kristen Nice share about their experience being on the AllProWebTools team.
For Anna and Kristen, the experience of working with AllProWebTools has been very different from working with other companies. "AllProWebTools listens so well to small business owners," noted Anna. "Everything the team does is centered around small business owners, making their job easier, helping them connect - and they don't pull that out of the air. They listen to their clients."
Kristen agreed: "It's been a really different experience, but one that I've learned probably the most from. The first few weeks I worked at AllProWebTools with Dave, I learned and grew so much. The whole experience has changed the way I look at my future and the way I interact with people."
Meeting the AllProWebTools team was a special sneak peek behind the scenes of AllProWebTools. Joseph reported that seeing the people who power the company was his favorite part of the evening: "I'm always calling in, chatting, doing Zoom, but now I have faces with the names."
It's rewarding to know that the company you invest in gives back to the community through internships and creates the same atmosphere of collaboration and service in their office that they encourage in their clients. AllProWebTools really is all about making people's lives better!
5. The APWT5 Unveiling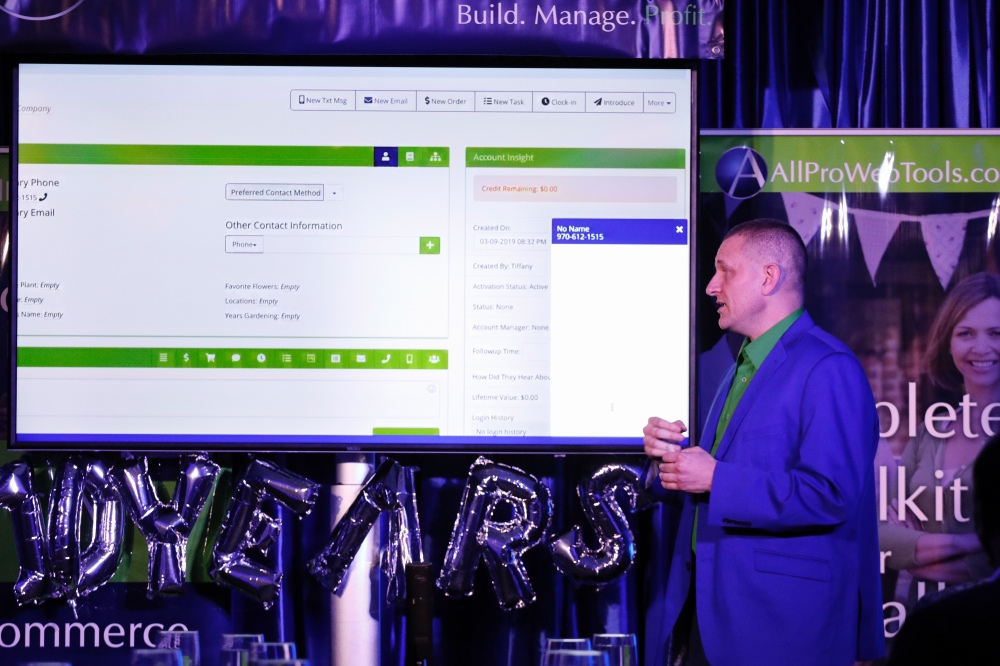 As great as the rest of the night was, the most exciting part was the unveiling of AllProWebTools 5.0! With over 30 new features that were requested by small business owners and developed specifically for them, AllProWebTools 5.0 stole the show.
For Angelia Kennedy, of The 360 Exchange, the unveiling was the highlight of the night. She loves to see what Dave and the team have come up with next, because in a previous version of AllProWebTools, Dave actually implemented a feature for her - the Introduce button.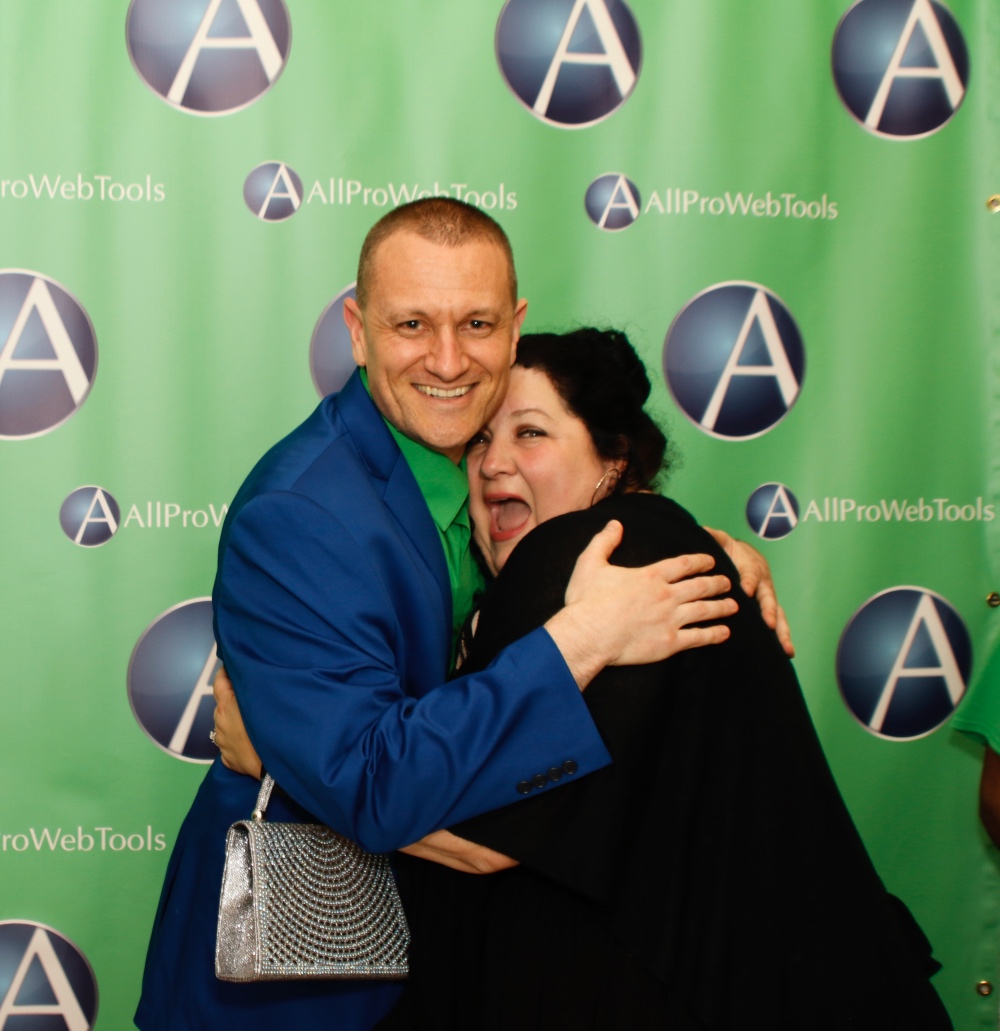 Dave Kramer, founder of AllProWebTools, and Angelia Kennedy, of The 360 Exchange, hug and laugh together after the event.
And Angelia is already imagining how she can use the new texting feature in her business. "At first I thought I wouldn't use it because I don't want to overcommunicate," Angelia confessed. "But I found a feature for it before I left, like meeting reminders. I have to remind people every Tuesday about our meetings on Wednesday. It's all about profitability."
Some other features introduced in the AllProWebTools 5.0 release were:
Phone.com integration for texting and calling from your business phone number
Marketing Campaigns with emails, texts, and tasks
Drag & Drop website editor
Start & Stop times for product sales
Text notifications for lead box sign-ups
All of these features will be available by April 2019, along with blogs that showcase each feature. Check back with us often to make sure you don't miss a single one!
We'd also like to give a special thank-you to the wonderful local businesses that helped us put on this event:
We couldn't have had this unforgettable evening without you - we're so glad to partner with you!
Archives
Subscribe