Smooth Out Small Business Cash Flow with an All-In-One Toolkit
By: Dave Kramer Friday June 12, 2015 comments Tags: cash flow
Cash flow is the hidden killer of many small businesses, striking even those who are profitable and making new sales. It's a highly complex problem, dependant on all stages of your sales process, from quoting to invoicing. But it also includes inventory, employee productivity, and too many other factors to name.
It seems obvious to me that such a complex problem requires a powerful solution.
I hate seeing business owners with good ideas, passion, and skill lose out to cash flow problems. Especially because, in many cases, the problem comes down to a lack of organization. It comes down to a lack of systems and a lack of processes. It comes down to problems that technology is really good at solving.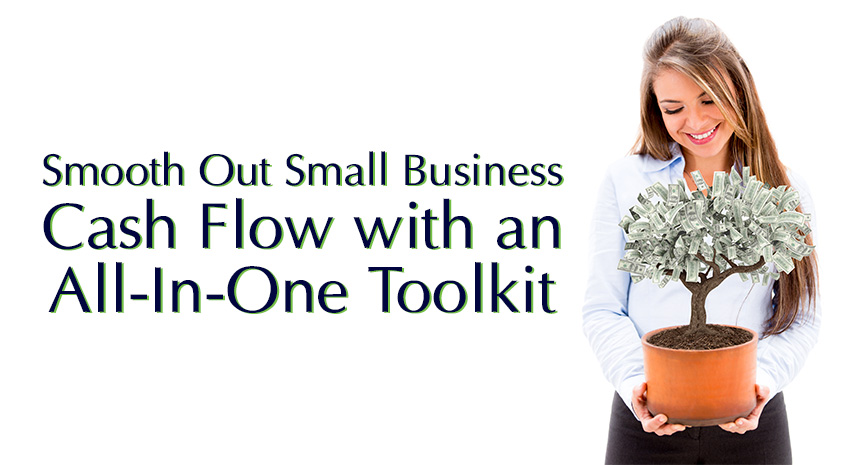 Cash Flow is a Problem that Requires Powerful Technology
I've spent my entire career developing technology that, to put it simply, gets entrepreneurs organized. Smoothed out cash flow is just one of the many benefits I've seen, but it's a very significant one.
If software is supposed to get you organized, doesn't it make sense that the software itself should be simple? And yet every day I meet business owners who run their businesses using 10+ different software solutions. The problem is, when each of your software solutions only handles one piece of the puzzle, the big picture gets lost.
The big picture is what matters for cash flow. A tool that has access to all the different puzzle pieces at once can give you a much better sense of the big picture, helping you find cash flow issues before they become critical.
Powerful Technology Makes Accurate Predictions
Managing cash flow ultimately comes down to making predictions. How many new and returning customers will I have in the future? How will those customers be distributed across the month and across the year? How big will their purchases be?
Small businesses can start to tackle these big questions by developing their sales pipeline. A sales pipeline is basically the process businesses use to:
Keep track of incoming leads
Schedule follow-up
Qualify leads
Predict future sales values
Anticipate closing dates
All of these factors are very closely linked with cash flow. These predictions can be difficult to make, which is why many entrepreneurs use a Customer Relationship Manager (CRM) to handle them.
Accurate Predictions Rely On Seamless Reporting
But most CRMs aren't fully integrated with the business's website. There are gaps between the tool that makes the predictions and the tools that provide the information to make those predictions.
Keyword searches
Website lead boxes
Email marketing
Digital marketing
Point of sale
Each of those gaps must either be addressed by a person (highly fallible) or software integration. I say, why have those gaps at all?
Seamless Reporting Allows Total Transparency
The same problem of gaps comes up when you're actually trying to collect payment from those sales. Getting clients to pay on time is one of the major cash flow frustrations for small businesses.
It seems totally obvious to me that the same tool that manages your sales process should also handle the invoicing process. That way, as soon as a sale is made, a customized invoice is automatically sent. That invoice contains detailed, accurate-to-the-minute reports of how employees spent billable time. If the customer doesn't pay on time, you get a reminder to call. The dashboard knows when an invoice is paid and lets you know. Commission for the sale is automatically calculated.
You can schedule monthly billing emails for recurring payments, or you can set up a prepaid system where you work off account credit.
Even monthly accounting journal entries are automatically generated, eliminating the headache of meeting with your accountant. It's all one toolkit, so each tool is totally transparent to each of the others.
Total Transparency Leads to Precise Planning
Once the sale is made, and even if payment goes smoothly, the project your client paid for can still put a drain on your cash reserves while it's being completed. It's very important to be able to plan how long that delay will be and what resources will be sunk into it during that time.
Look into how long past projects took. This helps you more accurately predict how much time and manpower you need to complete the project.
This is where it's beneficial for project management tools to be transparent. If you can keep up with the progress of tasks, set priorities for your employees, and put deadlines in place, you're more likely to stay on schedule. Staying on schedule means you don't run out of cash before the project is done.
Precise Planning Enables Total Preparedness
Preparedness is the ultimate way to keep cash flow consistent. Planning, transparency, reporting, and predictions are all steps on the way. And it all comes back to powerful technology.
I built AllProWebTools because I couldn't find a tool powerful enough to plan, report, and predict everything in a small business. Knowledge is power in a small business, and small business owners deserve a tool that empowers them with enough knowledge to be totally prepared.
Archives
Subscribe