Solutions for Abandoned Ecommerce Carts
By: Dave Kramer Friday June 5, 2015 comments Tags: abandoned carts, ecommerce
Few things are as frustrating in ecommerce as abandoned carts. But stop seeing them as lost sales! Instead think of them as opportunities to close highly qualified leads, who you know are at least casually shopping for products like yours!
Based on my experience working with hundreds of ecommerce shopkeepers, I'll share:
Main reasons carts get abandoned
How to optimize your website to convert the first time around
How you can reengage abandoners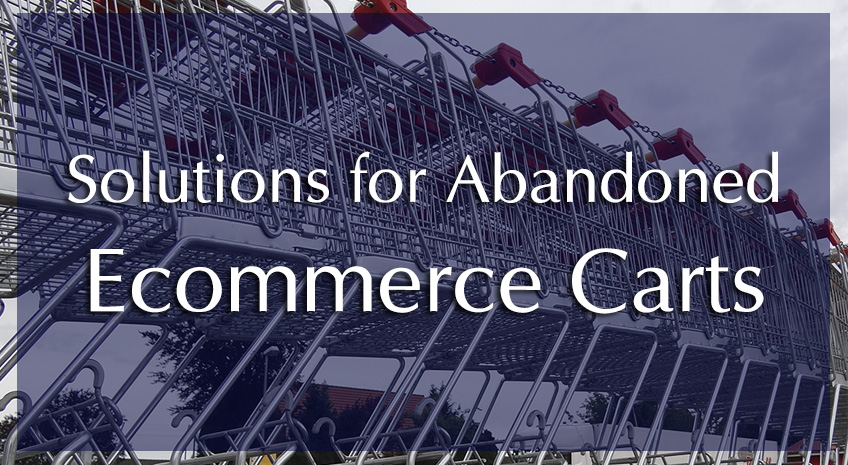 Many Customers Abandon Carts Out of Frustration
The design of the ecommerce part of your website is probably the most important factor in preventing abandoned carts. But first you need to understand why people might get frustrated and abandon your site.
Here's some recent research compiled by Nextopia on why carts get abandoned. Check out their infographic if you want some really detailed abandoned cart statistics.
Design-related reasons for cart abandonment
56% Presented w unexpected costs
25% Website navigation is too complicated
21% Checkout process taking too long
18% Excessive payment security checks
17% Concerns about payment security
Usually in these cases, the customer was interested, but they made a conscious decision to abandon ship. Many of these problems can be fixed by redesigning the ecommerce section of your website.
Preventing Abandoned Carts
Shoppers who abandoned a cart due to frustration with your site are the least likely to respond if you try to reengage them. The best way to deal with these kinds of abandoned carts is to prevent them before they occur.
Basics of good ecommerce website design:
Include clear images of products
Display security logos and compliance
Show customer reviews and testimonials
47% of shoppers expect webpage to load in 2 secs or less
Make your shopping cart and checkout options easy to find
Streamline checkout process to as few fields and pages as possible
Make sure to offer alternative payment methods, especially PayPal. This is the easiest way to shorten checkout times, as customers can simply log in.
That's just the basics of ecommerce design to reduce abandoned carts. If you've covered all those basics, it's time to hone your follow-up strategy and start reengaging abandoners.
Key Benefits of Following Up
About 67% of online carts are abandoned, according to the Baymard Institute. But many of these abandoners have some interest or degree of intent to purchase, and might return.
Of those who do come back for a second visit, as many as half will convert.
Your job is to get them to come back, as quickly as possible, with new knowledge about your brand and product, and preferably with a value-adding discount.
Benefits of reengaging cart abandoners
Leads are already warm
Often they simply needed help
Opportunity to offer a coupon to add value
Chance to interest someone who was just browsing
Think about it – how often do you add something to a cart on impulse, then change your mind and quit. But then it nags at you the next day, so you go for another look.
And how often do you use a shopping cart as a place to temporarily keep track of items you're interested in, for comparison shopping? If your memory was jogged about those items you abandoned, or if you were suddenly offered a much better deal, wouldn't you be likely to at least give the products a second look?
If you're only catering to customers that are impulse-buying, you're potentially missing out on a huge opportunity to attract these slower, more considered shoppers.
Get the Opportunity to Follow Up
Following up with these browsing shoppers can drive your conversion rates way up. But there is one major caveat: you have to get their contact information!
One way to do this is with incentivized lead boxes. You can try offering a discount, or free shipping, or a free downloadable in exchange for creating an account and entering in their email. But even if they miss the lead box, there's another time to get contact info.
Many cart abandoners actually make it part of the way through the checkout process before abandoning. In fact, it's often the last few steps (entering in credit card information and shipping costs) that scares someone off. So in the checkout process, it's put the fields that collect the email address and other contact info early on.
Strategies for Successful Follow-Up Reengagement
Once you have their email address, you can start the reengagement campaign. In AllProWebTools, you get an alert whenever there's an abandoned cart, so you can get on the ball immediately.
Many of our users have a lot of success with picking up the phone and actually calling cart abandoners. For repeat customers, this is especially effective. Repeat and new customers alike will be impressed with your initiative!
You can also set up an automated email to go out as soon as a cart is abandoned. This makes sure you're "available" 24/7, and ensures near-immediate follow-up time.
Here are some ideas of what to include in the email:
Personalized message
Offer a discount code
Give them free shipping
Remind of easy alternate checkouts (such as PayPal)
Ask if there was a problem and offer help and ways to get in touch
You can also take a look at what items they had in their cart and create a more personal email.
Upsell them with a list of complementary products
Notify them if cart items go on sale
Send them useful content related to those items
Always make sure your follow-up emails have a clear call to action!
You're likely to find that many of those abandoned carts that are so frustrating are actually warm leads in disguise. If you take some initiative to pursue those leads, you can make your ecommerce business more profitable.
Archives
Subscribe