The 3 Most Common ERP Implementation Pitfalls for Small Business
By: Dave Kramer Wednesday October 7, 2015 comments
ERP (Enterprise Resource Planning) software has finally become available to small businesses, thanks to the cloud and increased awareness of what small business owners need from their business management software. But just because a business is small doesn't mean that implementing ERP is easy.
In fact, implementing ERP can be so costly, time consuming, and frustrating that many small business owners are scared away. I think this is such a shame, because once you get past those initial hurdles and have a well-implemented solution in place, it can save you incredible amounts of time!
I've devoted my career to creating an ERP toolkit for small businesses—AllProWebTools—that is easy for small business owners to learn, customize, and integrate into their company culture. To do that, I've had to learn a lot about what makes ERP implementation go badly!
Here are the three most common ERP implementation pitfalls I've seen small business owners struggling with, and how I designed AllProWebTools to address those issues.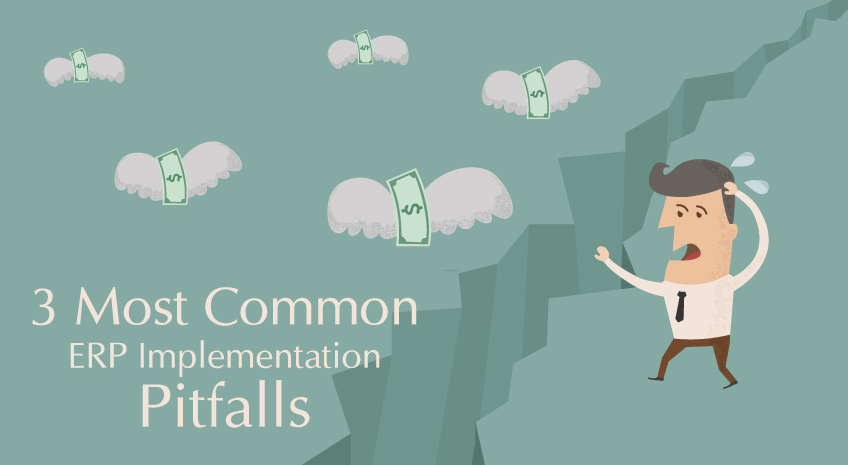 1. The Price Tag is Too High
When you're budgeting for your new ERP software, it's important to consider the costs. I probably don't have to tell you that—most small businesses are on pretty tight budgets—but ERP is a long-term investment that usually has an upfront cost and continuing subscription costs.
You also need to consider the cost of the time it takes to learn the software and get your employees trained. More on that in the next section.
Hidden Growth Costs
Since ERP is such a big investment, you really have to watch out for hidden costs, especially costs that will spring up later as your business grows.
Additional costs per employee user
Charges for having "too many" contacts in the system
Other surprises we call "growth charges"
"Freemium" software is very popular right now (that's software that has a stripped-down free version, and upgrades for a price), but you might get stuck with an option that won't continue to be affordable once you have more employees or customers. Their pricing plans often scale up pretty steeply.
How AllProWebTools Compares
I personally recommend looking for an ERP solution where you can control your costs, but to me, that doesn't mean freemium. That means an integrated toolkit that charges you for the tools you use, not for the people using them or the customers you serve.
AllProWebTools is a totally modular toolkit, which allows you to use and pay for only the tools you need. That way, you can start small with just the basics, and add more as your business grows.
In addition, we don't charge you for adding new users or for the number of contacts you have in your system. We want to help your business grow, not charge you for it.
2. You Don't Have Time to Learn It
As I mentioned above, many business owners don't consider the time it will take to learn and train employees on their new ERP system. Some ERP systems are more complex than others, particularly "small business versions" of enterprise-scale software from companies like Oracle and Netsuite.
Most of that complexity is overkill for small businesses. The tools are customizable, so that you can end up with a dashboard that only has the tools you need, but customizing can be the most difficult part of the process by far.
Once your software is customized to fit your needs, it can be really time-consuming to get comfortable using the features. The result is, many business owners end up using only a tiny fraction of ERP software's capabilities. This simply limits the return you can get on your investment of time and money.
Many #smallbiz owners end up using only a tiny fraction of #ERP software's capabilities [Tweet this]
The Importance of Training
Training and support are so important for small businesses in particular, who often don't have a designated IT department to ease the load.
Big-name ERP providers trying to cash in with small business versions of ERP previously designed for bigger businesses often can't provide the level of personal support that very small businesses need to succeed. Their representatives have thousands of other accounts (many of whom are probably larger than you) and they won't necessarily be well-versed in what a small business needs.
AllProWebTools Onboarding
At AllProWebTools, we address this problem in two ways. First, our tools are modular, not just "customizable." That means that you pick out tools from a toolkit, rather than having to manually configure your own dashboard. The tools are all ready to go as soon as you add them to your toolkit. All you have to do is enter in your information.
Second, we are absolutely committed to making sure that every single user knows how to get the most out of the toolkit. Every new user gets 10 hours of support from highly-trained representatives, who are experts in how businesses with different needs can get the most value out of AllProWebTools. We also offer extensive YouTube videos, blog posts, and a live support forum.
3. Your Culture Doesn't Support Transparency
Cultural difficulties are the last major implementation pitfall that impacts many small businesses. Since a small business is such a tight community, culture can be pretty well ingrained, and difficult to change.
Some employees may resist the increased accountability that comes with business management software. Others may not like the discipline that ERP requires—keeping up a sales pipeline, logging customer relationships, using a tasking system, etc.
Particularly if the software is bulky, difficult to learn, or unintuitive, you may get some resistance from your employees. This is why it's so important to choose an ERP suite that your employees can learn quickly and easily, and that is actually fun to use.
It's also critical for someone on the team (probably the business owner) to have a clear idea of what they want the ERP to accomplish. These goals need to be well-communicated to the whole team.
How AllProWebTools Can Help
I think transparency is critical for small business employees to be effective. I've seen countless times how empowering employees with information helps them make better decisions, work more independently, and collaborate with each other.
Because of that, we designed AllProWebTools to make transparency fun. The main feature of the dashboard is the Workflow Timeline, which is a live feed of the most important updates in the business. It looks and operates a lot like a social media timeline, which makes using the toolkit feel more like play and less like work.
Given a true test, AllProWebTools ERP can absolutely prove to your employees that transparency is what they make of it. If they try to avoid responsibility and do as little as possible, the transparency that comes with ERP will reveal their weaknesses. But if employees develop accountability and initiative, ERP gives them the recognition they deserve.
If employees develop accountability & initiative, #ERP gives them the recognition they deserve [Tweet this]
When implemented correctly, ERP has huge benefits for small business owners and their employees. Don't let poor implementation get in your way. Do your research, make a plan, and get off on the right foot!
Have you considered using ERP for your small business? What aspects of implementation are you worried about? Let us know in the comments!
Archives
Subscribe