Tips to Start a Business in College
By: Andrea Lotz Monday November 16, 2015 comments Tags: entrepreneur, Millennials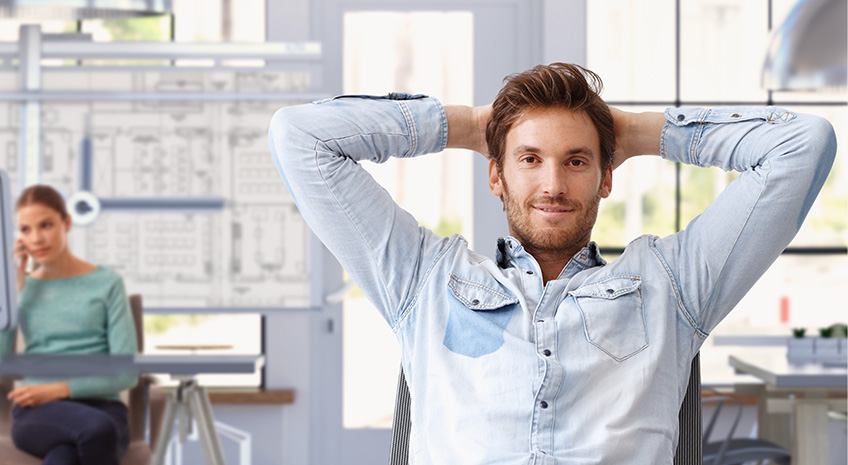 1. Take Advantage of Your Student Status
"I wanted to build a brand that made a difference," says Maxwell Mayes, who founded Maxlife Living, Inc. before his senior year of college. "For my whole life I've had trouble buying clothes to fit my build. I'm 6'3", 220lbs, a 32" waist, and a 44L jacket. I have massive thighs and shoulders but a small waist. It felt like I was being punished for being fit whenever I went to buy clothes, because they would never fit."
"People say not to start a startup in college because you'll have too much on your plate," he says. "I don't agree with that 100%. Did I have too much on my plate? Yes. Was I a solopreneur? Yes. All of the odds were stacked against me."
Maxwell shared this list of challenges he faced as a college entrepreneur:
Everyone tells you it's too much - so

you really have to believe in yourself

You have to learn how to

manage your time

and not get drunk every night

You have to

do well in school

School sucks more than ever because you just want to be working on your company, but you definitely

learn discipline

You're not very credible, and you

probably don't have credit

or a job, so finding extra money is hard

Firing someone who is 15 years older

than you feels weird.
"Everyone tells you it's too much - so you really have to believe in yourself" [Tweet this]
He was able to get through with fearlessness, creativity, and by taking advantage of his status as a student.
"You have no idea how much software is available through your school," he says. "I used a 3D body scanner from the fashion department and I was an Economics major. The technology schools have is unbelievable, and teachers love to help you."
Don't be afraid to look for resources at your school to help you!
2. Use Your Friends
When Clayburn Griffin, a freelance web development and digital marketing consultant, was starting his business in New York City, one of his first gigs was with a dentist.
"My roommate at NYU happened to be pre-med and was himself the son of a doctor," says Clayburn. "That gave us the idea of creating a digital marketing agency that specialized in services for medical professionals."
"The biggest benefit that college provided us was a cheap labor pool," he says. "We had access to lots of talented people who had no real professional experience yet. So we were able to hire and train our friends to do various tasks for us and our clients, like writing content, managing social media and running advertising."
"The biggest benefit that college provided us was a cheap labor pool" [Tweet this]
However, there was a downside.
"Since none of these were "real jobs" or the primary interest of the students, we had a lot of turnover," he says. "Fortunately between the four of us, we were always able to pick up any slack."
The college business didn't last once all the founders went their separate ways, but Clayburn has continued to do digital marketing, using the experience to succeed in his future endeavors.
Learn from Clayburn's example, and don't be afraid to hire fellow college students. But manage your expectations!
3. Prepare for Time Management Challenges
"I got started with DASHBOX during my sophomore year of college," says founder Alejandra Diaz.
She got the inspiration for her business from her own struggles finding time to shop for affordable, fashionable clothing.
"I wanted to find a monthly clothing subscription that could fit my style, but never found one that I liked or would purchase from," she says. "That¹s when I decided to create my own subscription company, so that girls in my situation or women who simply don¹t have the time to buy clothes could take advantage of this amazing subscription and not have to worry about the stress of shopping or keeping up with trends."
Like most college entrepreneurs, Alejandra struggled with time management.
"I was a full time student, full time employee, and a member of a sorority at my college," Alejandra says. "My days would consist of early morning classes, rushing to work after class, working until 6 PM, finishing homework or any project due by that week, and then starting to work on building a website, creating ads and everything else that came with putting the DASHBOX name out there."
Alejandra found herself taking on the roles of web designer, business woman, technician, stylist, and photographer, so her workload was initially staggering.
"I would be up until 3 or 4 in the morning finishing work for my company and having to wake up at 6 a.m. to go to class," she says. "After a while, I learned to manage my time a lot better. I finish all assignments 4 to 5 days before its due so that I would have the time to do the work needed for DASHBOX."
"I believe that my company has made me a more logical, focused and direct person. I live and breathe DASHBOX and everything I do represents my company," she says. "I have become much more flexible in my way of thinking and believe that 'I can¹t do it' simply means I won¹t put in the time to do so."
"'I can't do it' simply means I won't put in the time to do so" [Tweet this]
Time management is an intense struggle for college entrepreneurs, but if you work as hard and as smart as Alejandra, you can become a better entrepreneur for it!
4. If You Don't Succeed, Learn from What Happened
"In 2005, my roommate and I started a custom clothing company... like every other college kid out there," says Andy Josuweit, Founder of Student Loan Hero. "Our 'unique' idea was that we would allow the customer to completely customize the design, using a state of the art laser ink-jet machine."
They started the business during freshman year of college, going through the "process of building a website, finding warehouse space, ordering inventory, hiring designers, which ended up costing around $40,000. My business partner provided most of the start-up capital from another business he was running at the time," says Andy.
"We were all set up, ready to launch, but we had a big problem... no customers," he admits. "After all that leg work, the real problems started to emerge."
Andy and his business partner, the majority stakeholder in the company, had some fundamental disagreements. After less than 8 months, the business had to be liquidated at a $15,000 loss.
But Andy remained optimistic and took the failure as a lesson.
"Although we failed, I had a great learning experience and have since launched 2 more businesses, and both have been successful," he says. "The best advice I can offer is to keep your start-up costs as lean as possible, find a business partner that you have known and worked with for a long time, and focus on marketing and customer acquisition from day one. Also, overnight success usually takes several failures and many hard years."
"Overnight success usually takes several failures and many hard years" [Tweet this]
Did you start a business in college? Let us know what unique struggles you faced!
Archives
Subscribe