Tool of the Month: The Workflow Timeline
By: Andrea Lotz Wednesday December 31, 2014 comments Tags: workflow timeline, crm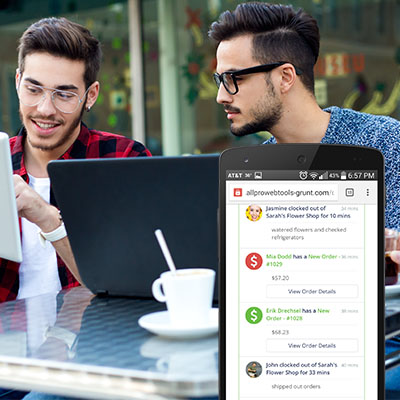 When put to its full use, the Workflow Timeline is a powerful tool for a small business owner. It gives a quick answer to all the questions you have in your head all day: Did I make money today? What are my employees up to? Are my customers happy? Having the answers to these questions at your fingertips makes you better informed, and better able to make decisions in the moment, and for the future.
Read on to find out how making good use of the Workflow Timeline can help you manage and grow your business.
The Workflow Timeline is the central reporting and update center of AllProWebTools. The live feed gives you updates from sales, customers, and employees in real time. It's an easy way to keep your finger on the pulse.
See the following updates and more just by scrolling through the Workflow Timeline:
New orders, from your online and brick and mortar points of sale, as well as wholesale buyers and resellers
Abandoned carts from your online storefront
Customer and lead notes from your customer service reps and sales team
Clock ins and clock outs with timecard notes written by employees
Tasks and projects employees are currently working on
Why do I need it?
Things change quickly in the world of small business, and you need access to up-to-date information all throughout the day. What you don't need is to spend time logging in and out of 10-20 different apps and providers. The updates from the Workflow Timeline are accessible from your desktop, tablet, laptop, or mobile phone, so you can get the information you need from anywhere, anytime.
Being in the know gives you a clearer picture of what's going on in your business, empowering you to make better decisions. It also means you waste less time – you can concentrate your efforts on what's working, and change what isn't.
What are the Benefits?
Clarity: Send your employees detailed tasks, so your instructions are clear and beyond dispute.
Productivity: Quickly skim your employees' timecard notes to find out what they accomplished in a day, and how long they spent working on various tasks and projects.
Satisfied Clients: All client notes are posted to the Timeline, so if someone is unhappy, you'll know about it right away.
Timeliness: Find out about new orders right away. You're just a click away from order details, monthly totals and projections, and more.
Accurate Reports: Because the Timeline draws information directly from all your web tools, the reports are specific, clear, and actionable. The Timeline makes it very clear which strategies are working, and which are wastes of time.
How do I make the best use of the Workflow Timeline?
We recommend small business owners check their Workflow Timeline at least three times a day – once in the morning, once at lunch, and at the end of the day. That's the best way to make sure nothing slips through the cracks.
Checking the Timeline is easy – you simply scroll through a live feed. It's just like Facebook, but for your business. Posts from your employees will be accompanied by a picture of them, to make scanning quick and easy. You can click on clients' names in the Timeline to instantly access their complete customer profile, including further client notes, account insight, and pipeline status.
You can also filter the Timeline into the following categories:
Orders:
See both paid and unpaid orders, with the dollar amount. More info is just a click away.
Abandoned Carts:
Pursue customers who abandon a filled cart from your online store with an email or phone call. You'll be amazed at how many you convert just by following up!
Internal Client Notes:
These are notes pertaining to interactions with specific clients, including calls, planned call-backs, and next steps.
Timecards:
Instantly see who's on the clock. Timecard notes give you insight into how your employees spent their time.
Tasks:
Watch your team collaborate before your eyes. You can send tasks to your employees, or they can send tasks to each other. You can also send tasks to yourself as a reminder. Click on each task to see its complete history.
Users:
If you want to check up on one particular employee, you can view their personal Timeline. Great for checking in at the end of the day. This can totally replace daily update meetings – it's all in the Timeline.
We want everyone to experience the huge difference a little knowledge can make. This tool has changed the lives of our clients, helping them to be more efficient, less stressed, and better informed. We're committed to helping all of our users to make the most of the Workflow Timeline, and all of our other tools – that's why we're always here to help. Start knowing instead of guessing – give the Workflow Timeline a try!
Archives
Subscribe