4 Ways Software can Stop the Spread of Contagion in the Office
By: Andrea Lotz Thursday February 5, 2015 comments Tags: small business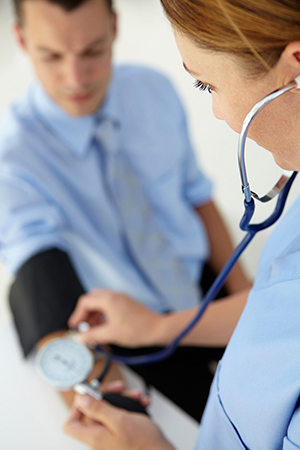 Hey you, with the runny nose! Hey you, with the hacking cough! It's time to stop spreading your germs all over the office. Go home!
If there's anything we should learn from this year's flu season – the worst in at least a decade – it's the importance of stopping the spread of contagion, any way we can.
The office is always a contagion battleground. Close quarters, hand-shaking, public restrooms… it's a minefield for the germ-conscious.
Small businesses are particularly vulnerable, because a small staff can quickly be totally incapacitated by a virus. Resources are simply too tight to allow that kind of lapse in a small business.
Washing your hands and spraying down door handles with disinfectant only goes so far. To really stop spreading germs in their tracks, a more proactive approach is necessary.
But let's be honest – it's a complicated situation to navigate, when someone at work is sick but comes in to work anyway. Last week, AllProWebTools was quoted in a Wall Street Journal article with some tips to avoid colleagues' germs without seeming rude.
We wanted to elaborate a little bit more, and talk about how good business management software can help small businesses take a big step in slowing down the spread of workplace contagion. Let sick workers go home!
Business management software has advanced to the point where working from home (even just for half days) is now an efficient, practical alternative to coming in sick to work – and with a lot less risk of exposing others!
Here are five of the most common excuses for sick employees to come in to work, and the software solutions that show those excuses to be the dinosaurs they are.
1. "But I have to work!"
This is the only one of these excuses that actually holds water. Employees do have to work, and many companies have restrictive sick leave policies in place that give employees little choice but to come to work, even if they are contagious.
The mindset that makes those restrictive policies necessary is now, however, outdated. This doesn't mean that companies should allow more paid sick days – rather, they need to hop on board with technology that allows sick employees to be productive from home!
2. "I won't know what I need to be working on!"
This is a big concern for both employers and employees. Without face-to-face contact, it's difficult to make priorities clear. It's also difficult to address issues that come up unexpectedly from a remote location. However, both of these problems can be solved with a cloud-based tasking system, which updates in real time.
A good tasking system will have the following features:
Ability to set priority levels and deadlines
Scheduled recurring tasks
Capability to send tasks user to user and collaborate
Give real-time alerts, and post to a live feed
Alerts to sender when tasks are completed
Tasking systems solve the problem of long distance communication among employees. Managers should be able to observe progress on tasks and projects from any computer or mobile device.
Employees working from home can have just as much clarity about priorities, due dates, and project status as anyone actually in the office!
3. "It's not just me – I have to manage my employees!"
Managers and owners are often the most guilty of coming in sick. They understand that the business cannot run for long without their input, guidance, and authority – and they're right! But this doesn't mean that they can't to a lot of this work remotely.
Especially if they have the tools necessary to communicate effectively and stay in the loop, a manager or owner can manage to stay at home a few extra days and keep employees safe from germs.
A tasking system, as described above, helps an owner or manager keep priorities clear, monitor progress, and set deadlines, even from a mobile device.
Having a cloud based customer relationship manager (CRM), with live internal client notes posting to a common live feed, helps a bedridden owner or manager keep up with lead status and customer satisfaction. New leads and orders can even trigger a text alert to the owner.
Even the way time cards are set up impacts how long a sick owner or manager can stay at home. If employees clock in online, their location can be verified by GPS, and their activities reported in time card notes.
It's true that managers and owners can't afford to drop out of the loop when they're sick, but this doesn't mean they have to be in the office full time.
4. "I'll be totally out of the loop!"
This is the main reason working from home is often discouraged. Without technology, it's truly difficult for someone working remotely to be tuned in. But with technology, this excuse falls pretty flat.
A Workflow Timeline tool, which is a live feed of updates from tasking, CRM, time cards, and more, can help anyone working from home to stay in the loop. It's important for employees, managers, and owners to stay tuned in to the most current updates, but this doesn't mean they can't work from home when they're sick!
Here's an example of how a Workflow Timeline can streamline communication when employees are sick, including keeping employees working from home totally in the loop.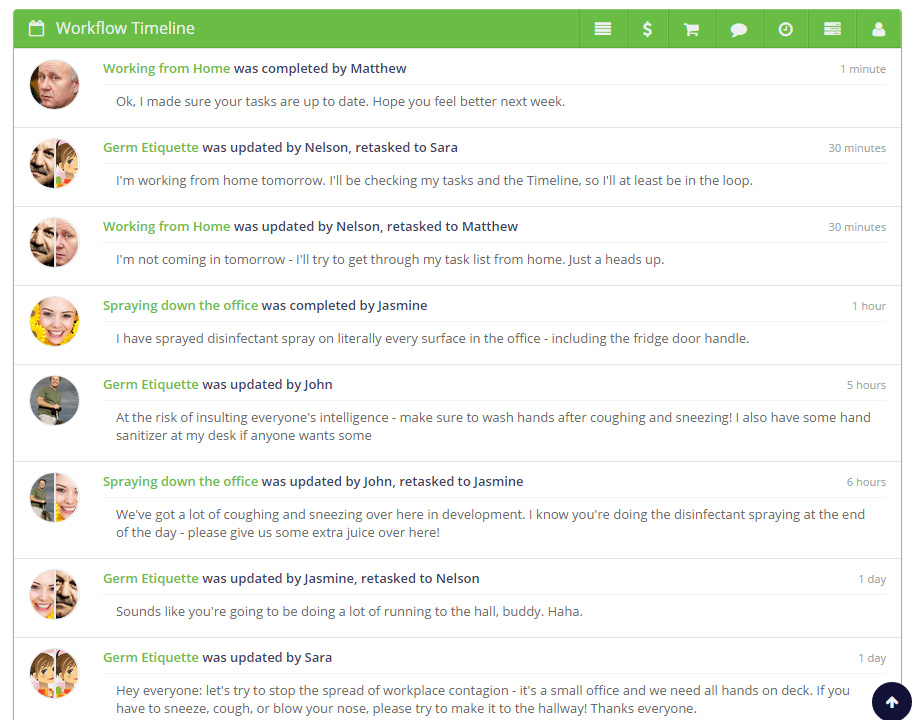 Do you let your employees work from home when they're sick? How do you keep remote workers in the loop? Let me know in the comments!
Archives
Subscribe