10 Last-Minute Small Business Marketing Ideas for Thanksgiving Weekend
By: Andrea Lotz Wednesday November 25, 2015 comments Tags: holidays, marketing
Feeling woefully unprepared as the holiday weekend closes in? You haven't quite missed the boat yet — there's still time to promote your business before and during the holiday weekend!
Black Friday, Small Business Saturday, and Cyber Monday are all great opportunities for business owners to jump-start the holiday season. But with so much noise and competition this time of year, it's up to you to make your voice heard.
It might be too late to put a holiday master-plan into place for Thanksgiving, but you can still focus on simpler strategies that have big payoff. Here are 10 ideas!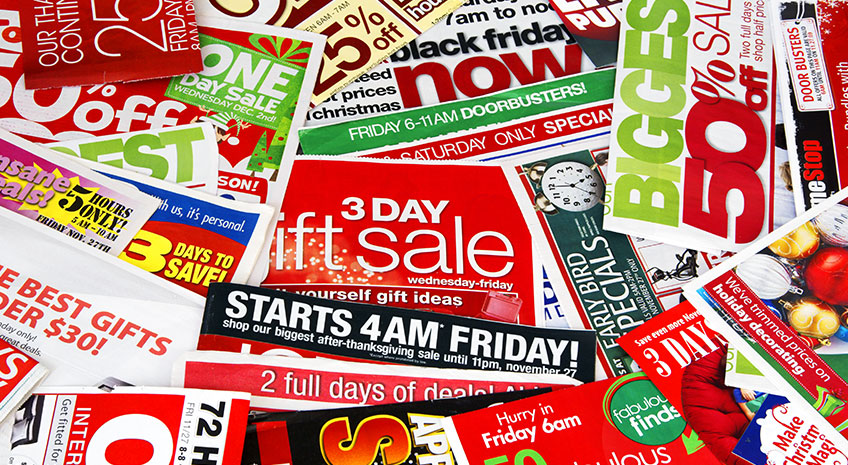 1. Lock Onto a Target
Especially when you're working on a deadline, it's crucial to be crystal clear in your marketing communications. Everything outgoing from your business, from social media posts to emails to phone calls, should be dialed in to appeal to, engage, and help your target audience.
Ask yourself, who can your business help most this time of year? What do you offer that sets you apart from the competition? How can you go above and beyond in providing that product or service?
"Ask yourself, who can your #smallbiz help most this time of year?" [Tweet this]
Whether your business is a source of gifts, helps with entertaining, provides fun activities, smoothes out holiday travel, or helps other businesses promote themselves and grow this time of year, you need to clearly understand who you're talking to, and how you can help.
2. Get On the Map
Whether your business is brick-and-mortar or ecommerce, you can greatly increase the sales you do over Thanksgiving weekend by making sure your business is easy to find on Google. Plus, you'll continue to reap the benefits into the new year.
First off, make sure your business is registered on Google Maps. You can register by visiting Google My Business and entering in your information.
Then visit this blog post covering SEO for beginners and check off any low-hanging fruit. In particular, make sure your social media pages are current!
Finally, if your business accepts American Express, visit American Express's Small Business Saturday page to get on their map and download their materials!
3. Make It Worth Their While
This is the classic holiday strategy: a special offer that will increase your volume of sales enough to cover the cost of the discount. You can choose to do a one-day sale, just to celebrate Black Friday, Small Business Saturday, or Cyber Monday. Or you might want to do a more extended sale, over the whole weekend.
Great offers for the holidays include percentage or dollars-off discounts, holiday bundles, free shipping, and buy-one-get-one (BOGO). BOGO is perfect for the holidays, since shoppers need gifts for multiple people. They might decide to get your product for everyone on their list — plus one extra treat for themselves!
"BOGO is perfect for the holidays, since shoppers need gifts for multiple people." [Tweet this]
4. Wrap It Up
Another great special offer for the holiday season is gift wrapping. Parents in particular will do anything to eliminate the stress of hiding a present and finding time to wrap it.
Gift-wrapping works great for both ecommerce and brick-and-mortar. You can control the costs by choosing economical materials, and then you can add your personal touch with inexpensive details.
5. Enable Impulse-Buyers
This might be a little hard to pull together last minute, but if at all possible, add a little holiday-themed impulse buy to your store's offerings for the weekend. Make it something cute, small, and inexpensive. Think stocking-stuffer.
Brick-and-mortar stores can place the items near the cash register, while ecommerce stores can experiment with cart autofills, featured products, and other tools to get the product in front of shoppers.
6. Send Out an Email
Whatever type of discount or special offer you decide on for this holiday season, it's vital to promote it in an email.
Email coupons should be straight to the point, with a clear value proposition and call-to-action. But don't forget to insert some personality into the coupon through visuals. A beautiful wintery scene might be right for you, or cute animals around a Thanksgiving table!
If you have an active email following, Thanksgiving is a great opportunity to send out a special newsletter. Thank your customers, share your business's story, and promote your holiday offer!
7. Reach Out on Social
Social media is probably the easiest way to engage with your audience over the holiday weekend, and it takes just a little planning. Schedule a high volume of posts to go out over the weekend, giving thanks, getting your brand out there, and promoting your holiday offer!
Find a few relevant hashtags and jump onboard. Choose a few that are related to the holiday (#Thanksgiving #SmallBizSat #CyberMonday), choose a few related to your industry, and a few that target your local area, if you're brick-and-mortar.
You can get pretty good exposure just by sharing content that other people will want to share (think: heartwarming stories, cute animals, etc), but you may also want to pay to promote a few posts. Make sure to target your promoted post (local shoppers, previous visitors to your site, etc) to get a good ROI.
8. Create Holiday Content
If you have a clear idea of who you're targeting this holiday season, and how you help them, you can create content on your website to reach out. Focus on the key tie-ins between your business and the holidays, and write content that will be useful to your site visitors.
Gift guides are great for ecommerce. They help match products on your site to the kinds of products "teenage girls" or "grandpa" (for example) might like.
You could also post content suggesting creative ways to use your products, including recipes, decorating tips, etc, or lifestyle content that appeals to your target audience.
For B2B business, publish content that will help other businesses succeed this time of year. Holiday networking guides, marketing tips (like this one!), and so forth can make you an invaluable resource this time of year!
9. Get in the Spirit of the Holiday
This weekend is all about giving thanks. For a small business, give thanks to the people that got you to this point: mentors, partners, and dedicated fans.
"Give thanks to the people that got you to this point: mentors, partners, & dedicated fans." [Tweet this]
If you still have time, you could reach out with a handwritten note or a free gift. But if time is really tight, a shout-out on social media can be just as valuable.
10. Give Back
Finally, prioritize giving back. Whether you join a community event like a Turkey Trot, encourage volunteering, or do you own office food drive, giving back can actually move you forward in your marketing goals for the holiday season.
Giving back gives you the opportunity for publicity and brand exposure. Even if your efforts don't get featured in the local paper, you can promote yourself on social media, in your newsletter, and on your blog. Plus, you get the opportunity to meet others who are engaged in the community.
Even if your business is totally online, there are ways to give back!
What last-minute preparations is your business making for the holidays? Let us know in the comments!
Archives
Subscribe