5 Proven Ecommerce Customer Retention Strategies to Start Today
By: Andrea Lotz Wednesday July 8, 2015 comments Tags: retention, ecommerce
Increasing customer retention is an easy, inexpensive way to greatly increase your ecommerce business's profitability.
Customer acquisition often gets the lion's share of marketing dollars, but as we covered last week, every dollar you put into customer retention is likely to work harder than acquisition-focused dollars.
Not sure how to get started with a customer retention strategy? Here are some easy tactics you can start implementing today!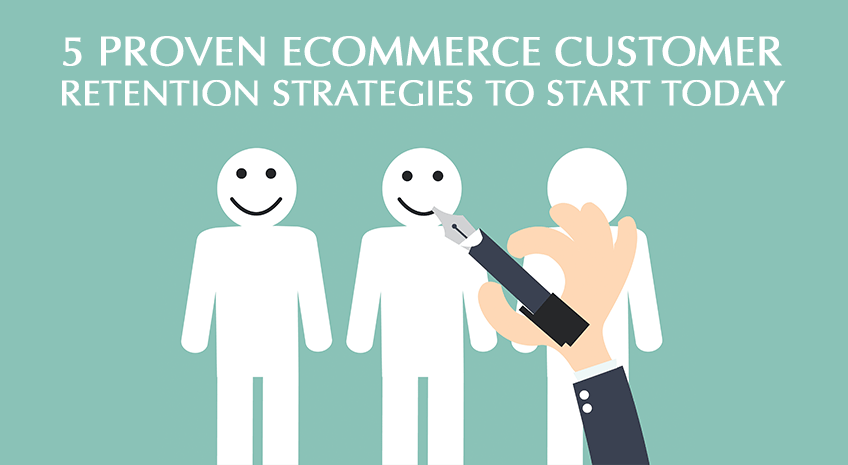 1. Follow-Up Phone Calls
Your customers expect emails from ecommerce brands—so much so that they tune them out, send them to spam folders, and delete them unopened.
A phone call, on the other hand, demonstrates that you care about that customer as an individual. You can't reach out to every customer, so choose who you call carefully:
Influencers: Giving them preferential treatment makes it much more likely that they'll promote you. Bloggers are a great choice, or anyone else with a sizable following.
The Exceptionally Loyal: Show your appreciation to customers who have made multiple repeat purchases. They'll reward you with more referrals and repeat business than you can calculate.
Big Spenders: Those who make an unusually large purchase might appreciate a phone call to check their satisfaction with the order. It's a great chance to encourage a repeat purchase.
How to Get Started
Search your purchase history for good candidates and use your sales pipeline to schedule calls.
Use your CRM to familiarize yourself with their complete history with your brand: past orders, past customer support requests, and all other past communications.
Plan your messaging Know what you're thanking them for, what information you want to get out of them, and what you want to convey to them.
Start making calls! Make sure to record their responses and reactions in your CRM.
Scale up your plan to make follow-up calls a regular part of your customer service.
2. Loyalty Plans
A great way to keep customers loyal to your brand is to give them something to lose if they switch to a competitor. Loyalty plans do this very well by giving customers a way to invest in your brand.
If each purchase from your site earns them points towards a goal, they'll be reluctant to say goodbye to that value. Here are some ideas for loyalty campaigns:
Points System: Each purchase earns points toward a discount.
Gamification: Offer customers the chance to earn badges, score points, and compete against others through purchases, testimonials, referrals, etc. Combine with rewards for engagement.
Affiliate Marketing: This type of loyalty plan gives customers points in exchange for referrals instead of their own purchases. Special URLs can track how many referrals customers bring in.
How to Get Started
Decide what behaviors you want to reward. Dollars spent, number of orders, referrals, and social media engagement are good places to start.
Decide your rewards. Discounts, free shipping, or entry in a giveaway are good places to start.
Set up your reward scale. How many points earn what rewards? Is there a maximum to the rewards someone can receive?
Talk to you developer to figure out how to implement your loyalty program from your website. You need to track points, show them to your customers, and automate reward distribution.
Promote your new loyalty program on social media, from your website, and in emails.
3. Content Marketing
Providing quality content related to your industry is a proven way to make your brand an indispensible resource to your customers.
Make this content easy to access—that means free, or in exchange for their email address. Here are some good types of content for ecommerce businesses:
Lifestyle Content: Blog posts that are relevant to the lifestyle of your idea customers. Whether it's cooking, exercise, beauty, fashion, DIY, or whatever, make your website a go-to.
How-Tos: Suggest unconventional uses for your products, or show how your products can be combined to create even more value.
Testimonials: Words and pictures from satisfied customers give your brand a lot of credibility. This is another great way to engage with influencers, who appreciate the cross-promotion.
How to Get Started
Brainstorm ideas for content, and decide who will be in charge of creating it. Ideally, get as many people involved in the process as possible.
Create an editorial calendar. Having a specific plan of when things will be released keeps everyone accountable, and lets you start the creative process early.
Produce your content. You can either outsource content creation or do it in house, but focus on quality over quantity.
Ensure your content can be easily found online. Place it prominently on your site and make sure it's optimized for search engines.
Promote your content on social media!
4. Empower Customer Service
The most common reason people ditch brands is because they weren't satisfied with the product or service. Oftentimes, this problem can be addressed, but only if your team is empowered to find problems and make them right.
This means increasing your transparency, within your organization and with your customers. Here are some ways to do this:
Social Media: Encourage people to reach out with questions, comments, and even complaints on social media. It seems counterintuitive, but the more visible the problem and your speedy response to it, the more goodwill your brand earns in the public's eye.
Informed Customer Service Reps: There's nothing more frustrating for a customer than to call a company and get someone on the phone who can do nothing to help you. Make sure your customer service representatives are well-informed and empowered to solve problems.
Increase Internal Reporting: Oftentimes, delays in customer support requests are a result of slow internal communication. Invest in tools that let you communicate instantaneously, so that the person who can help finds out about the problem right away.
How to Get Started
Address internal transparency issues by investing in a dashboard that keeps everyone on the same page. For example, AllProWebTools' Workflow Timeline makes all internal customer notes visible to the entire team, lets employees task each other to solve issues, and otherwise independently collaborate.
Train your customer service representatives well, and solidify your messaging. Time spent doing this will be paid back and more when they're empowered to solve problems quickly.
Invest in CRM tools to track interactions with a customer. This prevents the "catch up questions," when a customer is transferred from one representative to another.
Make your support policies clear, and ensure they can be found from your website.
Provide multiple ways for customers to get in touch. Live chat from your website, easy-to-find contact information, and social media are good places to start.
Customer retention gets easier and easier as more powerful tools are released to empower lasting relationships, quick follow-up, and more. Staying on top of new tools and best practices can give you the edge over your competition. Who knows—the customers they lose might come to you!
What tools do you use for customer retention? Let us know in the comments!
Archives
Subscribe