A Small Business Owner's Guide to Leaving Impactful Sales Voicemails
By: Shantel Vines Wednesday January 20, 2016 comments Tags: sales
Do you ever feel like the voicemails you're leaving your leads and prospects are disappearing into a black hole? Do you call and call, but have so much trouble getting a human being on the line, much less actually scheduling a meeting or demo?
Many small business owners in particular find the sales voicemail game to be frustrating and fruitless, whether they're selling to bigger businesses, other small businesses, or directly to consumers.
Unfortunately for salespeople, the reality is that no one likes receiving sales voicemails. But a successful salesperson knows that impactful #voicemails can lay important groundwork. Making a sale often requires lots of "touches" or encounters, including some voicemails.
A successful salesperson knows that impactful #voicemails can lay important groundwork [Tweet this]
Here are the strategies I use to script, deliver, and follow up on voicemails. Use these tips whether you're making cold calls, working a prospect through the funnel, or upselling an existing customer. You'll find that more of your prospects call you back promptly, and with more enthusiasm!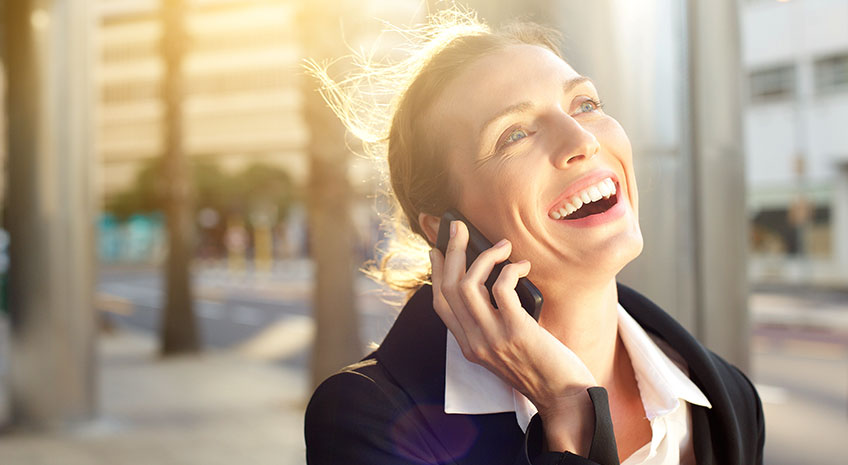 1. Make the Touch
The first step to leaving an impactful voicemail is, of course, to actually leave a voicemail. So many business owners, probably recognizing that they themselves don't like receiving sales voicemails, just hang up when voicemail picks up. "I'll try again later," they say.
If you do this, you're missing the opportunity to build up those valuable touches that might one day add up to a sale. Don't just be a missed call! Take the opportunity to provide your prospect with valuable information, and lay the groundwork for future touches.
Quick Tips:
You can still try again later if you leave a voicemail

Leave a well-crafted voicemail each time you call — even if it's a very short one

Remember that different industries and target audiences have different expectations for the length, frequency, and sales focus of voicemails, so do your research!
2. Break the Mold
How does pretty much every sales-y voicemail start? "Hi, I'm Jane Doe with XYZ Company, and I want to talk to you about . . ."
This model may be direct and informative, but it's also transparently focused on making a sale. You'll be lucky if your prospects even hear what you wanted to talk to them about before they press delete. Anything you can do to sound less scripted and more human will increase your chances of getting a response.
Quick Tips:
Focus on using a natural tone of voice, which sounds positive without being unnaturally high-pitches, as is common in sales voicemails

Be authentic with your sense of humor, especially if you have a verbal slip-up while recording your message, to emphasize your humanity

Try moving your name, company, and contact info to the end of the voicemail for the sake of mixing up your format
3. Focus on the Prospect as an Individual
There's another problem with that specific sales-y script I mentioned above: it starts the message with the focus on the salesperson, rather than on the prospect. Lead with something specific to that prospect, and be rewarded with much more interest!
For cold calls, mentioning referrals works well, or you can bring up something you found out while researching the company. For prospects you've already spoken to, use your CRM to look up details from past conversations that you can use to steer them towards a sale.
Remember, you should never try to sell in a voicemail, but you can offer a lot of value! Let them know what you can give them for free (demo, relevant content, etc.) and what value they'll get if they do decide to pay you. Don't forget to mention times when you were able to help someone similar to them!
Quick Tips:
Try to say "you" more than you say "I" to keep the balance in favor of your prospect

Use a CRM to keep track of pain points your prospect verbalizes, as well any other information they give you that could feed the sale, then include those in your voicemail scripts

Develop a concise, specific value proposition to include in voicemails, which is specific to the prospect's industry, pain points, and other context
Develop a concise, specific value proposition to include in #sales #voicemails [Tweet this]
4. Ask for Action
The ultimate goal of an impactful voicemail is to get your prospect to call you back, so you don't have to call and call, hoping to catch them. Ultimately, you may still have to do that, but if you let the prospect in on that fact, they don't have much incentive to call you right back — they can just wait for you!
To get the most prospects to call you back, include a clear call to action in each voicemail, letting them know when you're available to talk (don't give them just one appointment to take or leave!) and asking them to give you a call.
Quick Tips:
A strong call to action tells your prospect what you want them to do, when you want them to do it, and what's in it for them

Don't tell your prospect exactly what time to call you, but give them a sense of relaxed urgency by saying something like, "I'll be available all afternoon until I go to dinner at 5, and I'd love to hear from you sometime before then."

Offer something in exchange for a callback, like a free consultation, a useful piece of content, an invite to a networking event, or a referral
5. Plan Your Follow-Up Strategy
As I said before, the goal of leaving voicemails is to get your prospect to call you back. But even if they don't, they're likely listening to your messages, so it's important to keep trying. You'll have to experiment to figure out how many voicemails to leave and how often, and plan a strategy.
If you plan to leave multiple voicemails, make sure you don't fall into the classic trap of reading the same script over and over to your prospect. Make sure to always include new information. Hubspot explains how to do this really well in this blog post.
Quick Tips
Use CRM and a sales pipeline to track your sales voicemails, including what you said each time you called and left a message

When you start courting a new prospect, expect that you'll be leaving them some voicemails and lay out a strategy for delivering your value proposition across those voicemails

Don't reference any past failed attempts in your voicemail, until the last voicemail you plan to leave — at which time, it's ok to say something like, "I assume, based on the fact that I haven't heard from you, that (whatever problem or pain point) isn't a problem you'd like to solve right now. Give me a call if it becomes a priority!"
I believe that so many small business owners have trouble with leaving voicemails because of how many bad ones we heard all the time. But you can stand out from the crowd of lame voicemails by being an individual, and by making it clear in your voicemails that you want to talk person-to-person, not script-to-person.
What strategies have you used to leave more impactful voicemails? Let me know in the comments!
Archives
Subscribe