How Do I Get Support in AllProWebTools?
By: Paige Schartz Wednesday April 20, 2016 comments Tags: support, allprowebtools, AllPro Expert
There are so many ways AllProWebTools can help you grow your business, and we know there's a lot to learn on the way. After all, there's no other all-in-one solution like it out there, so it will naturally take some time for you to learn the ropes. Learning AllProWebTools is an investment in your business's productivity, one you'll pay back once you unlock all the time-saving features of the toolkit!
Our goal is to help you quickly master the basics, and offer you tools to help you dive deeper when you're ready. Whether you're just starting out with AllProWebTools and just need help understanding the scope of the software, or if you're an experienced user looking to dive into a new feature or skill set, we've got your back.
There are many different ways for AllProWebTools users to get support, but they may be a little different than what you are used to. For example, we do not offer support via email or through our company phone number.
Our new Support Center is designed to help you get the answers you need quickly and conveniently. You'll always have a couple of options to choose from, and during business hours, our team is standing by to help you one-on-one.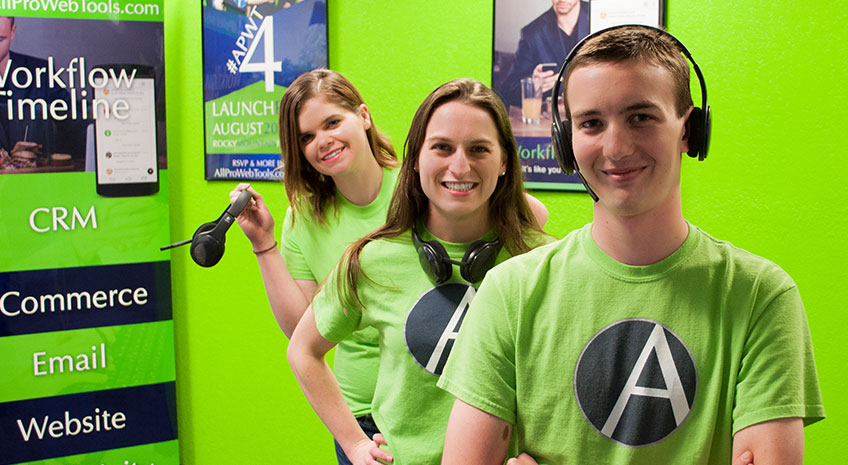 How Does AllProWebTools Support Work?
We'll answer the basics first. AllProWebTools has two tiers of support: Unlimited and Premium. First, we'll explain the difference, then we'll get into the specifics of each option later on.
Unlimited Support Options
Unlimited Support options are always freely available to all users.
Training Webinars

Help & Suggestions Forum
Because these options are free, they may take a little more time. But rest assured, we will address your issue as quickly as we can.
Premium Support Options
Premium Support options allow you to get directly in touch with us through your toolkit.
For your first month using AllProWebTools, you'll receive 4 hours of free Premium Support time. After that month is up, you will get 30 minutes of Premium Support per month. Your free Premium Support time DOES NOT roll over to the next month if you don't use it.
You can always choose to purchase more Premium Support time if you have used up all your allotted time. Any time that you purchase DOES roll over to the next month if you don't use it.
How Do I Access Support?
All of your support options are accessible through your AllProWebTools console. At any time when logged into AllProWebTools, just click the "Support" button to see available options. You can find the support button on the far right side of the screen, under your username, profile picture, and business name.
"When logged into AllProWebTools, just click the "Support" button to see available options."
[Tweet this]
When you click "Support," a blue sidebar will appear on the right side of your screen. This sidebar has a few features we want to draw your attention to:
Help & Suggestions Forum
By clicking this link, you'll be taken right into the forum. You'll already be logged in and ready to post. We'll get into the specifics in the next section.
Live Support Options
Need to talk to a real person? This will take you deeper into the Support Center, where you can access Premium Support and manage your support time. We'll cover these options in more detail in the next section.
Once you click here, you'll also be able to see how much Premium support time you still have available. If you need to buy more support time, you can also do that here.
Related Videos
These tutorial videos are related to the page you're on in AllProWebTools. If you have questions about how to use or set up a specific feature, these videos will likely be able to help. It might be your fastest option to give these a try before you use up your Premium Support time!
How Do I Choose Which Support Option To Use?
The answer will depend on how urgent and complex your issue is, the day or time of day you need support, and whether or not you have remaining Premium Support time. First, let's go through all of our support options in some more detail.
Unlimited: Help & Suggestions Forum
We monitor the Help & Suggestions Forum Monday-Friday, 9am-9pm MT, so if you post a question at that time, we should be able to respond within a few hours.
Here are the different categories of forum posts:
Help/ How to Use:

Here's where you can post your questions about AllProWebTools. Do a quick search before you post to make sure your question hasn't already been answered!

Report a Bug:

Post here if you find something with the software that isn't working correctly

Suggestions / Feature Requests:

Got a great idea for a feature that would make AllProWebTools even more useful for your business? Check and see if anyone else has had the same idea. If they have, please post in the same thread to second their request. If not, go ahead and create a new thread.
Use Me When:
You have a

specific question

that you can explain in writing

You suspect that the toolkit is

operating incorrectly

You have a

great idea

for a new feature

Your issue came up

outside of office hours

, and you want it addressed ASAP

Your

Premium Support time ran out

, but still want to get helped quickly
Premium: Online Chat
Talk in real time with a member of our Support Team over live online chat.
Use Me When:
You have Premium Support

time available

You have a

quick, simple question

You aren't sure

how serious an issue is

You

don't have time

for a screenshare

Between

9-5 MT, Monday-Friday
Premium: Screenshare
If you're looking for phone support, the closest equivalent will be to get into a screenshare. We do screenshares instead of phone calls simply because most support requests can be resolved most quickly when our technicians can also see your screen. You'll be able to talk with a technician and actually show them what you need help with.
All you need to do is click on "Start a Screenshare," and we'll walk you through the setup.
Use Me When:
You have Premium Support

time available

Your question is

confusing or in-depth

Your issue is

time-sensitive

You'd like to

talk through your issue

Between

9am-4:45pm MT, Monday-Friday
How Do I Buy More Support Time?
It's really easy! Just get into the Support Center, as explained above, and click on "Live Support Options." Next to where you see "Premium Support Options," there's a green box that says "Time Remaining." The amount of time listed there is your time remaining for the month.
Click on the plus sign to add more time to your plan. Remember, any minutes you buy DO roll over to the next month.
What Do I Do If I Want Big-Picture Help?
AllProWebTools is most effective when you can consistently work with an expert who really knows the software. That's why we started our AllPro Experts program, where we connect small business owners with pros who can really help them dig in and make the most of their new toolkit.
Hiring an Expert gives them access to your console, and they will get in touch to learn how they can help you. You'll be able to retract access at any time, or limit the features your Expert can access.
AllPro Experts are approved, certified, and ranked by AllProWebTools, to ensure that you can pair up with the Expert that's going to really be able to help you. You can always browse our directory and see if there's anyone you might like to work with.
Types of AllPro Experts:
Web Development

Customer Retention

Bookkeeping

Virtual Assistants

Marketing

Business Coaches

IT
How Do I Get In Touch?
You can access our Experts Directory from within the Support Center. When you click "Live Support Options," you'll see a section that reads "Talk to an Expert." From there, choose the category you need help with, and we'll pull up the profiles of all our Experts in that field.
You'll be able to compare reviews, years of certification, number of AllProWebTools clients, and even their activity and helpfulness on the Help & Suggestions Forum. From there, you can choose to "Call Now" or "Hire This Expert" directly.
We get it — there's a lot to learn in AllProWebTools. But we offer lots of support options so you can make the best use of the toolkit to grow your business.
Archives
Subscribe