New from AllProWebTools: AllPro Experts [4.2]
By: Paige Schartz Wednesday February 17, 2016 comments Tags: AllPro Expert
Are you a web developer, bookkeeper, virtual assistant, or business coach that works with small businesses? Want to get tons of highly qualified leads and exposure to hundreds of small business owners?
Then apply to be an AllPro Expert today!
What Is an AllPro Expert?
AllProWebTools, the complete toolkit for small business, is looking for professionals like you who are experts in their fields and ready to expand their reach to a whole new audience of small business owners — our users!
AllPro Experts are value-added resellers of AllProWebTools. They're not AllProWebTools sales reps — it just means they include AllProWebTools in the services they already offer to small business owners.
For example, an AllPro Web Development Expert might design websites on all kinds of platforms, including AllProWebTools. An AllPro Business Expert might offer business coaching to a number of clients, some of whom use AllProWebTools to measure and track their success.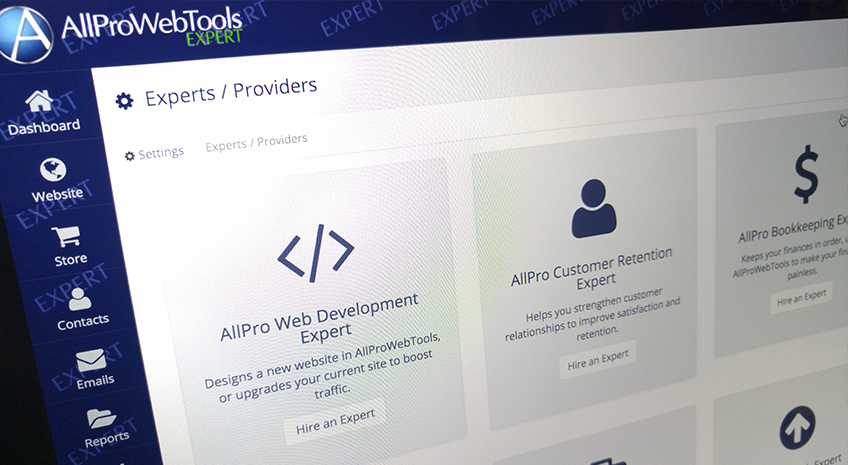 Benefits of Being an AllPro Expert
If you become an Expert, you'll manage your clients' AllProWebTools subscriptions for them through your Expert Toolkit. You can also decide how much you want to charge your clients for AllProWebTools setup, support, and monthly subscription.
One consistent software solution to manage all your clients

Increased value to your customers allows you to raise prices

Free AllProWebTools subscription to manage your own business
To help you reach the most small business owners possible, we'll put your name, logo, and contact information in front of our entire user base of small business owners as part of the AllPro Experts Directory. The business owners who will see your listing already use AllProWebTools, but might be able to benefit from your services.
Each time a new business owner signs on with AllProWebTools, they'll be prompted to choose Experts to help them make the most of their software. If you're one of our AllPro Experts, your information will show up, and they can start working with you right away!
We'll also provide you with support to recruit and sign up new AllProWebTools users. We encourage you to use AllProWebTools as a differentiator to gain new small business clients. While all your competitors are offering the same solutions to potential customers, you are able to offer a cutting edge, secure new solution: the only complete toolkit for small business.
"Use AllProWebTools as a differentiator to gain new #smallbiz clients." [Tweet this]
How Do I Become an AllPro Expert?
We're committed to providing the best possible service to our small business users, so only true experts will qualify for this program.
Start as an AllPro Uncertified Provider
Before you can become a Certified Expert, you have to become an AllPro Provider. First, you need to create an AllProWebTools account for yourself if you don't already have one, which you receive for no setup fee. You may use that first account to manage your own personal website, organize your customer relationships, manage marketing campaigns, or whatever else you like.
This first install gives you access to all features of AllProWebTools ($255 / month value) at no charge. This is so that you can learn about all the features that are available to your customers.
Click here to create your free AllProWebTools account for providers.
Then you just add the AllPro Providers WebTool, which allows you to sign into the AllProWebTools consoles of your customers, so that you can perform your service (marketing work, CRM work, web development, etc).
How To Add the Providers WebTool
Log into AllProWebTools

Hover over "Settings" on the left menu bar, then select &ldquo WebTools"
This is a list of all the WebTools you already have in your toolkit, so click "Available WebTools" to add new tools

Select "AllPro Providers" to get access to this awesome new feature

This WebTool is free to use
Once you add the WebTool, a new tab will appear on the left menu bar. While you're still a uncertified it will read "Provider," but once you qualify as an expert, it will change to read "Expert." From that tab, you'll be able to manage your certifications, clients, and your profile.
Conditions for Being an AllPro Provider
You get the Providers WebTool and your own complete AllProWebTools toolkit at no monthly charge, as long as you meet the conditions below.
"Get the Providers WebTool & your own complete AllProWebTools toolkit at no monthly charge." [Tweet this]
After signing up, you have 90 days to sign up a minimum of three AllProWebTools clients. All installations of AllProWebTools that you deploy yourself will bypass our normal $195 setup fee. You may choose to charge your customers a setup fee of any amount if you wish, or provide installations with no setup fee.
You must install AllProWebTools for these customers from your account, and their AllProWebTools monthly subscription must be paid each month, for whatever tools that customer uses.
Choose between these options for charging your customers' monthly AllProWebTools subscription:
We can

bill your customers directly

, for whatever tools they have active.

OR we can bill you for their monthly subscription, and

you can rebill them

whatever you like.

OR you may decide to charge your customers one package price, which may include your own services for maintenance or consulting, as well as the AllProWebTools monthly subscription.
As long as you have a total of three or more active (paying) customers of AllProWebTools, you will not be charged for your own AllProWebTools account.
If you lose a customer or a customer stops paying their monthly subscription, bringing your total down to less than 3 active paying customers, you are no longer entitled to a free AllProWebTools subscription. On the first of the month, we will bill you for whatever tools you have active in your AllProWebTools account. If you regain enough customers to meet the minimum, your free subscription will be reinstated.
Once you have three active paying customers, you are also eligible to qualify to become an AllPro Certified Expert.
Becoming an AllPro Certified Expert
Once you're ready to be an AllPro Expert, it's time to get certified.
Before you take your certification test, you pay $99 per badge you would like to qualify for. You may test and qualify for as many badges as you would like.
Then you must take a certification test to qualify for your Expert Badge, which shows that you have met our qualifications and that you have our seal of approval. You will only be advertised to our customers once you have passed at least one certification test.
The tests cover information about your industry (which you're already an expert in!) as well as specific information about how to use AllProWebTools for your industry. We want to make sure that you'll be able to use AllProWebTools to really help your clients grow!
Which of these badges do you qualify for?
You can test and qualify for as many badges as you like. Each badge you earn will cause lots of new leads to come your way!
AllPro Web Development Expert

: Designs new websites in AllProWebTools, or upgrades existing sites to boost traffic

AllPro Customer Retention Expert

: Helps business owners strengthen customer relationships to improve satisfaction and retention

AllPro Virtual Assistant Expert

: Works remotely and performs administrative tasks in business owners' AllProWebTools consoles

AllPro Bookkeeping Expert

: Keeps business owners' finances in order, using AllProWebTools to make financials painless

AllPro Business Expert

: Helps business owners develop a business plan and track their results using AllProWebTools

AllPro Marketing Expert

: Drives sales by helping business owners promote their brand, tracking results in AllProWebTools

AllPro Growth Expert

: Coaches business owners to use AllProWebTools to its fullest potential in order to grow quickly and sustainably
Using Providers and Experts Tools In the Console
Ready to get started? Check out this video to learn the nitty-gritty of using the console as a Provider or Expert. You'll see how to get access to your clients' accounts, how to sign up a new user, and much more.
Have any questions about being a Provider and/or Expert? Ask away in the comments!
Archives
Subscribe