New from AllProWebTools: Google Calendar Integrations [4.0]
By: Paige Schartz Wednesday September 2, 2015 comments Tags: features, #apwt4
When you're as busy as small business owners are every day of their lives, you can't afford to underestimate the importance of an organized, useful calendar. And as work and life increasingly blend together, and we're on the go more and more often, it's crucial to have a calendar that you can access anywhere, from any device.
That's why, as part of our ongoing mission to make small business owners' lives easier, we're bringing you integration with Google Calendar as part of our AllProWebTools 4 launch, available today!
Google Calendar integration has been on many of our users' wish lists for a long time, and we're so excited to bring you this feature! Here's how to make the most of it.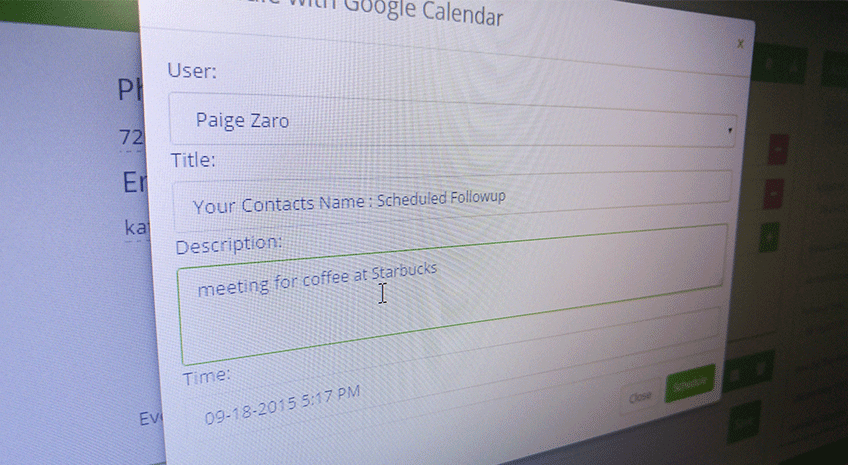 Notifications Get an Upgrade
You already get in-console notifications in AllProWebTools, but if you don't happen to be looking at your console at the right time, you might miss a follow-up notification, or let a task deadline pass you by.
Google calendar helps make sure those alerts get to you, with notifications on your phone and desktop.
There are two types of AllProWebTools events you can put into your Google calendar: follow-up reminders and task deadlines.
Follow-Up Reminders
Follow-up reminders are set from your CRM. They help you organize your follow-up with contacts over a long period of time, or over a matter of hours. Now, you can schedule your follow-up in your AllProWebTools console, and the information can be automatically entered into your Google calendar. When it's time to call, email, or meet up with a contact, Google lets you know.
Task Deadlines
You can set deadlines for tasks in your AllProWebTools console, where they will turn red once the deadline has passed. But now you can also set reminders about those deadlines through Google calendar. It's a great way to automatically integrate your calendar and your to-do list.
Organize Your Time
Another advantage of putting follow-up reminders and task deadlines in your Google calendar is the ability to see them in the context of all your other commitments.
If there are a bunch of follow-ups scheduled for one day, or if there's a major deadline the same day you are booked back-to-back with meetings, you can see conflicts in advance. That means you can plan ahead to make sure everything gets done, or reschedule.
You can also practice task chunking, and group similar tasks together into larger chunks of time. It's an effective way to work into flow state, and encourages uninterrupted productivity.
How to Add Google Calendar Integration to AllProWebTools
To use the Google Calendar integration, you have to be using the AllProWebTools CRM. Then you add the CRM expansion "CRM Integrations" to your toolkit. This gives you the integration with Google Calendar, as well as the integration with Dropbox, which we'll cover in a later post.
Log into AllProWebTools
Hover over "Settings" on the left menu bar, then select &ldquo WebTools"
This is a list of all the WebTools you already have in your toolkit, so click "Available WebTools" to add new tools
Select "CRM" if you don't already have it, and then select "CRM Integrations" to get access to the Google Calendar integration
Archives
Subscribe