How to Create Memberships for Your Website
By: Paige Schartz Monday July 13, 2015 comments Tags: memberships, features
Looking for a new way to make money for your website?
Selling memberships from your site is an easy-to-implement, low-maintenance, shipping-free way to make passive income. Whether you already sell products from your website or not, adding memberships to your site lets you earn money, collect email addresses, and show your expertise in your field.
For business coaches and consultants, it's a must-have. For ecommerce sites, it's a great way to bring in some extra income.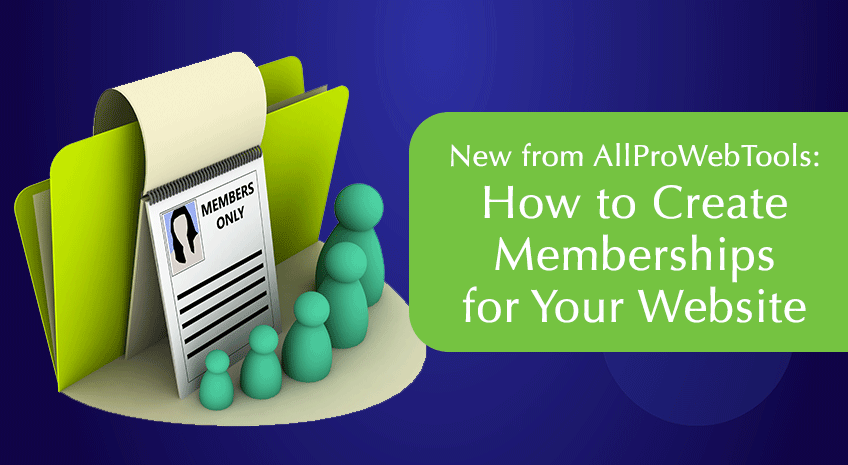 What is the Memberships Tool?
AllProWebTools Memberships are an optional add-on to the commerce tool, which allows you to create a new type of product to sell from your website: memberships.
Memberships give buyers access to exclusive, members-only pages of your website. Here are some examples of pages that you might give members access to:
Exclusive educational content
Quizzes
Video tutorials
Educational downloads
You could use this to set up a whole online course, or give access to periodically updated tips, videos, or other content.
You can set up as many different types of memberships as you like. Some people use this to do bronze, silver, and gold level memberships, or to have a premium version for a higher cost.
When a member logs into your site, a new menu bar will appear below your site's normal menu bar, where they can access their exclusive members-only content. If someone who isn't a member tries to go to a members-only URL, they'll be automatically redirected to a login screen, so your content is secure.
What are the Benefits?
Memberships are an easy way to earn some extra income for your website, or they might be a great way to manage and bill your services as a consultant or coach.
It's an inexpensive option that's easy to set up and monitor. You can set up recurring payments so you always get paid for memberships on time.
You'll also be able to easily update your members-only content anytime you like from your AllProWebTools console. The members-only pages are built just like any other AllProWebTools webpage.
You can manage and monitor your memberships from your AllProWebTools dashboard. You can see how much they're being billed, when the next charge is, how often they are charged, and whether the charges were successful.
You can allow your customers to pay upfront for multiple membership billing cycles, or bill them month by month and you can have multiple membership levels as well.
How to Set Up Memberships
First you need to enable the Membership Web Tool. In order to enable Memberships, you must have the Commerce tool. If you don't, add that before adding Memberships.
Hover over "Settings" from the left sidebar menu, and then select "WebTools."
This page is where you can change what tools you have in your console at any time.
Click "Available WebTools" to pull up all the tools AllProWebTools offers.
Under Optional Add-Ons, you'll find "Membership." Click "Add," and the tool will be added to your dashboard.
We'll automatically update your monthly subscription to include the $25/month charge for memberships.
Now you need to create your membership products and pages. Here's how:
Create the membership product by hovering over "Store" on the left sidebar menu, and then selecting "View Products." This is where you can edit all your products.
Select "Create New Product." First, select the category "Memberships." Then name and price your product, and click "Save."
Now it's time to create your members-only pages. Hover over "Website" on the left sidebar menu, and then select "My Webpages."
This takes you to all your existing webpages. Click "Create New Page" and then set up your page with a name and whatever other content you'd like to add.
From the green options above the list of webpages, select "Members Only." Click to check the box next to the membership level or product that gives the customer access to this page.
Don't forget to click "Save!" Now only members will have access to that content. You can go back and edit the content anytime, make the page available to the public if you like, and add more pages to support your membership package.
Want a little more information? Visit our AllProWebTools YouTube channel or watch the following video.
Our AllPro Experts are, well, experts at helping you navigate AllProWebTools. If you need some help setting up a membership section of your website, have questions about it or need a strategy for implementing it, these are your people. Contact an AllPro Expert for a free consultation today!

Archives
Subscribe