New from AllProWebTools: How to Use the New Dictionary Tool
By: Paige Schartz Monday July 6, 2015 comments Tags: features, dictionary, seo
Looking for an easy way to improve your search engine rankings, while educating your customers about your products and industry?
One of the best ways to get your business in front of new eyes and to keep past customers engaged is to make your website an indispensable resource. That means that whenever someone needs information about your industry, your website should be totally equipped to answer their questions.
You'll need informative content pages, full of factual information about your industry, the problems you solve, and your specific products and services. But how do you make it easy for people to find those pages?
Your website should already be easy to navigate, with a menu bar, a search function, and tags to sort your blog posts. But does your website have a dictionary tool?
The dictionary tool has been an AllProWebTools feature for a long time, but we just recently made a few changes that we think you'll really like.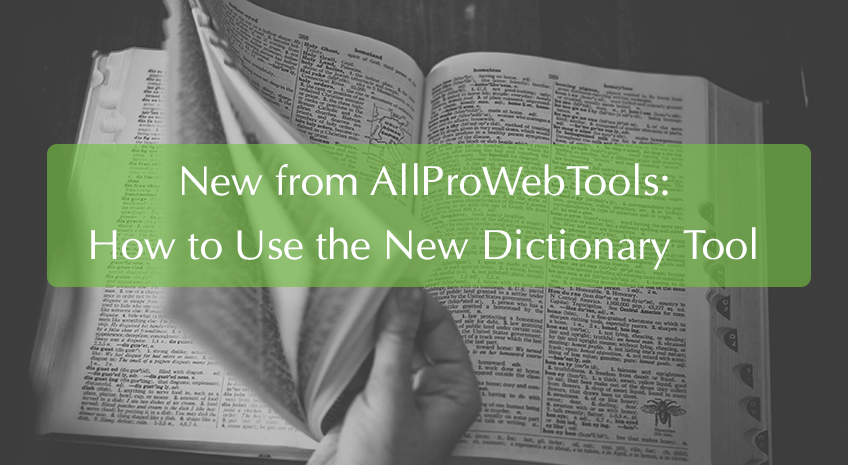 What is the Dictionary Tool?
The dictionary tool allows you to choose key terms related to your business and create pages that define them. The tool then goes through your whole website, searching for those key terms, and automatically links them to their dictionary entries.
For example, if you're a software company that sells small business ERP, you might want to create a dictionary page that tells people what small business ERP is! (You can click on those terms and be taken to our dictionary entry.)
What are the Benefits?
The dictionary tool has two major benefits to your business. First, it helps your site visitors find the important information they're looking for on your website. This makes you a great resource for people who need more information about your industry, whether they're ready to buy right away or not.
These dictionary pages can also help you out from an SEO standpoint. Search engines tend to rank dictionary pages highly, because they tend to be dense with keywords, factual, and very helpful to searchers. People are likely to find your website through your dictionary pages when they're searching for information about your industry.
Search engines also seem to like the network of internal linking that dictionary pages create on your website. Because those links are relevant and helpful, having them can improve your site's search rankings as a whole.
What's New?
We recently upgraded our dictionary tool to give you more freedom to direct your customers to the best sources of information about your key terms.
Whereas before, you could only link to dictionary pages, now you can set up the dictionary tool to link your key terms to any page you like. That includes blog posts, feature pages, product pages, or landing pages.
The dictionary tool will still search through your site, find all examples of your key term, and link to whatever page you've set as the "dictionary page" for that term.
How to Set Up a Dictionary Page
It's easy to create dictionary terms, either linking to specific dictionary pages, or to other content that is relevant to that term. Here's how:
From your AllProWebTools console, hover over "Website" on the left toolbar.
Select "Dictionary" from the dropdown menu. This is where you can edit all your dictionary pages, as well as create new terms. Look under "Dictionary Settings" and make sure "Activate Dictionary?" is set to "Yes."
Select "Create Term" to make your first dictionary entry. Fill out the "Term Name," then decide if you want to link to a Dictionary page or a custom URL. If you want a custom URL, simply enter that under "Override URL." If you want to create a dictionary page, use the "Description" field. It works just like creating any other page on AllProWebTools.
If you created a new dictionary page, go to the "SEO" tab and create the URL and page title. Then choose some relevant keywords to help the page be picked up by search engines. Finally, fill out your search engine description. This is the text that shows up under the page title when someone finds the page through a search engine.
Click "Save" and the tool will search through your website for the Term Name you filled out. It will automatically turn all the examples of that term into URLs linking to your dictionary page, or to the custom URL you filled out.
Pro Tip
The dictionary tool was intentionally designed to be case sensitive. If there is a specific place where you DO NOT want the system to automatically convert the term, just change the capitilization and the Dictionary System will ignore it.
Do you use the dictionary tool? Let us know what terms you've created in your own dictionary!
Archives
Subscribe