New from AllProWebTools: Multiple Email Campaigns & Hour-based Send Times [4.5]
By: Elijah Mendonca Monday January 16, 2017 comments Tags: 4.5, allprowebtools, email marketing, campaigns
As we added new features and upgraded existing ones, our Email Marketing WebTool became a high priority for some extra love. We'd like to thank our users for all the amazing feedback that helped us improve this feature and we sincerely hope it's making your lives even easier than before!
Multiple Email Campaigns
With the introduction of Version 4.5, leads can now be entered into multiple Email Campaigns. This can be done for individual contacts by: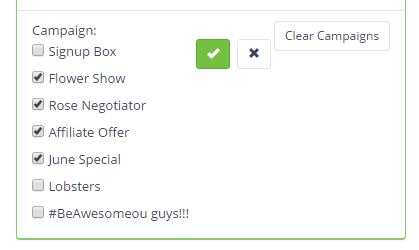 Going to the desired CRM record → Account Insight Box


All the way at the bottom there's an option that says "Campaign" → Click on "Empty" or an existing campaign to add the contact to further email campaigns!

You can also remove any lead from all campaigns by clicking the "Clear Campaigns" button
You can also import all of the contacts from any particular tag into an email campaign by:

Going to Emails → Manage Campaigns

Under the "Participants" column for the desired email campaign → click on the "x active" button

On this page, you'll be able to add tagged contacts to the campaign by selecting the tag on the right side of the screen and then clicking save!
Leads may also enter themselves into multiple email campaigns by filling out signup boxes or purchasing particular products!
Hour-based Send Times
Our users overwhelmingly requested the flexibility to send out emails in a campaign at custom times, so we added that feature as well. Coincidentally, this means multiple email blasts can be sent out on the same day! Previously, we had a limitation in place for only one email blast per day, which has since been removed in favor of this new feature.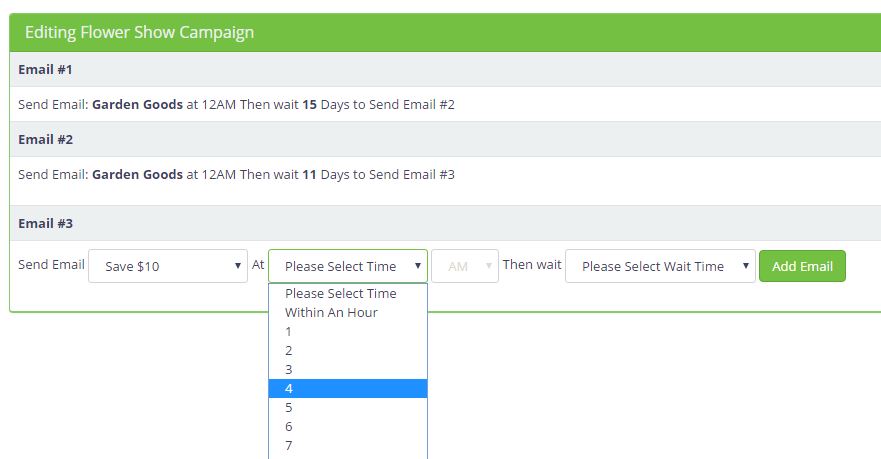 When setting up your email campaign, it will now ask you to specify the exact hour at which it the email will be sent out. You can set up your email campaign by:
Going to Emails → Campaign Manager

And then creating a new Campaign or editing an existing one!
As always, we look forward to your feedback and excitedly hope to improve it even further in the future!
Love this feature and want to help us improve it? Leave a suggestion on our forum!
Archives
Subscribe