New from AllProWebTools: The Marketing Report [4.5]
By: Elijah Mendonca Monday December 5, 2016 comments Tags: #apwt4, features, marketing report
Welcome to our first installment of the 4.5 feature list! In the coming weeks, we'll be exploring each individual feature mentioned in the earlier 4.5 Release Blog.
First up is the new Marketing Report!

Marketers have to prepare reports for their clients every month, and this sometimes involves logging into a lot of different accounts to pull vastly varying data. But it doesn't end there, the data has to be arranged to look professional, but not boring. What about the pictures, graphs, and other visually appealing elements that are a must? It takes hours! - I know this because I do it every month myself.
AllProWebTools is all about making people's lives easier, especially our own, so we decided to create the Month End Report feature! We sincerely hope you enjoy this one as much as we do.
To get started, all you'll have to do is connect your social accounts (currently limited to Google Analytics, Twitter and Facebook) to your AllProWebTools account and you'll be on your way to creating a snazzy report in no time!
Baby Steps
While this feature is in its infancy, we want to get a feel for what our users think of it, so we can focus on making steady improvements based on the features our users actually need. This is probably our favorite creation in a very long time and we're super proud of all the potential it has, so naturally we have a lot of ideas in store!
But before we jump the gun and go crazy, we want to make sure we implement everything that YOU need, so that you can make the most of the function.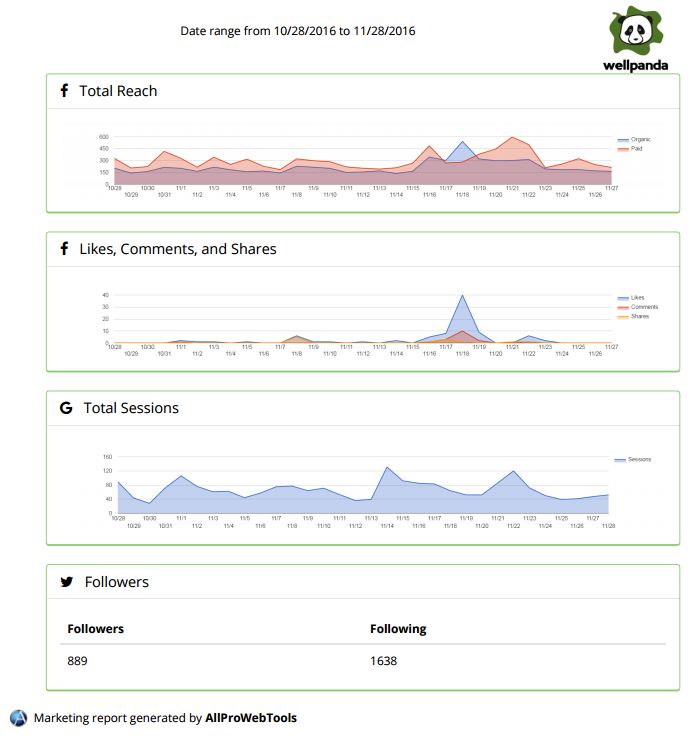 Please leave your suggestions, comments and critiques of the feature on our Forum's Suggestions Thread
Dear Providers & Experts:
Our intention is for our Experts and Providers to really have fun with this new webtool, so we added a little extra something for them, too!
Since our Providers and Experts are the main points of contact for a lot of AllProWebTools users, they are often seen as the people in charge, the rockstars running the show.
If you're a provider that's using the Month End Reporting tool for one of your clients, it actually prints YOUR company logo on the top of the report, and mentions the name of the company that compiled the report. YOU'RE the rockstars, and we want you to know it, show it & own it!

Did I mention you can add custom notes of your own to the report? Check out the box below:

Archives
Subscribe