AllProWebTools 4.5 Release
By: Elijah Mendonca Wednesday November 23, 2016 comments Tags: features, #apwt4
It's been a while since our last version release, and we've been hard at work fixing up a lot of different things that just make AllProWebTools a lot easier for you to use!
Among numerous usability improvements, we're really excited to share with you some of the main features that have us giggling and saying "this is awesome."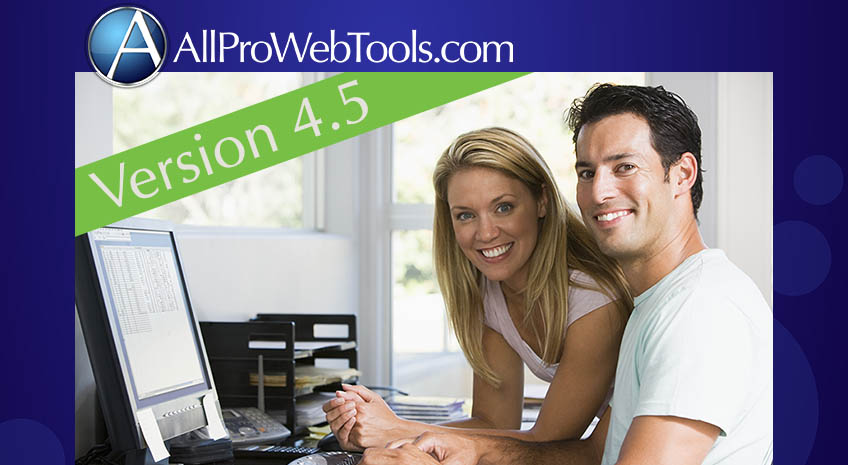 The Social Media Marketing Report
For all the marketers in the crowd:
How much time do you spend per month, manually compiling month end reports for your clients?
How many different accounts do you have to log into every time you need new data?
I'm willing to bet a lot of you wish there was some way the process could be sped up. And we're here to tell you - there is!
With our new Marketing Report, you can connect your Facebook, Twitter, and Google Analytics to AllProWebTools, so we can do the data mining for you! You also have control over which modules show up on the report, and can add notes if need be!
This feature is still in its infancy, which means it isn't as comprehensive as we intend to make it in the future! We have A LOT of plans for the feature, so we want to hear what our users would like to see added!
Read more about the Social Media Marketing Report HERE!
Integrations with Square, Stripe & Google Drive
With alternative points-of-sale becoming so common these days, it only made sense that we integrate with the Square and Stripe merchant processors!
We're also finally giving Dropbox some company by integrating with Google Drive. Now, you'll be able to upload, view, and download files right from a contact's CRM!
This will be added to the existing CRM Integrations WebTool with no extra cost, and users of the tool will be able to utilize BOTH Dropbox & Google Drive depending on client needs.
Multiple Email Campaigns &
Hour-based Campaign Customization
This has been a heavily requested feature for some time! A lot of our users felt restricted by the fact that leads were limited to participating in one drip campaign at a time.
No more!
We've done away with that rigidity, and also added some extra usability to the Campaign feature.
You can now choose which hour in the day an email is sent from a campaign, so emails can be further tailored to your audience. Go forth and utilize peak engagement times to boost your open rates!
Send/Receive emails straight from the CRM
While our CRM already keeps track of interactions with clients, you're now able to hook up your email inbox to AllProWebTools to send and receive emails straight from your CRM!
This feature is especially helpful to our Virtual Assistant Providers & Experts, who follow up with the customers of multiple clients! We heard that logging into different mail accounts to keep track of every single interaction was getting a little hectic, so we figured we could help out. With this new WebTool, we're increasing transparency of customer interactions, while keeping YOU on top of the game.
Just like the marketing report, this is also a fledgling feature, and does not come with the ability to CC other contacts, or the ability to view, upload, and download attachments. We want to hear which features we should be adding to this WebTool next, so make sure you stop by the Suggestions/Feature Request forum thread to let us know what you want to see added!
Read more about the CRM Email Inbox HERE!
As always, these improvements were chosen as a direct result of the feedback we have received from the AllProWebTools community. In the coming weeks, we'll be exploring each highlight in depth, which will be really helpful for anyone curious about setting them up, or just generally learning more!
We really appreciate your support and would like to encourage everyone to keep the suggestions coming!
Archives
Subscribe