RealNoni.com has reached new heights!
By: jazzy Wednesday November 8, 2017 comments Tags: featured client, small business, success stories

Long time AllProWebTools user, Steve Frailey has reached a new milestone with his business RealNoni.com. Steve Frailey has grown his business from $7K to over $100K in monthly sales in 2016. This year was no different. In 2017, sales reached a new all-time high, $122K in monthly sales.
Company Background:

The company was founded in 1996, and launched its first website (NoniFruitLeather.com) in 2001. After a few years, NoniFruitLeather.com plateaued at $7K in sales. Not wanting to become stagnant, Steve Frailey arranged a meeting with Dave Kramer the founder of AllProWebTools.
***The remainder of this article contains a number of items RealNoni.com is currently doing to thrive in the tough world called: Small Business vs Corporate America.***
After meeting with AllProWebTools, a number of items were implemented:
Monthly newsletters

Contests and give-a-ways

Coupon offers and quantity discounts

Lead capture system

Email marketing campaigns

Abandoned cart emails

Upsell offers upon checkout

Social media campaigns

Monthly blogging

Search Engine Optimization (SEO)

Pay-per-click (PPC) campaigns

Tracking systems put in place to measure and make needed adjustments
Be Consistent

Steve Frailey saw the importance of a regular, monthly marketing plan. The budget for such a plan started at $800 / month and over the course of 6.5 years, RealNoni.com has increased its monthly marketing budget to $5k and has enjoyed a corresponding increase in revenue year after year.
This consistent marketing plan allowed Frailey to outsource the heavy lifting of:
Content writing

Blog syndication

Newsletters

Creating new coupon offers

SEO and PPC

Generating marketing reports and data analysis

Tracking campaigns and sales

Keeping current on the newest marketing and social media trends
This allows Steve Frailey to focus on his passion: Producing his product and educating the public. All of which has ultimately grown his business to what it is today.
Be a Leader

When Steve Frailey first discovered noni fruit growing wild on his farm, he had a lot of work ahead of him. Before Noni Fruit Leather was born, there was only noni juice. However, the beneficial properties of noni was being destroyed in the juice during the production process. Not afraid of a little dirt and sweat, Steve Frailey began the long and careful process of gathering research, conducting tests from third party laboratories, and through trial and error, you have the successful line of products and business model you see today. RealNoni.com was not afraid to take the lead in creating a superior product by going against the grain of "this is how we've always done things".
Be Nichey
When SEO-ing for RealNoni.com, the term lowering blood sugar is very broad with high competition. It would be difficult to rank high for that term. Attempting to rank for such a broad term could induce a high bounce rate (individuals clicking to a website and quickly leaving). High bounce rates can damage the overall google ranking for a website.
However, the term "noni for blood sugar" is a niche term. This is a smaller pool of individuals who know what they are searching for and they're more likely to remain on RealNoni.com for a longer period of time. The longer an individual remains on a website, the higher the probability the individual will fill out a lead box and ultimately purchase. Being nichey has induced a consistent increase of leads (50-120+) month over month while simultaneously decreasing the bounce rate (2-5%).
Be Flexible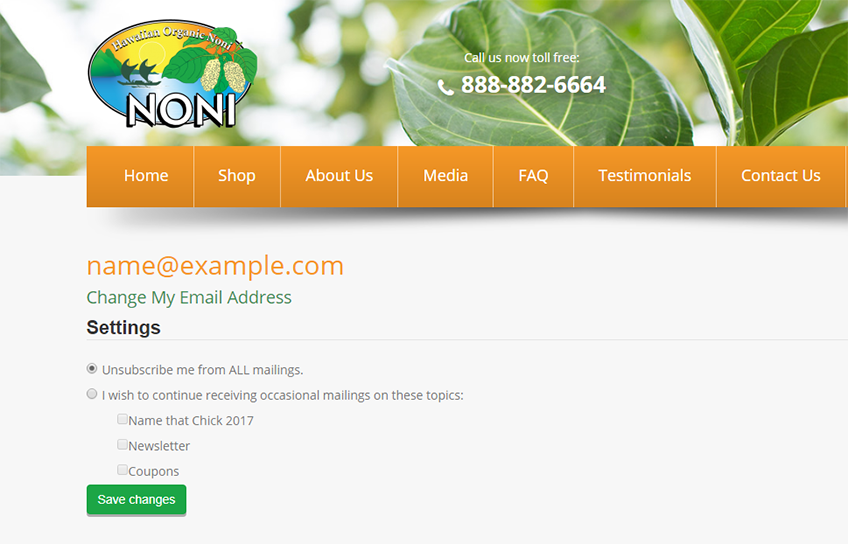 RealNonil.com gives individuals options when unsubscribing from emails. For example, upon unsubscribing, an individual has the option to only receive coupon offers/newsletters/or both. This strategy has lowered total unsubscribes and spam complaints. In the fast pace world of: double tall, extra hot, no foam, skinny lattes offering options that accommodate everyone's tastes/needs has been one of the keys to success.
Be Romantic
Nowadays, consumers want to know what they're receiving in exchange for money spent. Appreciating humanitarian causes, creating memories and moments, and feel-good/do-good selfies are becoming more and more of a requirement in addition to the material product or service that the consumer receives. When customers purchase from RealNoni.com, they are aware that they are paying for not only a product that benefits their health, but assisting in the funding of an albatross preserve, monk seal conservation, and organic sustainable farming practices. Steve Frailey goes to the extent of hosting free noni farm tours on his property and consistently posts pictures and videos of all the current events and happenings on the farm. This has really opened the eyes of many consumers and they in turn "fell in love" with RealNoni.com.
Be Involved
Harnessing the ever moving power of social media; coupons, promotions, and contests have received the attention of almost 20,000 Facebook followers. RealNoni.com not only promotes articles that highlight the benefits of their products, but they also promote third-party articles educating the public on the newest and upcoming sustainable farming practices, wildlife conservation, and healthy living. Being involved in the community is one of the best ways to stay connected and create lifelong relationships.
Be Generous

One of the biggest reasons that things are working so well for RealNoni.com is the fact that they have been using coupons to encourage anyone interested in their products to provide their email address. Every time they send out an email with a coupon, they see over $6K in sales using the given offer. RealNoni.com is currently implementing this strategy into a social media campaign and has already topped last month's offer sales. Consistency is key to their marketing approach and collection of email addresses that is paying off and has earned them this new milestone.
Be Smart
The AllProWebTools dictionary system is a great tool when it comes to google ranking and bounce rates.
To experience the dictionary system for yourself click here: Why Noni is so Special Memory Loss Under the heading Noni and Antioxidants, you'll see a green highlighted term called "raw food". Click on "raw food".
Taken to the "raw food" definition, individuals can be educated not only on the term "raw food", but additional terms frequently used on RealNoni.com as well. Individuals who are already familiar with terms used on RealNoni.com can enjoy article after article without reading the same term definitions repeatedly. This has dramatically improved internal links, bounce rates, google ranking, all while reducing duplicate content on the website.
Be In the Know

Another invaluable AllProWebTools tool is the plethora of reports where RealNoni.com can track the monthly sales, coupon offers, quantity discounts, upsell offers, email open rates, email unsubscribes and more. All the data you need in one place to quickly assess what is working for your company and where there are opportunities to improve.
This is how Steve Frailey, in essence, checks the vital signs of his business. He can even check the reports and live company feed from his phone! The reports in AllProWebTools saves Steve time while giving him peace of mind knowing where his business stands at all times.
Read the 2015 noni update story here
Archives
Subscribe