The Top 8 Small Business ERP Solutions of 2015
By: Andrea Lotz Monday December 15, 2014 comments Tags: crm, workflow timeline
Does this sound familiar? A small business owner starts her business, managing all her accounts and inventory in spreadsheets, creating invoices with Word documents, using a basic email provider, and hosting her website on Wordpress. Suddenly, she finds that as her business is growing, she's spending more and more time holding things together. She's buying more and more apps to manage her calendar, productivity, and documents. She's making more and more different payments to companies she can barely remember why she needs. Worst of all, she's less and less in touch with her employees, her business, and, most importantly, her dreams, her family, and her love for what she does.
Many small business owners hit this particular wall as their company starts to grow. They may not know it, but what they need is ERP software (enterprise resource planning). This software keeps sales, employee and remote employee management, online presence, and much more running smoothly. Until recently, it's only been used by large businesses who could afford the high cost and support the infrastructure required. But now small business ERP is available, and it's important for small business owners to take advantage of the opportunity to grow.
"#SmallBusinessERP is available, & it's important for #smallbusiness owners to take advantage." [Tweet this]
Small business owners should keep one question in mind when choosing ERP software: Is this solution appropriate for the size, needs, and planned growth of my company? This can be difficult to evaluate, so we've made a list of the top 8 ERP for small business software solutions, with the pros and cons of each.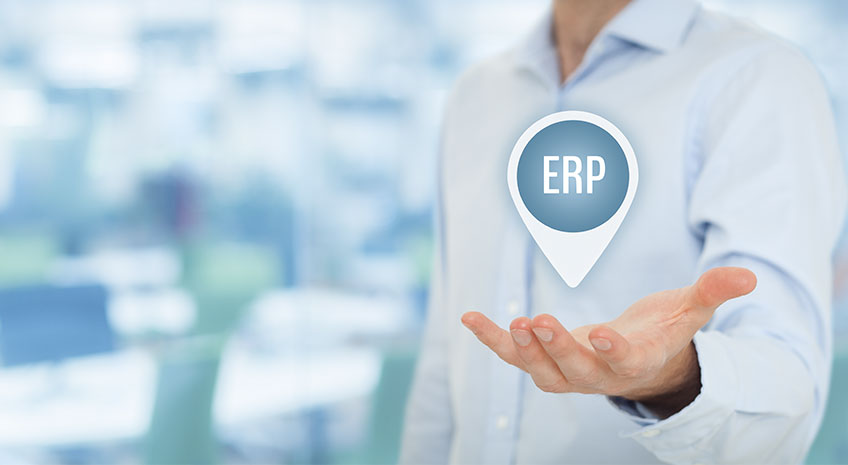 AllProWebTools
AllProWebTools is a small business ERP specifically designed for the needs of small business. They offer a wide variety of features, which you add on as you need them. The whole system is designed around a unique feature called the Workflow Timeline, which provides a live feed of new orders, employee clock-ins, CRM notes, and more.
"AllProWebTools is a #SmallBusinessERP specifically designed for the needs of small business." [Tweet this]
Pros: By far the most affordable option, with a wide variety of tools available. Because you add the tools as you need them, you aren't overpaying for features you don't even use. Set-up is very easy, with useful training videos and excellent customer support, and the cloud-based dashboard is mobile-friendly.
Cons: Because it is a small, growing company itself, it sometimes takes time for custom features, templates, and websites to be made.
Oracle EBS (E-Business Suite)
This software is a comprehensive ERP solution, with applications including financials, HR, CRM, project management, and more. It's designed to work for a wide diversity of industries, and is widely considered to be one of the "classic" ERP solutions.
Pros: Comprehensive. This software can be configured to suit almost any business type. Oracle is a well-established company capable of supporting a lot of complexity.
Cons: It can be very hard for a small business owner to set up and configure correctly without a team of developers. Most of the time, it's overkill. Expensive overkill. Many reviewers also call it "outdated."
JD Edwards EnterpriseOne
This option is owned by Oracle, so it has many of the same advantages and disadvantages.
Pros: You can run all applications on and Apple iPad, and there are a number of mobile apps.
Cons: This software requires a lot of technical know-how to set up, and is probably not a good fit unless you have a developer and dedicated IT professional. For a small business looking for an easy ERP solution, this might be a big problem.
NetSuite ERP
NetSuite is a cloud-based ERP system, fully-integrated to handle just about any need of any business.
Pros: Somewhat easier to set up than the previous two options. If it is well-configured, it can make your business much easier to run with customized forms, workflows, and more.
Cons: Many reviews say transitioning to this software can be difficult, taking six months to a year to be comfortable. This time scale might be acceptable to a larger business, but things change fast for small business owners, so this software might not be appropriate.
PeopleSoft
This is another ERP software owned by Oracle. They handle extremely complex business requirements very well, and have a new UI that some people claim is quite easy to use, but others call outdated and frustrating.
Pros: Good HR functionality and talent management platform for workflow and tasking.
Cons: Very complex, probably too complex for many small businesses. It also takes a long time to learn.
SAP ERP
SAP's ERP software has many capabilities, especially in the core areas of ERP (finance, sales & distribution, and production). When configured correctly, it is a very powerful tool.
Pros: Highly customizable, can be configured to perform a lot of different functions for a lot of different industries.
Cons: Again, this software is very difficult to configure correctly without a lot of help or prior knowledge. Learning the ropes could cost a small business owner time and money he can't afford.
Sage 100 ERP
This software was initially designed for accounting, but has been expanded to a more integrated ERP software.
Pros: Good for companies with a high volume of data entry and many users. Many of their apps are mobile and cloud-based.
Cons: Creating custom reports can be very difficult. It's also very difficult to change anything you've entered in, and impossible to undo changes. Some users complain that it makes daily tasks very slow due to the way information is processed.
Microsoft Dynamics GP
This is a commonly-used, well known software, which integrates well with other Microsoft products.
Pros: Integrates with Microsoft suite very easily. The reviews say it works well for medium sized businesses.
Cons: Non-mobile, requires purchase of a lot of third party apps to get it fully customized. Although the software works well for medium sized businesses, it is still difficult for small businesses to implement.
The impression I'm left with after reading the reviews is, there are a lot of larger ERP companies trying to retrofit their software to meet the needs of small business owners. Honestly, they haven't been that successful, because small businesses have totally unique needs and priorities. Small business ERP has to to look totally different from enterprise ERP, and that's where AllProWebTools really shines. It's a different kind of software created for a different set of needs – the needs of small business owners.
"#SmallBusinessERP has to to look totally different from enterprise ERP." [Tweet this]
If you'd like to take a look at those G2 Crowd ratings, you can find them here.
Wonder what AllProWebTools can do for you and your small business? Test drive our free demo today to gain instant access to all our tools.

Archives
Subscribe