Taco Tuesdays at AllProWebTools!
By: Anna Yates Tuesday April 30, 2019 comments
The AllProWebTools office is buzzing with excitement because something very special has been added to our schedule: Taco Tuesdays!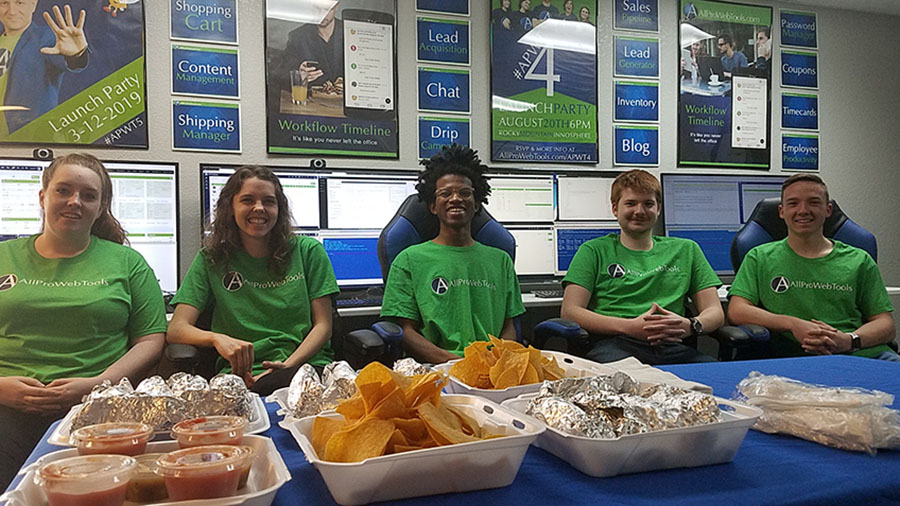 Now one Tuesday a month, we gather around a table in the office, dip some chips in salsa, and dig into delicious tacos. It's a weekly tradition where we serve clients together, learn and improve together, then pull up a chair and share a meal together.
AllProWebTools is centered around community.
Taco Tuesdays may be the newest example of what sets AllProWebTools apart as a workplace, but it's definitely not the most important.
Everything we do at AllProWebTools is centered around community -
the AllProWebTools community.
the small business community.
the communities that small businesses serve.
We believe that business is about a lot more than making money - it's about investing in people.
So, what makes AllProWebTools such a special place to work?
Invested Leadership
Taco Tuesday is just one example of how the AllProWebTools leadership takes care of team members and creates a culture of support.
At every level, the leadership team goes out of their way to promote the people working under them by
listening to concerns and needs.
communicating expectations and goals.
pushing team members to pay attention to details and stretch their minds.
educating and supporting team members' long term goals.
This applies to projects for AllProWebTools as well as personal goals.
When you know your leaders are working for you and not against you, you can be more confident and comfortable.
For example, our programmers Elliott and Noah sit next to each other in the office, constantly toss ideas back and forth about how to solve tech roadblocks, and interrupt their own projects to fix issues from the support and writing teams. They started out as interns, so when our new intern, Ben, joined the team, they understood what he felt like.
Instead of assigning Ben the worst programming jobs and treating him like an underling, Elliott and Noah welcomed Ben, paid attention to his strengths in programming, and trained him to improve his skills. They gave him special projects that use his eye for design and helped him integrate seamlessly into the AllProWebTools culture.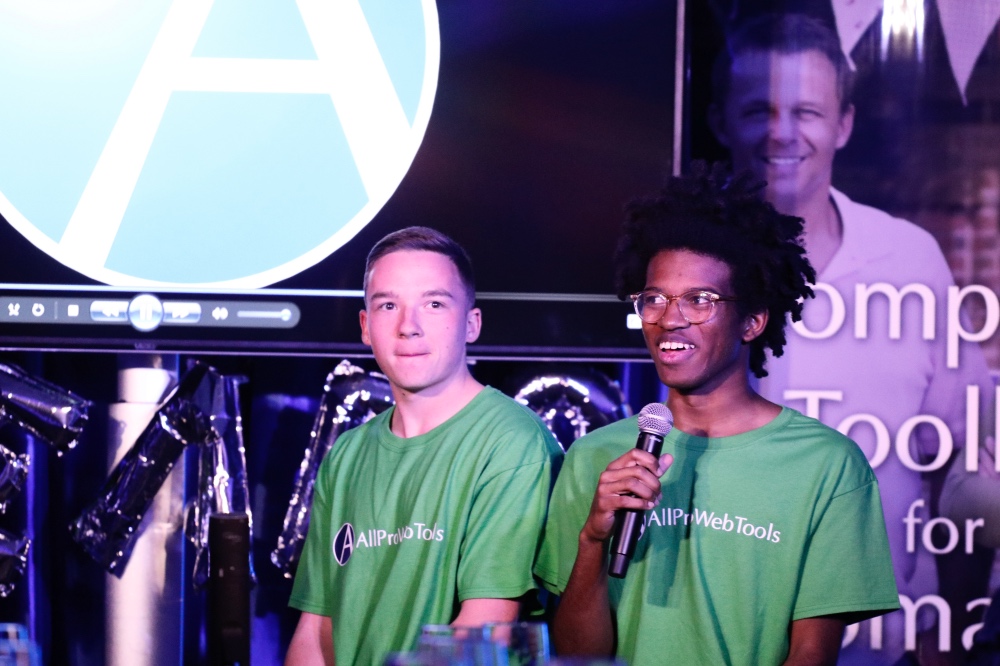 Programmers Noah Baldwin and Elliott Gregg speak at the AllProWebTools 5.0 Launch Party about what it's like to work for the company.
Our founder, Dave, also invests in team members daily. One day in the office, he taught a sales agent how to set up a personal budget with spreadsheets so she can set clear sales goals. That's an investment not only in AllProWebTools as a whole, but in the sales agent's career goals and future beyond AllProWebTools.
When you know your leaders are working for you not against you, you can be more confident and comfortable. It's a safe environment to ask questions, make suggestions, and try new things. What good worker doesn't want that?
Supportive Team Environment
A strong sense of teamwork flows through every part of AllProWebTools.
In the office, communication and excellence are paramount. Team members who do very different jobs are encouraged to talk to each other and collaborate to serve clients. AllProWebTools understands that when the staff works together seamlessly, the client benefits.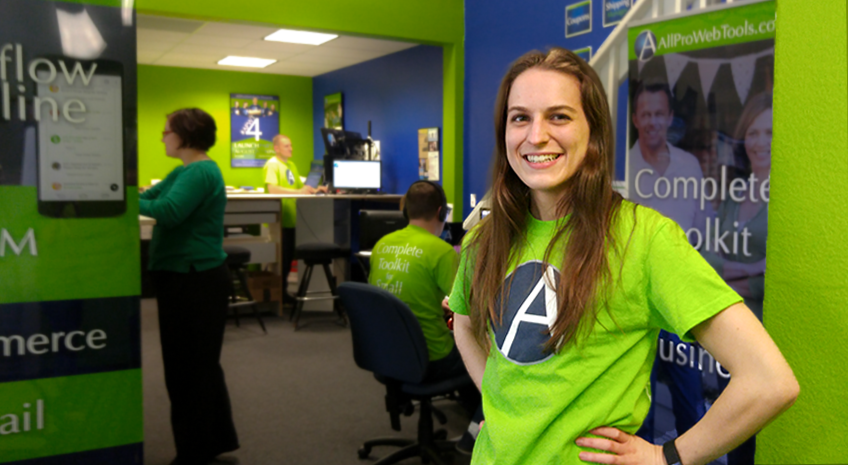 Heather Kimiecik in the AllProWebTools office.
There's a common mantra in the AllProWebTools office: "Spend 5 minutes working on a problem - if you haven't solved it, ask someone for help." That mantra played out looks like:
a writer going to a programmer for help when I'm having trouble with a blog screenshot.
a support level 1 asking for help from a support level 2
a programmer bringing a coding issue to Dave when they get stuck.
When staff works together seamlessly, the client benefits.
The 5-minute-limit prevents us from wasting time because we don't want to ask for help, and encourages us to lean on our team to serve our clients better. Working together, we're able to
serve clients quickly.
anticipate clients' needs.
think critically and creatively about problems.
All of those are valuable tools that any company would want in their team - but not many companies take the time to teach them!
Powerful Product
Let's be honest - you've probably worked for a company that sold something you didn't really care about. When you work for a company, believing in your product makes all the difference.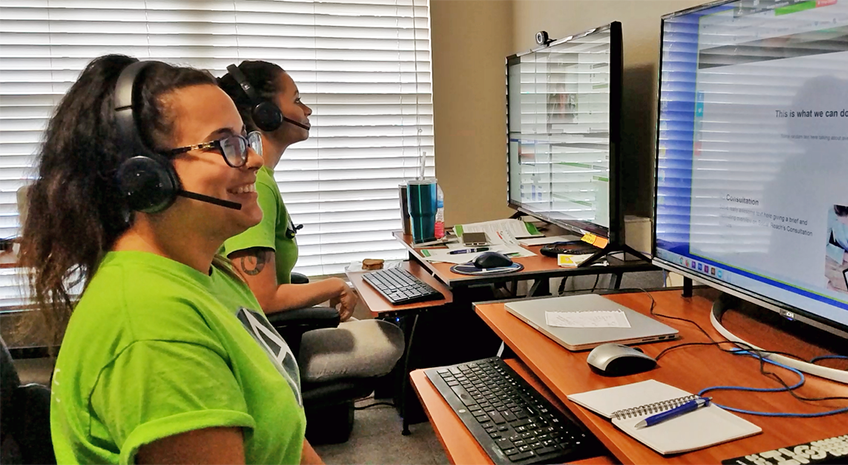 Monica Manjarres and Kristen Nice serve clients in the AllProWebTools office.
At AllProWebTools, every team member knows the value of our product and the impact it has on our clients' lives. We've seen our clients' businesses transform. We've helped them along the way as they multiply their revenue, expand their teams, add locations, and extend their influence.
At AllProWebTools, every employee knows the impact of our product on our clients' lives.
We're motivated as a team at AllProWebTools because we believe in our product and in the mission behind the product. That alone is enough to make us love AllProWebTools!
So - why AllProWebTools?
Everything we do at AllProWebTools revolves around one thing - helping small businesses succeed.
Whether we're on a support call, writing a blog, programming website code, fixing an office chair, or eating a taco, the AllProWebTools team is united around that one mission.
With invested leadership, a supportive team environment, a powerful product, and even Taco Tuesday, AllProWebTools stands apart from the tech crowd as a caring place that truly invests in people.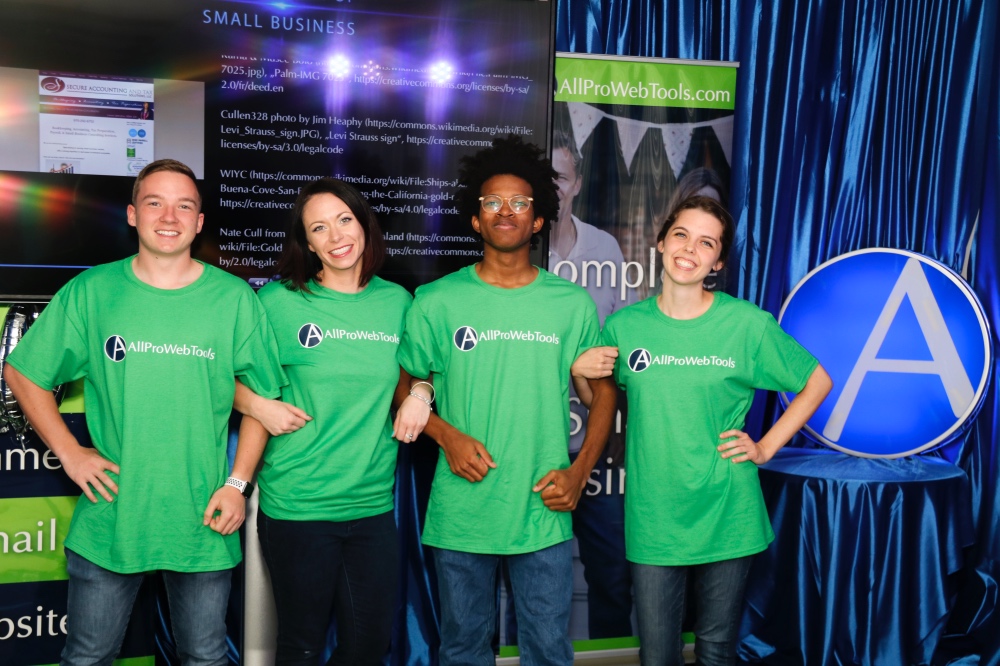 AllProWebTools team members Noah Baldwin, Kristen Nice, Elliott Gregg, and Anna Yates.
Looking for an employer that invests in you? We have lots of opportunities to join our team! Reach out to us!





Archives
Subscribe