Top 7 CRM Business Software Solutions
By: Adam Barnhart Wednesday September 24, 2014 comments Tags: crm, salesforce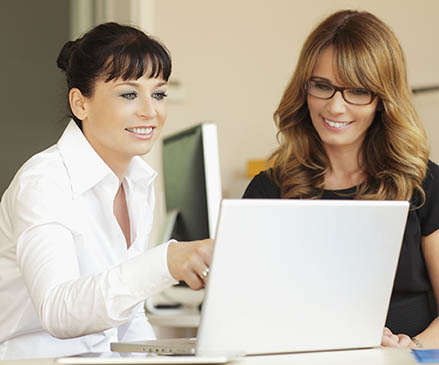 You probably can relate to being bombarded by all the different business software options for small business CRM (customer relationship management). Here is our list of the top 7 small business CRM business software solutions, so you can quickly compare and contrast the pros and cons of each, and make an educated decision.
Salesforce CRM
Salesforce CRM allows you to collaborate among your teams with Chatter, the company social network. Your data and team can be connected on a single platform that is accessible from any device. In this way, the whole team uses the small business CRM to stay "on the same page" with every task.
Salesforce offers customizable reports, a content library, the Salesforce 1 Mobile App, event and task tracking and accounts and contacts.
Pros: Salesforce is popular software, frequently integrated with other major softwares. It provides you many ways to implement, and has useful features. It can grow with your business, since it is scalable.
Cons: It is relatively expensive and too complicated for smaller teams. Not the most user-friendly small business CRM!
Microsoft Dynamics
The business world today is mobile and social, and your business needs to move more quickly and share knowledge broadly, in order to succeed. You need to connect with your customers on their terms, and Microsoft Dynamics brings customer relationship management to your company and integrates with social media.
Microsoft Dynamics CRM makes the Top 7 small business CRMs list because it allows your marketing, sales and service teams to deliver the best customer service. It empowers your team with professional web tools and other social tools built into Microsoft Dynamics CRM.
Pros: There is a broad range of ways in which to implement this software. It is updated frequently, for best performance.
Cons: The service is very expensive. It takes a great deal of time to start. The more complicated functions actually require knowledge of programming languages. Again, maybe not the best fit for small business CRM.
Sugar
Sugar CRM is a complete solution that will automate your marketing with professional web tools and sales and customer service processes, focusing on the individual. Sugar offers your team a powerful functionality in their small business CRM that your team will want to utilize, achieving greater insights into business.
Pros: Unlike some CRM programs, Sugar is good for start-up, since it is simple to learn and use. The interface is easy to use and saves time. Sugar CRM is moderately priced and offers excellent support service if you have questions.
Cons: Sugar doesn't have as many features as some other companies. You may need support in order to make some customizations for your business. The system has glitches and goes down occasionally on weekends.
Base
Base CRM handles many tasks in your business. Everything is handled in this small business CRM, from task integration to auto phone call logging to setup of customized fields. Base offers Mailchimp integration.
Pros: Base has many features and frequent updates. You can make calls directly within its system.
Cons: It is difficult to import data. It may be difficult to become accustomed to their contact information filters.
Salesnet
Salesnet CRM Web Services API provides your business with robust, deep customizable integration architecture. Legacy systems like marketing automation, ERP and call centers can be integrated.
With this small business CRM, you can share critical sales and customer data across your enterprise, reducing data entry time. Salesnet, one of the Top 7 CRMs, allows you to push or pull appointment, campaign, opportunity, contacts, tasks and data from notes to and from Salesnet. This can be done in real time, or at intervals you choose.
Pros: There are many training videos and the user-friendly, integrated solution can be used by your entire team. The Salesnet staff is productive and focused.
Cons: Salesnet lacks social media tools and social CRM and can be expensive.
Netsuite
Netsuite provides you a 360-degree view of your customers, and is the only on-demand CRM to do so. You can provide better service and close more deals, since all of your customer data is in one place that is easily accessible.
The Netsuite small business CRM excels in customer relationship management. Your team can see all customer transactions and interactions, automatically cross sell and upsell existing customers, and know what they bought and what they need and want. You can view pending orders, service issues and overdue invoices. You'll have complete customer insight with every step your business takes.
Pros: You can build high quality reports, as Netsuite handles the mediocre tasks for your business.
Cons: It is complicated even to accomplish simple tasks with Netsuite. Duplicate customer profiles can be made, adding confusion for team members. You need a full time administrator to handle Netsuite.
AllProWebTools
AllProWebTools CRM allows you to track your prospects to the point of sale and past that point. Leads may be collected via opt-in lead boxes, manually entered or uploaded by CSV. Your business leads are segment-able and can be entered into email drip campaigns or tagged and followed up on by personal phone calls.
Pros: AllProWebTools is affordable, with useful training videos. It integrates with other tools and your website. It includes marketing reports and allows your sales team to call through the system. It even finds leads for team members. Set-up is simple, with tech support assistance if you need it.
Cons: This system does not directly integrate with QuickBooks.
All things considered, AllProWebTools is the leader in small business CRM - find out how you can take your business to the next level through AllProWebTools!
Archives
Subscribe